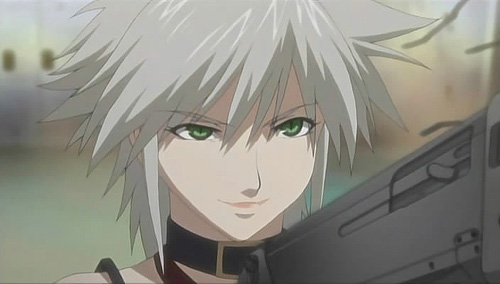 Background/History: May is a character from the anime Coyote Ragtime Show. She is a combat android and one of Marciano's Twelve Sisters. She was probably built by Dr. Neilson, an employee of Marciano who handles all of the maintenance and repair work on the Sisters. Her true age and previous history are never revealed but she and all of the Sisters have been around long enough to gain a reputation as deadly assassins.
Madame Marciano the owner/employer of the Sisters is a cyborg. As such she is incapable of having children and this may be a factor in the bitterness that she displays. May and all of her sisters are the daughters that Marciano could never have. In addition to being her own personal hit squad the Sisters act as her servants and children.
Personality/Motivation: May is a punk rocker girl. She has tom-boyish aspect as well. She talks like a street punk and is often sarcastic. Like most of the Sisters she seems to have no qualms about killing anyone in her way and even casually offs a few people at the Sandvil prison when they are unable to answer her questions.
May is spoiling for a fight and eager for combat. However she, and I suspect, all of the Sisters have a sane side. May is captured and held by Angelica and Chelsea for a while and develops a liking for them. Maybe it is an android form of Stockholm syndrome. She even goes so far as to aid their escape when the tables are turned. It is likely that the Sisters are killing machines due to their environment. When they get to know people they can change their nature. Of course it could be that May is simply a rebel.
Quote: "Who am I looking for? Well it certainly isn't your sorry ass." Boom!
Powers/Tactics: All of the information we have for May's preferred tactics come from the first Episode since she spends the rest of the series as a captive or being repaired.
May uses a Franchi SPAS-12 Shotgun with standard buckshot. This makes her deadly at close range. However she seems just as happy to cast aside the shotgun if she has a good opportunity to attack a foe bare handed. This indicates that she likes melee and is probably just as dangerous in hand to hand combat.
May is brash. Stealth does not seem to be her forte. She is loud and blatant and her choice of a shotgun for a weapon fits this style. She is likely to kick down a door before she determines if it is unlocked just because she enjoys raising hell. In many ways her attitude seems similar to January's. However whereas January gets mad and impulsive, May just enjoys fighting.
May is never shown piloting a space fighter but since all of the Sisters seem to have that skill we can assume that she is a capable pilot. Since we are shown much conversation between May and her captors is it clear that she is clever and observant.
Campaign Use: May is definitely an assault specialist. She will be one of the Sisters who will run right into the thick of things to spread carnage with her shotgun and her bare hands. She also seems to enjoy making comments about just how she sees things as she acts.
May is not a berserker and so will not destroy a plan through impetuous action. She will chaff to get the action started having an "action not talk" philosophy. When in doubt use more firepower.
Appearance: May is a mature-looking model. She has spiky white hair and green eyes. She stands about 5'6" tall and, due to being an android, weights close to 400 lb. Her strength and dexterity allow her to seem as light on her feet as a normal human.
The maid's uniform that May wears is the least conservative of the Sisters. Punk rock influences are evident: A collar, bare arms, most revealing skirt, and so on
May Designer's Notes:
STR 20: May is 1st Generation and therefore as strong as the other large models.
DEX 20: Since she is a good fighter.
CON 15: There is no reason to assume that her systems are any less resilient than any of the other sisters.
BODY 15: She has the durable body of all the mature-looking models.
INT 13: May seems surprisingly clever.
EGO 13: May has a strong brash will.
PRE 15: Her Presence is based on her in-your-face mannerisms and style of combat.
COM 16: If it weren't for the spiky hair she would probably be even more lovely.
PD 12: Her PD is balanced to reflect shrugging off 7.62mm fire and not RPG-7 rounds. In fact May's combat in Episode is the basis for calculating the DEF and BODY of the Sisters as a whole.
ED 8: None of the Sisters are ever hit by energy based attacks so we have nothing with which to gauge their resistance or weakness to such attacks. I have opted to give her a good deal of ED but not as much as her PD. Her ED will also get full damage resistance.
SPD 4: We never see anything to indicate that she has paranormal amounts of speed. She is quick on her feet, perhaps the fastest runner of the Sisters.
REC 15: None of the Sisters, if left operable, are down for long when hit. In fact you never see one of them out of action for more than a second or two unless they are completely broken.
END 0: Being an android all of their skills, powers, talents, perks and characteristics are bought down to 0 END cost, END therefore becomes a moot point.
STUN 50: She is full-sized and gets maximum STUN.
---
---
Return to Anime and Manga Character Adaptations