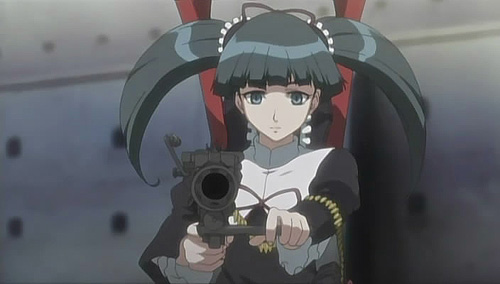 Background/History: March is a character from the anime Coyote Ragtime Show. She is a combat android and one of Marciano's Twelve Sisters. She was probably built by Dr. Neilson, an employee of Marciano who handles all of the maintenance and repair work on the Sisters. Her true age and previous history are never revealed but she and all of the Sisters have been around long enough to gain a reputation as deadly assassins.
Madame Marciano the owner/employer of the Sisters is a cyborg. As such she is incapable of having children and this may be a factor in the bitterness that she displays. March and all of her sisters are the daughters that Marciano could never have. In addition to being her own personal hit squad the Sisters act as her servants and children.
Personality/Motivation: March is the most patient of the Sisters. In Episode Two she is seen acting as a sniper of sorts with her support weapon, a job that requires patience. Though she displays emotions she never seems to get overly excited, mad, or sad about anything. She is all business when it comes to her assignments. She enjoys combat but will never put her enjoyment over getting the job done.
March looks to be fashion conscious and perhaps a bit vain about her costume. She had it created as a hand tailored original and is complains about getting it messed up if she has to engage in hand to hand combat. She seems to be a bit of a whiner, she is always complaining about things being a bother to do and such. Apparently she is easily bored.
Quote: "What a bother… We'll have to destroy the buildings too."
Powers/Tactics: March is the support weapons member of the group. Her weapon is an FN Minimi (also known as an M249 SAW). She will use the weapon with a bipod to provide supporting fire when possible. She is strong enough to easily fire the weapon when standing and will not hesitate to do so if she has a chance to take out the target. In Episode One she fires the weapon while drifting into the Sandvil prison on a parachute!
She is cold and precise when it comes to the task at hand and seems to be one of the more tactically astute of the Sisters. In one episode she, June, and August are sent out in space fighters in pursuit of an enemy ship. The other two sisters defer to her command decisions. March is a skilled space fighter pilot.
It can be assumed that March is a capable melee combatant. In Episode Three when the Sisters are discussing how to capture their target alive (an unusual mission for them) she is the one who confidently suggests that hand to hand combat ought to be effective.
Campaign Use: March is patient and this can be a great strength. She is aggressive but not reckless and the other sisters seem to value her opinion. She is good at using her weapon as intended in an over-watch capacity.
She is a good space fighter pilot and a capable tactician so she acts as the field commander for detachments of the Sisters when April is not around. She is probably number two in the command hierarchy.
Appearance: March appears to be about 15 years of age. She has black hair worn in two large ponytails. She is fair skinned and her eyes are a bluish-grey. Her maid's costume is mostly black and white, stylish but business-like. The FN Minimi she carries is almost as long as she is tall but she handles it easily.
March Designer's Notes:
STR 18: She is strong despite her more petite size. She easily handles her large weapon, but being smaller she ought not to be as strong as the larger sisters.
DEX 20: This is the default DEX of all of the Sisters.
CON 15: There is no reason to assume that her systems are any less resilient than any of the other sisters. This is the standard CON of the Sisters.
BODY 13: Since she is smaller than the older appearing models her body value should be slightly lower (there is simply less mass and hence less BODY).
INT 13: March seems to be more intelligent that January but probably not as smart as February. Her mannerisms and skills may make her seem more intelligent.
EGO 12: I boosted March's EGO slightly since she seems to have a bit of self discipline on her side.
PRE 15: Her Presence is based on her in-control attitude and aura. That and carrying a big honking gun ought to ensure people take her seriously.
COM 14: Her bearing borders on stiff so her COM is not as high as it might be if she would loosen up a little.
PD 12: Being a front line combatant it makes sense that she be armored as well as the other fighters of the group.
ED 8: None of the Sisters are ever hit by energy based attacks so we have nothing with which to gauge their resistance or weakness to such attacks. I have opted to give her a good deal of ED but not as much as her PD. Her ED will also get full damage resistance.
SPD 4: Her robotic nervous system is more efficient than most humans. This is the standard SPD rating for the Sisters.
REC 15: None of the Sisters, if left operable, are down for long when hit. In fact you never see one of them out of action for more than a second or two unless they are completely broken.
END 0: Being an android all of their skills, powers, talents, perks and characteristics are bought down to 0 END cost, END therefore becomes a moot point.
STUN 45: Not quite as much BODY means not quite as much STUN, she is a smaller model after all.
---
---
Return to Anime and Manga Character Adaptations