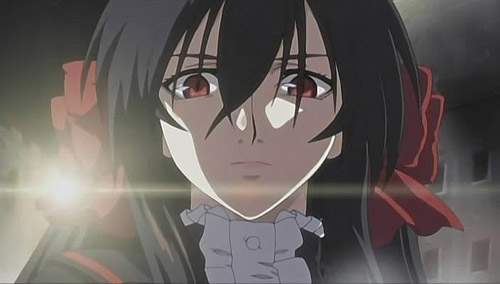 Background/History: April is a character from the anime Coyote Ragtime Show. She is a combat android and one of Marciano's Twelve Sisters. She was probably built by Dr. Neilson, an employee of Marciano who handles all of the maintenance and repair work on the Sisters. Her true age and previous history are never revealed but she and all of the Sisters have been around long enough to gain a reputation as deadly assassins.
Madame Marciano the owner/employer of the Sisters is a cyborg. As such she is incapable of having children and this may be a factor in the bitterness that she displays. April and all of her sisters are the daughters that Marciano could never have. In addition to being her own personal hit squad the Sisters act as her servants and children.
Personality/Motivation: April has a pretty cold personality. Most, but not all of the time, of the time she seems angry about something. She is ruthless and has an ends justify the means attitude. She is totally loyal to Madame Marciano.
April is the most mature acting member of the team, which may be partially due to the amount of extra responsibility she shoulders. Her personality towards her opponents can often be vindictive and cruel. She does have feelings for her sisters, she seems to display grief over the destruction of September and concern for the missing May. Essentially April is the eldest sister to the others. She expects the best from them. At times she pushes them and, though she is careful to not let it show too much, she worries about them.
Quote: "If you'd like I can shoot him again... May I Mother?"
Powers/Tactics: April is only weapon is a golden Luger pistol. From flashbacks we can see that this used to be Madame Marciano's personal weapon. Since the weapon's golden plating indicates it is a custom weapon it is likely that it is a master crafted weapon. Still it is only a pistol so this would seem to limit April's combat potential.
April is one of the older model androids (those with mature bodies) so it is likely that she is strong and a good hand to hand combatant. Her defenses are probably among the best of sisters as well. In one episode she and January are caught in a cannon blast, April suffers the least damage despite being as close or closer to the center of the blast.
April has a commanding presence and is the field commander of the 12 Sisters. She thinks when on the battlefield and is tactically adept. She will direct the battle but will not hesitate to add to the team's firepower as much as her pistol will allow.
If your characters ever face the Sisters and dialog enters into the encounter, then April will be the one who does the talking for the twelve.
Campaign Use: April is the team's field commander. She is often in direct contact with Madame Marciano and keeps her abreast of the situation. April also seems to do the planning for the team. We never see the Sisters make more than the most rudimentary plans ahead of a battle and it seems that most decisions are made by April on the spot. She is a capable commander and the GM should assume that she will not make stupid decisions.
Appearance: April looks to be about twenty years of age. She has black hair and reddish-brown eyes. She has a tendency to look straight ahead with cold eyes. Her maid's outfit is mostly black with some maroon hair ribbons and white lace. It is the most maid-like costume, as if April cares the least about individual style. April would probably be more attractive if she wasn't so serious all of the time.
April Designer's Notes:
STR 20: April is on older appearing model and therefore as strong as the other large models.
DEX 20: Since she is a good fighter pilot there is no reason to cut her dexterity below that of the other fighter pilot sisters.
CON 15: The standard CON of the Sisters.
BODY 15: She has the durable body and as much mass as all of the older-looking models.
INT 15: April is smart, as the field commander she needs to be.
EGO 15: April has the highest EGO of the group. She is very loyal and very stubborn once she has a goal. She is methodical.
PRE 18: Her Presence is based on her, frankly spooky, aura. She has a commanding personality and is never cowed by anyone or anything.
COM 16: She could be one of the most attractive of the Sisters if she would loosen up a little.
PD 13: She has the highest defenses of the group. This is based on her being 1st Generation and faring better against the attack that damaged her and January.
ED 8: None of the Sisters are ever hit by energy based attacks so we have nothing with which to gauge their resistance or weakness to such attacks. I have opted to give her a good deal of ED but not as much as her PD. Her ED will also get full damage resistance.
SPD 4: Her robotic nervous system is more efficient than most humans. This is the standard SPD rating for the Sisters.
REC 15: None of the Sisters, if left operable, are down for long when hit. In fact you never see one of them out of action for more than a second or two unless they are completely broken.
END 0: Being an android all of their skills, powers, talents, perks and characteristics are bought down to 0 END cost, END therefore becomes a moot point.
STUN 50: The standard STUN of the larger sisters.
---
---
Return to Anime and Manga Character Adaptations