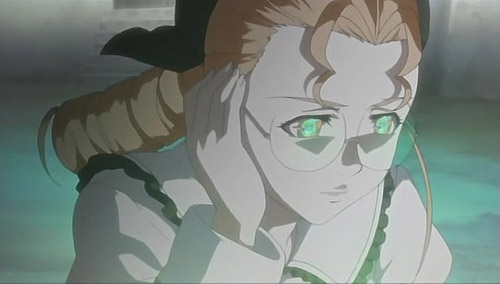 Background/History: February is a character from the anime Coyote Ragtime Show. She is a combat android and one of Marciano's Twelve Sisters. She was probably built by Dr. Neilson, an employee of Marciano who handles all of the maintenance and repair work on the Sisters. Her true age and previous history are never revealed but she and all of the Sisters have been around long enough to gain a reputation as deadly assassins.
Madame Marciano the owner/employer of the Sisters is a cyborg. As such she is incapable of having children and this may be a factor in the bitterness that she displays. February and all of her sisters are the daughters that Marciano could never have. In addition to being her own personal hit squad the Sisters act as her servants and children.
Personality/Motivation: February is the most docile acting of all the Sisters. She seems happiest when interacting with computers and performing other support functions for the group. This is not to say that she is a shrinking violet.
She is pretty enthusiastic about being given orders to pilot a fighter spacecraft in one of the later episodes. In a way it seems to be a change of pace that she looks forward to.
Quote: "I've finished hacking the surveillance system, Mother."
Powers/Tactics: February is never seen using a personal weapon and never engages in ranged combat or melee though she does pilot a space fighter very effectively. Overall she seems to be the least combat capable of the Sisters and is a primarily a computer and communications expert.
It must be assumed that she is capable of combat for it would be silly for her design to leave her defenseless. Her strength is a little less than the front line combatants (January, May, and so on) but she is still much stronger than she appears.
In Episode One she hacks the computer systems of Sandvil prison simply by laying her hand on the stone floor. Presumably there were data cables in the floor that allowed her access. In later episodes she often takes control of other computers and systems by simply resting her hands on any convenient data terminal.
Though she is a highly skilled technician she is not infallible. In Episode Two the communications systems under her control are knocked off the air by a pirate broadcast. This may have been due to the sheer power of the pirate signals. In Episode One the Sadvil prison's computers had already been compromised by Mister's team and it seems to give her problems in seizing total control.
Campaign Use: February's strength lies in her electronic support functions; she is the electronics and intelligence support member of the Twelve Sisters' team. She is able to hack most enemy computers. She coordinates tactical operations usually close to, but behind, the front lines.
If need be she is a capable space fighter pilot and one must assume that she is capable of effectively using weapons. It is likely that her strength and skills would make her a dangerous hand to hand combatant.
Appearance: February physically appears to be between fifteen and eighteen years of age. She wears large glasses which do not seem to serve any purpose other than fashion (why make a vision impaired android?). Her hair is a reddish-blonde and she wears it in large curls. She is fair skinned and has green eyes. February stands about 5'4" tall and is heavy due to her android body. She wears a mostly white uniform with black lace trim and a black hair bow. It is an individualized maid's uniform.
February Designer's Notes:
STR 18: I made February slightly less strong than the front line combatants. In her role a high strength is not as much of a necessity. Since she never displays her strength this is more or less a guess.
DEX 20: Pretty much all of the Sisters have this dexterity score. They are simply more precise than normal humans.
CON 15: This is the standard CON of the Sisters' design. They can be stunned but not as easily as a human is.
BODY 13: February is slighter than the front-line models and so has less BODY than they do.
INT 15: February is very intelligent and a computer technician. It just makes sense for her to be bright. At the same time she is never shown to be a true genius.
EGO 10: Since she seems more demure and docile than the other sisters there is no reason to increase her EGO score.
PRE 13: She has a slightly elevated PRE score just because she may seem "different." She rarely uses her PRE for anything other than resisting other's PRE attacks.
COM 14: She is pretty but also a bit homely and conservative. She could probably easily boost her COM with different costuming and less conservative style.
PD 10: She is not intended to be a front line combatant so she doesn't need quite as much armor.
ED 8: Standard ED used for all of the Sisters.
SPD 4: We never see anything to indicate that she has paranormal amounts of speed. She is an android and she interfaces with computers so she ought to be at least as fast as the best human hackers.
REC 15: Standard REC for the Sisters. They all seem hard to keep down for very long. They can be stunned but shake it off quickly. The REC is a function of how quick their systems can reboot.
END 0: All the Sisters have no END costs for any power, talent, perk, skill or characteristic. All have 0 END as a standard.
STUN 40: She is not a front line combatant and so has a slightly lower STUN score.
---
---
Return to Anime and Manga Character Adaptations