STREET FIGHTER II
KEN MASTERS



Val	CHA	Cost	Roll	Notes


23	STR	13	14-	Lift 606.3 kg; 4 1/2d6 HTH Damage [2]
24	DEX	42	14-	OCV:  8/DCV:  8
23	CON	26	14-
15	BODY	10	12-
20	INT	10	13-	PER Roll 13-
20	EGO	20	13-	ECV:  7
18	PRE	8	13-	PRE Attack:  3 1/2d6
22	COM	6	13-

13	PD	8		Total:  13 PD (0 rPD)
13	ED	8		Total:  13 ED (0 rED)
6	SPD	26		Phases:  2, 4, 6, 8, 10, 12
10	REC	0
50	END	2
40	STUN	1		

Total Characteristic Cost:  180

Movement:

	Running:	8"/16"
		Leaping:	6"/12"
		Swimming:	2"/4"



Cost	Powers & Skills
	Martial Art:

 

Shotokan Karate


	

Maneuver	OCV	DCV	Damage


3	Backroll Throw	+2	+1	6 1/2d6 Strike; You Fall, Target Falls
4	Block		+2	+2	Block, Abort
4	Dodge		--	+5	Dodge, Affects All Attacks, Abort
3	Footsweep	+2	-1	7 1/2d6 Strike, Target Falls
5	Kick		-2	+1	10 1/2d6 Strike
5	Power Uppercut	+1	-2	10 1/2d6 Strike
4	Punch		+0	+2	8 1/2d6 Strike
3	Throw		+0	+1	6 1/2d6 +v/5, Target Falls
8	+2 HTH Damage Classes (already added in)

75	

Shotokan Karate Techniques:

  Multipower, 75-point reserve
3u	1)  

Ki Fireball:

  EB 9d6; Gestures (Requires both hands; must project fireball from 
	hands; -1/2), END 4
1u	2)  

Dragon Punch:

  HA +7d6; Hand-To-Hand Attack (-1/2), Extra Time (Full Phase, -1/2), Increased 
	Endurance Cost (x2 END; -1/2), END 6
4u	3)  

Flaming Dragon Punch:

  HA +7d6; Hand-To-Hand Attack (-1/2), Extra Time (Full Phase, -1/2), 
	Increased Endurance Cost (x2 END; -1/2) 

plus

 EB 8d6; Linked (???; -1/2), No 
	Knockback (-1/4), END 10
3u	4)  

Hurricane Kick:

  HA +6d6, Area Of Effect Nonselective (3" Radius; actual radius 2"; +3/4); 
	Hand-To-Hand Attack (-1/2), END 5

5	

Focus:

  Mental Defense (9 points total)
2	

Springing About:

  Leaping +2" (6 1/2" forward, 3" upward)	1
4	

Fast On His Feet:

    Running +2" (8" total)	1

	

Perks


20	Follower (4 x 50-point base)
1	Fringe Benefit:  Black Belt
5	Money:  Well Off
3	Well-Connected
3	1)  Contact:  Gouken-sensei (Contact has useful Skills or resources, Good relationship with 
	Contact) 11-
1	2)  Contact:  Unspecified 11-
1	3)  Contact:  Unspecified 11-
1	4)  Contact:  Unspecified 11-
1	5)  Contact:  Unspecified 11-
1	6)  Contact:  Unspecified 11-

	

Talents


16	Combat Sense 14-
27	Danger Sense (immediate vicinity, out of combat, Function as a Sense) 13-

	

Skills


25	+5 with HTH Combat
	 
3	Acrobatics 14-
1	Analyze:  Style 8-
3	Breakfall 14-
3	Combat Driving 14-
1	Computer Programming (Personal Computers) 8-
3	KS: Mysterious and Strange Lore 13-
3	KS: Shotokan Karate 13-
2	KS: Street Fighting Arenas 11-
4	KS: The Martial World 14-
0	Language:  English (idiomatic; literate)
4	Language:  Japanese (completely fluent; literate)
1	Lockpicking 8-
1	Oratory 8-
5	Persuasion 14-
3	Seduction 13-
3	Stealth 14-
3	Streetwise 13-
1	Survival (Temperate/Subtropical) 8-



Total Powers & Skill Cost:  285
Total Cost:  465

200+	Disadvantages


15	DNPC:  Eliza Masters 11- (Normal)
10	Distinctive Features:  Style (Not Concealable; Noticed and Recognizable; Detectable By Large Group)
25	Hunted:  M. Bison and Shadoloo 11- (Mo Pow, NCI, Capture)
5	Hunted:  Other Martial Artists Of Note 11- (As Pow, Watching)
10	Psychological Limitation:  Cocky And Proud (Common, Moderate)
15	Psychological Limitation:  Honorable Fighter (Common, Strong)
10	Reputation:  Well-known world warrior, 11-
15	Social Limitation:  Famous (Frequently, Major)
160	

Experience Points

Total Disadvantage Points:  465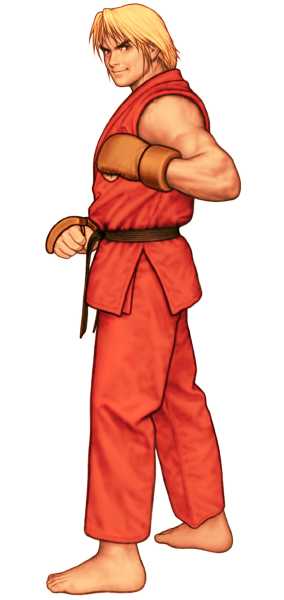 Background/History: Born in Japan, Ken is the son of an American military serviceman. Bullied and picked on due to his natural good looks (and exuberant nature), Ken was sent to learn karate at a nearby dojo. It so happened this dojo was run by Shotokan master Gouken, who saw something in the young gaijin and selected him to be a private student.
Ken trained at the school for a number of years, and remained behind after his family returned to America. Eventually, Ken mastered a number of Shotokan techniques, including the Dragon Punch, Fireball, and Hurricane Kick. When he was done, Gouken declared his training to be complete and told Ken to test his skills in combat.
Returning to America, Ken won a number of full-contact martial arts tournaments. He then entered the Street Fighter circuit and quickly rose to the top of the ranks.
Personality/Motivation: Ken likes to live the good life, which includes expensive clothing, fine food, and fast cars. He is married to the very beautiful Eliza, and lives a very fast life. On the other hand, Ken is no fool, and trains constantly, honing and improving his skills. Fighting for him is a way to test and perfect his skills, and he will not let anything interfere with his preparations and training.
Quote: "Fights like this brings out the best in me!"
"I need a better workout then this! Where's Eliza?!"
"Rivalry can often inspire one's skill to become its best!"
"True strength is something money and credit cards cannot buy!"
Powers/Tactics: As a master of Shotokan karate, Ken prefers to fight close and personal. He will combine strikes to keep and opponent off balance until he can finish him off with a Dragon Punch, or, if really pressed, his Flaming Dragon Punch. Fireballs are used against opponents that are out of hand-to-hand range, while the Hurricane Kick is good against groups.
Appearance: Ken is around 5'10" in height, with a muscular but lean build. His bright blond hair is fairly long, and usually worn tied back. In combat, he wears a red ghi with the sleeves removed.
Designer's Notes: In the original video games, Ken was virtually identical to Ryu. That has changed a bit over time, but the two are still almost an even match. As they are supposed to be so highly skilled, both Ken and Ryu have one more Combat Skill Level than the other Street Fighter characters.
This character sheet is adapted from the Street Fighter game originally published by White Wolf. Characteristics have been derived using the conversion notes given in The Ultimate Mentalist. Skills have been derived from skills and skill descriptions given in the White Wolf RPG. The values for skills were derived from the idea that 1 dot = 8-, 2 dots = 11-, and each additional dot as a +1 to the roll. Other skills, powers and disadvantages are taken from material given in the RPG sourcebooks.
(Ken Masters created by Capcom, character sheet created by Michael Surbrook)
Ken Masters's Hero Designer File.
---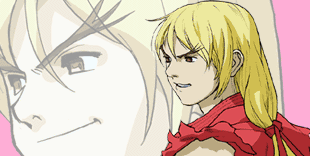 Balrog
|
Blanka
|
Cammy White
|
Chun Li Xiang
|
Dee Jay
|
Dhalsim
|
Edmund Honda
|
Fei Long
|
Ken Masters
|
M. Bison
|
Ryu
|
Victor Sagat
|
Thunder Hawk
|
Vega
|
William F. Guile
|
Zangief
---
Return to Video Game-Derived Character Adaptations