SILENT MOBIUS ZETA
YUKI SAIKO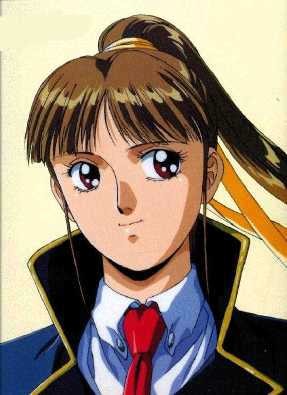 Val	CHA	Cost	Roll	Notes


8	STR	-2	11-	75kg; 1 1/2d6
14	DEX	12	12-	OCV:  5/DCV:  5
13	CON	6	12-	
8	BODY	-4	11-
20	INT	10	13-	PER Roll 13-
15	EGO	10	13-	ECV:  5
13	PRE	3	12-	PRE Attack:  2 1/2d6
14	COM	2	12-	
3	PD	1		Total:  33 PD/30r PD
3	ED	0		Total:  33 ED/30r ED
3	SPD	6		Phases:  4, 8, 12
5	REC	0
26	END	0
20	STUN	1
Total Characteristics Cost:  45



Movement:

	Running:  6"/12"
		Swimming:  2"/4"



Cost	Powers & Skills


Psychokinetic Powers:
10	Psychokinetic/Esper Powers Elemental Control:  30 Point Base
	No Conscious Control (-2)
10	1 - Force Blast:  EB 12d6 (physical), END 6
10	2 - Force Field:  30 DEF, END 6
10	3 - Force Wall:  12 DEF, END 6
10	4 - Telekinesis:  60 STR, END 6
10	5 - Telekinetic Rupture:  4d6 RKA, END 6
10	6 - Visions:  Precognition:  Sight, 800" range, 0 END (+1/2)

5	Esper Shields:  Mental Defense:  8 pts

AMP Equipment:
19	HBG-35 Hi-Power Blaster Multipower:  48 Point Pool, 8 Shots (-1/2), OAF (-1)
2	u - Creature Setting:  2 1/2d6 RKA E, +1 OCV, +1 RMod, 6 Shots (-3/4)
1	u - Basic Setting:  1 1/2d6 RKA E, +1 OCV, +1 RMod, 12 Shots (-1/4)
17	Stunstick:  EB 5d6, NND (Defense is being grounded or insulated or having a 
	non-human nervous system) (+1), +1 OCV, No Range (-1/2), 
	6 charges (-3/4), OAF (-1)
9	Drain:  3d6 (vs DEX), Linked to NND (-1/2), 6 charges (-3/4), OAF (-1)
6	AMP Boots/Shinguards:  Armor DEF 5, Locations 15-18 (-1 1/4), OIF (-1/2)

AMP Officer 

Skills


3	Perk:  AMP Police Powers 
2	Perk:  Weapon Permit 
3	AK:  Mega Tokyo 14-
3	Bureaucratics 12-
1	Criminology 8-
1	KS:  Criminal Law & Prodedure 8-
1	KS:  Lucifer Folk 8-
1	KS:  Occult 8-
2	PS:  Police Dispatch Officer 11-
1	Streetwise 8-
3	Systems Operations 13-
1	TF:  Spinner 
2	WF:  Pistols, Tonfa/Nightstick 

	

Skills


2	KS:  Cooking 11-
0	Japanese (native)
2	PS:  Tea Shop owner 11-
157	Total Powers & Skills Cost
202	Total Character Cost

100+	Disadvantages
5	Distinctive Features:  AMP Uniform
15	Hunted:  Lucifer Folk (Mopow) 8-
20	Normal Characteristic Maxima
3	AMP Officer Package Bonus 
	Psychological Limitation:
10	Freezes in Combat (U, S)
15	Insecure/Unsure of Self (C, S)
10	Sense of duty to the AMP, considers the AMP her "family"
5	Reputation:  AMP Officer 8-
13	Watched:  by AMP, Subject to Orders (MoPow, NCI) 11-
6	Esper Bonus
202	Total Disadvantage Points

Designer's Notes: Yuki is the end result of the super-secret YLPER (or ESPER) Project, which attempted to create 'Esper weapons' though the use of genetic manipulation. Selected for the AMP by Rally Cheyenne personally, Yuki is the team's 'mascot', dispatch officer and Lebia's data processing assistant. Although Yuki sometimes acts a little airheaded (she's only a teenager), she can show a great deal of courage when needed.
Description: Yuki is the smallest and youngest member of the AMP. She stands 5'1" and weighs just over 100 lbs. She has brown hair and brown eyes. She is 15 years old at the start of the series.
Powers Notes: Yuki's powers manifest only very rarely. Her Precog occurs quite often, but without any real control, often resulting in her having 'visions'. The clarity of these visions varies greatly, at times she is quite certain what is going to happen ("Chief! I don't see the Police Building here tomorrow!") to vague, ("Katsumi? You be careful going home tonight, okay?"). At one point, her other powers manifested while she was being attacked by as fellow member of the YLPER Project. She also blasts a Lucifer Folk through a wall in a scene late in the manga series.
Yuki carries the standard AMP officer gear, with the exception of a Graviton. If the situation needs it, she will be issued one, though.
Disadvantages Notes: Due to her age and the nature of her powers, Yuki is more than a little uncertain as to the purpose in the AMP. She is rather insecure about her standing on the team, as well as unsure of her ability to be a viable member of the AMP. This carries over into her confrontations with entities, were she has been known to 'freeze-up' when confronted with a Lucifer Folk directly. Fortunately, she seems to be getting over this problem.
(Yuki Saiko created by Kia Asamiya, character sheet created by Michael Surbrook)
---
---
Return to Silent Möbius Zeta
---
Return to Anime and Manga Character Adaptations