SILENT MOBIUS
KIDDY PHENIL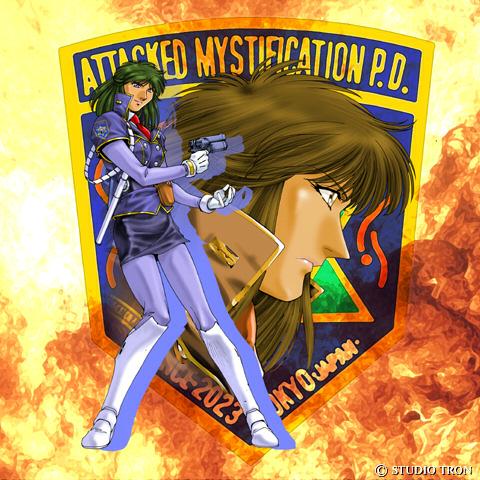 Val	CHA	Cost	Roll	Notes


38	STR	23	17-	4800kg; 7 1/2d6
21	DEX	33	13-	OCV:  7/DCV:  7
21	CON	22	13-	
18	BODY	16	13-
13	INT	3	12-	PER Roll 12-
13	EGO	6	12-	ECV:  4
20	PRE	10	13-	PRE Attack:  4d6
16	COM	3	12-	
8	PD	0		Total:  11 PD/3 PDr
6	ED	1		Total:  9 ED/3 EDr
5	SPD	17		Phases:  3, 5, 8, 10, 12
11	REC	0
46	END	0
47	STUN	0
Total Characteristics Cost:  138



Movement:

	Running:  9"/18"
		Superleap:  20"
		Swimming:  0"



Cost	Powers & Skills


Combat Training:
10	Combat Skill Levels:  +2 with HTH
6	Combat Skill Levels:  +2 with AMP Weapons

Megadyne Combat Cybergraft Body Powers:
9	Cyberlimbs:  Hand Attack:  +2d6, 0 END (+1/2)
7	Cybergraft Body:  Density Increase, 1 Level, 0 End (+1/2), Persistent (+1/2), 
	Always On (-1/2), +5 STR, +1 PD/ED, -1" KB, 400 lbs
7	Cybergraft Body:  Armor +3 DEF, Locations 6-18 (-1/2)
15	Cybergraft Body:  50% Damage Reduction, Physical, Resistant, Linked to 
	Armor Activation (-1/2), Only vs Stun (-1/2)
4	Cyberlegs:  Running:  +2" (8" Total)
19	Cyberlegs:  Superleap:  +14" (20" total), 0 END (+1/2), No Noncombat Leap (-1/4)
-2	Cybergraft Body:  Swimming:  -2" (0" Total)
6	Internal Air Supply:  Sealed Systems, 1 charge of 5 minutes (-3/4)
3	Coordinated Limbs:  Talent:  Ambidexterity

AMP Equipment:
27	AMK-02 GW Graviton:  3 1/2d6 RKA, +1 Stun (+1/2), +2 RMod, 
	3 Shots (-1 1/4), OAF (-1)
27	A Second AMK-02 GW Graviton
19	HBG-35 Hi-Power Blaster Multipower:  48 Point Pool, 8 Shots (-1/2), OAF (-1)
2	u - Creature Setting:  2 1/2d6 RKA E, +1 OCV, +1 RMod, 6 Shots (-3/4)
1	u - Basic Setting:  1 1/2d6 RKA E, +1 OCV, +1 RMod, 12 Shots (-1/4)
17	Stunstick:  EB 5d6, NND (Defense is being grounded or insulated or having a 
	non-human nervous system) (+1), +1 OCV, No Range (-1/2), 
	6 charges (-3/4), OAF (-1)
9	Drain:  3d6 (vs DEX), Linked to NND (-1/2), 6 charges (-3/4), OAF (-1)
6	AMP Boots/Shinguards:  Armor DEF 5, Locations 15-18 (-1 1/4), OIF (-1/2)

AMP and 	

Skills


5	Coolness Under Fire:  10 PRE, Defensive only (-1)
3	Perk:  AMP Police Powers
2	Perk:  Weapon Permit 
0	AK:  Australia 8-
2	AK:  Mega-Tokyo 11-
3	Breakfall 13-
3	Bureaucratics 13-
3	Criminology 12-
0	English (native)
5	Fast Draw 14-
4	Japanese (fully/lit)
4	KS:  Criminal Law & Procedure 13-
2	KS:  Lucifer Folk 11-
2	KS:  Magic and the Occult 11-
2	PS:  Police Officer 11-
3	Shadowing 11-
3	Stealth 13-
3	Streetwise 13-
1	TF:  Automobile, Spinner
5	Two Gun Fighting
2	WF:  Pistols, Tonfa/Nightstick
249	Total Powers & Skills Cost
387	Total Character Cost

100+	Disadvantages
	Distinctive Features:
5	AMP Uniform
10	Cyborg Body
10	DNPC:  Ralph Bowmers (Comp) 11-
15	Hunted:  Lucifer Folk (Mopow) 8-
3	Package Bonus:  AMP
10	Physical Limitation:  Requires Special Medical Attention
	Psychological Limitation:
20	Overconfident (VC, S)
15	Irritable & short tempered (C, S)
5	Dislikes own body (UC, M)
5	Reputation:  AMP Officer 8-
13	Watched:  AMP, Subject to Orders (Mopow, NCI) 11-
176	Fighter Bonus
387	Total Disadvantage Points

Designer's Notes: A native of Australia, Kiddy was one of the first people to be recruited into the AMP. A former Tokyo police officer with, she was nearly killed by a rogue replicant (aka 'Megadyne') known as 'Whip' or 'Wire'. Her life was saved through an extensive 'cybergraft upgrade' which she later had modified to a combat upgrade. Now, fully 70% of her body is cybernetic.
Description: Kiddy stands 5'6" with a slim build. Her weight is unknown, but is certainly in excess of the human norm, and probably well over 200 pounds. (Due to the way I've designed her character, she weighs anywhere from 300 to 400 pounds.) Kiddy has deep tan, or light brown skin, with thick green-black hair that falls past her shoulders. Her eyes are purple. She is 21 years old at the start of the series.
Despite having a cyborg body covered in a synthetic skin, Kiddy dresses in a wide variety of outfits when off duty, sometimes wearing rather revealing fashions.
Powers Notes: As a cyborg, Kiddy is very strong, reasonably resistant to damage and capable of leaping immense distances. She also has an implanted air supply. Although Kiddy carries the standard gear of an AMP officer, she often fights entities hand-to-hand, counting on her great strength to destroy or disable her target.
Disadvantages Notes: Although her body gives her great power, it also gives Kiddy a great deal of trouble. She feels that she is more machine than human and feels that her new body has cost her a portion of her humanity as well as her femininity. It is perhaps because of this, that she is often short-tempered and irritable and often the first leap into combat.
Kiddy's body is made of metallic parts covered with a synthetic gell or flesh. If she is injured, she requires immediete hospital care, since most paramedic techniques won't work on her. Due to the nature of her body, she is usually the one to be injured the worst in the series. Most damage is only temporary, and can be repaired in a short while (note I said repaired, not healed).
Ralph Bowmers is Kiddy's boyfriend. A fellow officer in the Tokyo Police Department, the two of them fought Wire together when Kiddy met him for the second time. In Side 7, it looks as if the two have moved in together.
(Kiddy Phenil created by Kia Asamiya, character sheet created by Michael Surbrook)
---
---
Return to Silent Möbius Zeta
---
Return to Anime and Manga Character Adaptations