THE INCREDIBLES
SYNDROME
(Buddy Pine)



Val	CHA	Cost	Roll	Notes


8	STR	-2	11-	Lift 75.8kg; 1 1/2d6 HTH Damage
13	DEX	9	12-	OCV:  4/DCV:  4
10	CON	0	11-
10	BOD	0	11-
25	INT	15	14-	PER Roll 14-
13	EGO	6	12-	ECV:  4
13	PRE	3	12-	PRE Attack:  2 1/2d6
6	COM	-2	10-

2	PD	0		Total:  32 PD (30 rPD)
2	ED	0		Total:  32 ED (30 rED)
7	SPD	47		Phases:  2, 4, 6, 7, 9, 11, 12
4	REC	0
32	END	6
19	STUN	0		

Total Characteristics Cost:  82





Movement:

	Running:	6"/12"
		Flight:	15"/30"
		Swimming:	2"/4"



Cost	Powers & Skills


107	

Zero-Point Energy:

  Telekinesis (100 STR), Reduced Endurance (0 END; +1/2), Area Of Effect 
	(23" Any Area; NB - This Cannot Be Applied To More Than 2 Hexes But Can Be Applied To EITHER 
	1 Or 2 Separate Hexes, One For Each Wrist Control; +1); Must Be Used At Full Strength And Cannot 
	Be Used Same Time As Any Other Control Bracelet Powers (-1), OIF (Considered Inaccessible Because 
	He Has TWO, One On Each Wrist; -1/2), Limited Range - (10"; -1/4), Requires A DEX Roll (For 
	Moving Things With Power) (No Active Point Penalty To Skill Roll; -1/4), Beam (-1/4), 
	Concentration (1/2 DCV; -1/4)

120	

Control Bracelets (One On Each Wrist):

  Multipower, 180-Point Reserve; All Slots OIF (Wrist Controls; 
	(Considered Inaccessible Because He Has TWO, One On Each Wrist); -1/2)
6u	1)  

ZPE Blast:

  EB 12d6, Reduced Endurance (0 END; +1/2); OIF (Wrist Controls; (Considered Inaccessible 
	Because He Has TWO, One On Each Wrist); -1/2)
12u	2)  RKA 6d6, Explosion (+1/2), Reduced Endurance (0 END; +1/2); OIF (Wrist Controls; (Considered 
	Inaccessible Because He Has TWO, One On Each Wrist); -1/2)
6m	3)  

Mobile Scanner:

  Clairsentience (Sight Group And Radar), Mobile Perception Point (Can Move Up 
	To 6" Per Phase), Reduced Endurance (0 END; +1/2); OIF (Wrist Controls; (Considered Inaccessible 
	Because He Has TWO, One On Each Wrist); -1/2)

30	Flight 15", Reduced Endurance (0 END; +1/2); OIF (-1/2)

	

Perks


15	Advanced Tech
70	Base (Approximation, For Later Refinement)
119	Follower (357 Active Points); Independent (-2)
30	Follower
15	Money:  Filthy Rich
10	Vehicle (Generic/Approximate)

	

Talents


7	Custom Talent 
	[

Notes:

  This Is Modelled On The Cost Of A Single Daily Charge Of Invisibility, The Idea 
	Being He Is Often Unseen/Unexpected Until He Suddenly Appears To Get The Drop On The Hero.]
60	Combat Luck (30 PD/30 ED)
26	Lightning Reflexes:  +17 DEX To Act First With All Actions

	

Skills


3	Computer Programming 14-
3	Criminology 14-
3	Deduction 14-
3	Electronics 14-
3	Interrogation 12-
13	Inventor 19-
5	KS:  Supers 14-
3	Mechanics 14-
3	Oratory 12-
5	Rapid Attack (Ranged) 
3	Security Systems 14-
3	Systems Operation 14-
10	Two-Weapon Fighting (Ranged) 



693	Total Powers & Skills Cost
775	Total Character Cost

200	Disadvantages


10	Distinctive Features:  Noticably Short Guy, Unusual Hair (Concealable; Noticed And Recognizable; 
	Detectable By Commonly-Used Senses)
10	Physical Limitation:  Cape... (Infrequently, Greatly Impairing)
5	Physical Limitation:  Short (Infrequently, Slightly Impairing)
15	Psychological Limitation:  Cold, Unfeeling. (Common, Strong)
15	Psychological Limitation:  Overconfidence, Trusts Own Intelligence Above Everything Else, Assumes 
	He Does Not Make Mistakes (Common, Strong)
10	Psychological Limitation:  Self-Conscious/Ego Issues Regarding Lack Of Own Innate Powers (Common, Moderate)
15	Psychological Limitation:  Resents Other Supers (Common, Strong)
25	Psychological Limitation:  Will Do Anything To Be The Center Of People's Attention As A Hero - 
	ANYTHING. (Very Common, Total)
15	Psychological Limitation:  Veangeful (Common, Strong)
0	Reputation:  That Kid Who Messed Up Mr. Incredible's Career, 8- (Known Only To A Small Group)
5	Rivalry:  Professional, With Mr. Incredible, Rival Is As Powerful, Seek To Harm Or Kill Rival, 
	Rival Unaware Of Rivalry
10	Social Limitation:  Lives Alone On Island, Limited Circle (Very Frequently, Minor, Not Limiting 
	In Some Cultures)
15	Unluck:  3d6

	

Experience
775	Total Disadvantage Points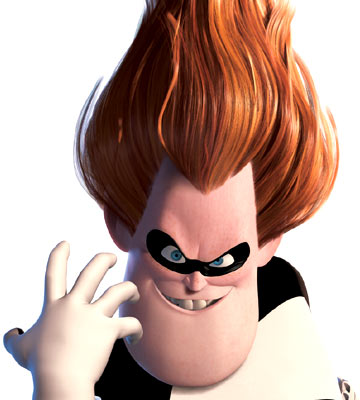 Background/History: As a child, Buddy idolized Mr. Incredible and even tried to become his sidekick, but was rejected as Mr. Incredilbe "works alone." Embittered but brilliant, Buddy built weapons, building a fortune, and saving the best for himself. He ended up building an amazing scheme to rid the world of its supers and become its foremost super himself, defeating a threat of his own devising. His plans were foiled by the Incredibles and he appeared to lose his life in a final confrontation with them.
Personality/Motivation: Syndrome is cold-hearted and entirely self-centered, having apparently lost touch with his humanity. His sole goal is the accumulation of power and ultimately glory as a perceived hero.
Quote: "I'm still geekin' out about it!"
"Who's super now?"
"Too late - 15 years too late."
Powers/Tactics: Syndrome is the classic mastermind, and relies entirely on his gadgets and weapons, believing that which he's built with his intellect is unqestionably in control and superior to any opponent.
---
---
Return to Western Animation-Derived HERO System Character Adaptations.