THE INCREDIBLES
FROZONE
(Lucius Best)



Val	CHA	Cost	Roll	Notes


15	STR	5	12-	Lift 200.0kg; 3d6 HTH Damage
20	DEX	30	13-	OCV:  7/DCV:  7
13	CON	6	12-
10	BOD	0	11-
13	INT	3	12-	PER Roll 12-
12	EGO	4	11-	ECV:  4
13	PRE	3	12-	PRE Attack:  2 1/2d6
14	COM	2	12-

4	PD	1		Total:  24 PD (20 rPD)
7	ED	4		Total:  27 ED (20 rED)
5	SPD	20		Phases:  3, 5, 8, 10, 12
12	REC	12
60	END	17
25	STUN	0		

Total Characteristics Cost:  107





Movement:

	Running:	6"/12"
		Flight:		10"/20"
		Swimming:	2"/4"



Cost	Powers & Skills


80	

Ice Attacks:

  Multipower, 100-Point Reserve; All Slots:  Does Not Work When Frozone Is 
	Dehydrated Or No Water In Air (-1/4)
12m	1)  

Frozen (With Ice Wall Option):

  Entangle 7d6, 7 DEF (Larger Wall (+3"); Does Not Work When 
	Frozone Is Dehydrated Or No Water In Air (-1/4), 8 END
11m	2)  

Stunningly Cold:

  EB 14d6; Does Not Work When Frozone Is Dehydrated Or No Water In Air (-1/4), 7 END
5m	3) 

 Icey Conditions:

  Change Environment 8" Radius, Varying Combat Effects; Does Not Work When 
	Frozone Is Dehydrated Or No Water In Air  (-1/4), 3 END

60	

Suit And Helmet:

  Armor (20 PD/20 ED)
4	

Visor Mutes Light:

  Sight Group Flash Defense (5 Points); IIF (-1/4)
11	

Snazzy Icecapades On Iceboard:

  Flight 10", Reduced Endurance (1/2 END; +1/4); OAF (-1), Only In 
	Contact With Ice Surface (-1/4), 1 END
16	

Quick On Ice:

  Running 10"; Power Only Works On Ice (-1/4), 2 END

	

Perks


5	Money:  Well Off
4	Vehicles & Bases

	

Talents


2	Environmental Movement - Icey Terrain

	

Skills


6	+2 With Any Three Related Skills

3	Acrobatics 13-
3	Conversation 12-
3	Persuasion 12-
3	Defense Maneuver I 
9	Power:  Freezing Multipower 14-
3	Seduction 12-
3	Teamwork 13-


243	Total Powers & Skills Cost
350	Total Character Cost

200	Disadvantages


20	DNPC:  Wife, Honey 11- (Incompetent)
20	Hunted:  Syndrome 11- (Mo Pow, Harshly Punish)
15	Psychological Limitation:  Honest And  Tries To Obey Society's Rules (Very Common, Moderate)
15	Psychological Limitation:  Loyalty/Friendship To Mr. Incredible And Family (Very Common, Moderate)
5	Psychological Limitation:  Nostalgic (Uncommon, Moderate)
15	Psychological Limitation:  Protect The Public In Times Of Unusual Danger (Uncommon, Total)
15	Reputation:  Major Super Of Past, 14-
15	Social Limitation:  Secret Identity (Frequently, Major)
10	Social Limitation:  Social Events, Wife's Obligations (Occasionally, Major)
10	Social Limitation:  Well-Off, Job (Occasionally, Major)
10	Unluck:  2d6


350	Total Disadvantage Points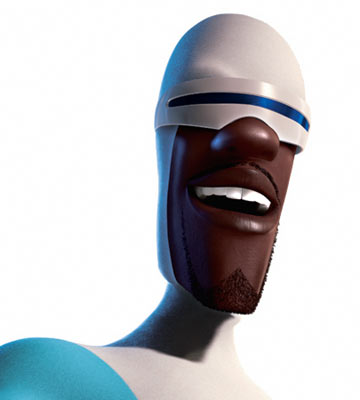 Background/History: Frozone was one of the major supers in the great age of such in the '60s. As required by the government, he went underground.with all others, settling down with his wife, Honey.
Personality/Motivation: A charming and attractive man, Lucius manages to be both affable and commanding in presence at the same time. He tries to do the right thing for his country, his family, and his friends.
Quote: None in particular known, but he eschews corny ice-related catch phrases, hearing them too often from his friends.
Powers/Tactics: Frozone has both offensive and combat support abilities, given his abilities to alter the terrain with ice as well as create great ice walls or freeze opponents. Moreover, he's extremely quick, covering a lot of ground and assisting others in combat if they're compromised.
---
---
Return to Western Animation-Derived HERO System Character Adaptations.