THE INCREDIBLES
MIRAGE



Val	CHA	Cost	Roll	Notes


10	STR	0	11-	Lift 100 kg; 2d6 HTH Damage
13	DEX	9	12-	OCV:  4/DCV:  4
10	CON	0	11-
10	BODY	0	11-
13	INT	3	12-	PER Roll 12-
10	EGO	0	11-	ECV:  3
20	PRE	10	13-	PRE Attack:  4d6
20	COM	5	13-

2	PD	0		Total:  2 PD (0 rPD)
2	ED	0		Total:  2 ED (0 rED)
3	SPD	7		Phases:  4, 8, 12
4	REC	0
20	END	0
20	STUN	0		

Total Characteristics Cost:  34





Movement:

	Running:	6"/12"
		Swimming:	2"/4"



Cost	Powers & Skills


27	

Various Field Work Gadgets for Surveillance And Such:

  Variable Power Pool (Gadget Pool), 
	20 base + 7 control cost; Limited Class Of Powers Available (Only High-tech devices, mainly for 
	spying ; -1/2)

	

Perks


3	Access
3	Anonymity [

Notes:

  Nobody knows who Mirage is...]
13	Contact:  Syndrome (Contact has access to major institutions, Contact has extremely 
	useful Skills or resources, Good relationship with Contact) 17- 
	[

Notes:

  Contact given as "good" as Syndrome is essentially heartless and not likely to 
	trouble himself too much for Mirage.]
5	Money:  Well Off

	

Skills


8	+1 with all Non-Combat Skills
5	+1 with a group of Similar Skills

3	Acting 13-
3	Bribery 13-
3	Bugging 12-
3	Concealment 12-
3	Conversation 13-
3	Deduction 12-
3	Interrogation 13-
3	KS:  Supers 12-
3	Oratory 13-
3	Persuasion 13-
3	Security Systems 12-
3	Seduction 13-
5	Shadowing 13-
3	Stealth 12-
8	Systems Operation (Communications Systems, Environmental Systems, Air/Space Traffic Control Systems, 
	Radar, Sensor Jamming Equipment, Sonar) 12-



116	Total Powers & Skills Cost
150	Total Character Cost

75+	Disadvantages


10	Psychological Limitation:  Attracted to Mr. Incredible (Uncommon, Strong)
20	Psychological Limitation:  Attracted to power (Very Common, Strong)
20	Psychological Limitation:  Loyal (Very Common, Strong)
5	Social Limitation:  In relationship with Syndrome (Occasionally, Minor)
5	Social Limitation:  Secret identity (Occasionally, Minor)
15	Social Limitation:  Working for supervillain on island base (Frequently, Major)



150	Total Disadvantage Points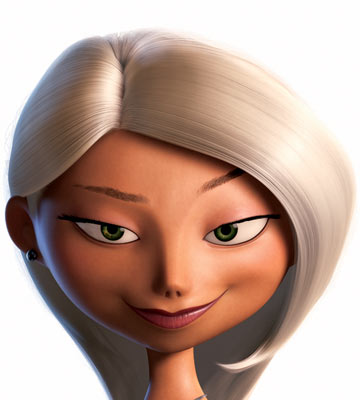 Background/History: Little is known about Mirage, but it's clear that she loves power and was attracted to Syndrome, both personally and professionally, in her quest.
Personality/Motivation: Mirage is about the friendliest agent you'll find. She seems to genuinely like people, something which aids her no doubt in her ability to convince them to do things and put them in situations. But she's passionate about power. Unlike the kind of people she associates with, though, she has a conscience and has limits as to how far she'll go, particularly as she seems fairly loyal.
Quote: "I'm attracted to power."
Powers/Tactics: Mirage is the consummate spy, with no real combat abilities but with the ability to follow others without detection, do surveillance, and so on. Her greatest strength, though, is her ability to manipulate others.
---
---
Return to Western Animation-Derived HERO System Character Adaptations.