THE INCREDIBLES
OMNIDROID



Val	CHA	Cost	Roll	Notes


75	STR	65	24-	Lift 819.2tons; 15d6 HTH Damage
30	DEX	60	15-	OCV:  10/DCV:  10
50	CON	80	19-
10	BOD	0	11-
15	INT	5	12-	PER Roll 12-
0	EGO	0	00	ECV:  N/A
20	PRE	10	13-	PRE Attack:  4d6
0	COM	-5	9-

5	PD	0		Total:  30 PD (25 rPD)
3	ED	0		Total:  28 ED (25 rED)
4	SPD	0		Phases:   3, 6, 9, 12
25	REC	0
100	END	0
--	STUN	--		

Total Characteristics Cost:   231





Movement:

	Running:	14"/28"
		Leaping:	15"/30"
		Swimming:	2"/4"



Cost	Powers & Skills


75	

Energy Beam:

  EB 15d6, 7 END
112	

Striking Claws:

  HKA 3d6 (5d6 w/STR) (standard effect:  15 BODY, 30 STUN), Armor Piercing 
	(x3; +1 1/2), 11 END
45	Automaton (Takes No STUN (loses abilities when takes BODY))
15	Does Not Bleed
337	Armor (25 PD/25 ED), Hardened (x2; +1/2)
15	Lack Of Weakness (-5) for Normal Defense
0	Leaping 0" (15" forward, 7 1/2" upward)
5	Extra Limbs (2)
30	Find Weakness 11- with All Attacks
0	Naked Modifier:   for up to 1 Active Points, STR uses Standard Effect (When employing STR to bash 
	or throw, use Standard Effect to best handle the way the automoton dishes damages.; +0)

	

Talents


3	Absolute Range Sense
3	Absolute Time Sense
9	Ambidexterity (no Off Hand penalty)
3	Bump Of Direction

	

Skills


24	+3 with All Combat

3	Analyze:   Combat 12-
3	Breakfall 15-
3	Climbing 15-
3	Tactics 12-



688	Total Powers & Skills Cost
919	Total Character Cost

200+	Disadvantages


25	Distinctive Features:   (Not Concealable; Extreme Reaction; Detectable By Commonly-Used Senses)
45	Enraged:   Berserk Always (Very Common), go 14-, recover 8-
25	Physical Limitation:   Automoton, no free will, following programmed destruction (All the Time, Fully Impairing)
15	Physical Limitation:   Can Be Controlled Via Remote (Infrequently, Fully Impairing)
20	Physical Limitation:   Massive Sphere (All the Time, Greatly Impairing)
20	Psychological Limitation:   Will do anything to assure survival - including fighting master (Common, Total)
10	Vulnerability:   to self:   2 x BODY (Uncommon)
559	

Experience
919	Total Disadvantage Points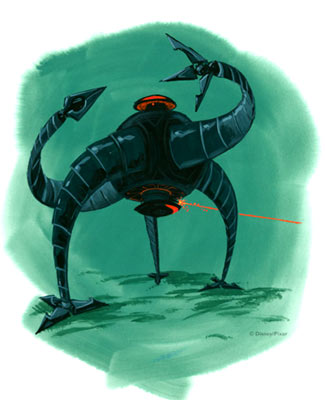 Background/History: Brutal killing machine built by Snydrome to both eliminate supers ("competition") as well as be a villain ready-made for him to defeat.
Personality/Motivation: The OmniDroid has no personality aside from being relentless in destroying all perceived threats - or any life it seems, for that matter. It is a learning machine and continues to adapt to its opponents.
Powers/Tactics: The OmniDroid has a few basic but extreme powers, essentially being a versatile brick robotic sphere with appendages. It eliminates every threat, analyzing it for weaknesses and tactics, intending to predict its opponents' actions.
---
---
Return to Western Animation-Derived HERO System Character Adaptations.