THE INCREDIBLES
DASH
(Dashiell Parr)



Val	CHA	Cost	Roll	Notes


8	STR	-2	11-	Lift 75.8 kg; 1 1/2d6 HTH Damage
20	DEX	30	16-	OCV:  12/DCV:  12
12	CON	4	11-
8	BODY	-4	11-
9	INT	-1	11-	PER Roll 11-
9	EGO	-2	11-	ECV:  3
12	PRE	2	11-	PRE Attack:  2d6
12	COM	1	11-

6	PD	4		Total:  18 PD (12 rPD)
6	ED	4		Total:  18 ED (12 rED)
6	SPD	13		Phases:  2, 4, 6, 8, 10, 12
12	REC	16
50	END	13
18	STUN	0		Total Characteristics Cost:  78



Movement:

	Flight:		40"/80"
		Leaping:	1"/2"
		Running:	6"/12"
		Swimming:	2"/4"



Cost	Powers & Skills


14	

DEX With No CV Effect:

  +17 DEX; Does Not Effect CV (-1/2) (Modifiers Affect Base 
	Characteristic)
10	HA +2d6, Autofire (5 Shots; +1/2); Hand-To-Hand Attack (-1/2), 1 END
68	

Hyper-Fast Running:

  Flight 40", No Turn Mode (+1/4), Reduced Endurance (1/2 END; +1/4); Not Up 
	Sheer Surfaces, Must Remain In Motion On Inappropriate Surfaces (Water, Etc.) (-1/2), Only In 
	Contact With A Surface (-1/4), 5 END
10	Luck 2d6

	

Perks


8	Contact (Contact Has Extremely Useful Skills Or Resources, Contact Has Significant 
	Contacts Of His Own, Contact Is Slavishly Loyal To Character) 8-

	

Talents


24	Combat Luck (12 PD/12 ED)

	

Skills


3	Acrobatics 16-
3	Oratory 11-
3	Power:  Speedster Stunts 11-
5	Rapid Attack (HTH) 
5	Rapid Attack (Ranged) 
3	Teamwork 16-



156	Total Powers & Skills Cost
234	Total Character Cost

200	Disadvantages


5	Distinctive Features:  Expresses Emotions/Ideas Openly (Easily Concealed; Noticed And 
	Recognizable; Detectable By Commonly-Used Senses)
5	Physical Limitation:  Little Kid (Infrequently, Slightly Impairing)
10	Psychological Limitation:  Competitive (Common, Moderate)
15	Psychological Limitation:  Not Experienced With Powers (Very Common, Moderate)
20	Psychological Limitation:  Overconfident/Showoff (Very Common, Strong)
10	Rivalry:  Familial, With Sister (Friendly), Rival Is As Powerful, Rival Is A Player 
	Character, Seek To Outdo, Embarrass, Or Humiliate Rival, Rival Aware Of Rivalry
25	Social Limitation:  Little Kid (Very Frequently, Severe)
10	Social Limitation:  Secret Identity (Occasionally, Major)


300	Total Disadvantage Points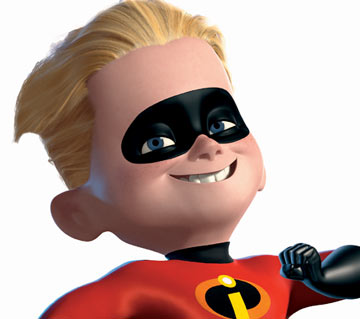 Background/History: Dash is the son of Mr. Incredible and Elasti-Girl, a 4th-going-to-5th grader when our story picks up.
Personality/Motivation: As his mother says, he's "incredibly competitive" and "a bit of a showoff" (taking after his father).
Quote: "Saying everyone's special is a way of saying nobody is."
"Uh-oh!"
Powers/Tactics: He's still becoming accustomed to his powers, but Dash has discovered he can run on water and quickly has realized the best way to lose a pursuer is to suddenly move unexpectedly, something his agility allows him to do despite his extreme speed. He understands intuitively his role in combat support, providing distractions and "going long" as needed.
---
---
Return to Western Animation-Derived HERO System Character Adaptations.