SAILOR MOON
SAILOR MERCURY



Val	CHA	Cost	Roll	Notes


8	STR	-2	11-	75kg; 1 1/2d6
10/26	DEX	0	14-	OCV:  9/DCV:  9
10/20	CON	0	13-
10/15	BODY	0	12-
23	INT	13	14-	PER Roll 14-
12	EGO	4	12-	ECV:  4
13	PRE	3	12-	PRE Attack:  2 1/2d6
12	COM	1	11-
2/9	PD	0		Total:  9 PD
2/9	ED	0		Total:  9 ED
2/5	SPD	0		Phases:  3, 5, 8, 10, 12
4/11	REC	0		
20/40	END	0		
18/50	STUN	0		Values after the slash are Only In Hero ID (-1/4)


Total Characteristics Cost:  19





Movement:

	Running:	6"/12"
		Swimming:	2"/4"



Cost	Powers & Skills




Sailor Senshi Powers:


2	

Mercury Power Makeup:

  Instant Change, Extra Time:  Full Phase (-1/2),
	Gestures (-1/2), Incantation (-1/4),  OIF:  Transformation Pen (-1/2)
111	

Increased Characteristics:

  +16 DEX, +10 CON, +5 BODY, +8 PD, +5 ED, 
	+1.4 SPD, +6 REC, +22 STUN, Only In Hero ID (-1/4)

15	

Water Elemental Control:

  30 point pool, Only In Hero ID (-1/4), Extra Time:  
	Full Phase (-1/2), Gestures (-1/4), Incantation (-1/4)
15	1 - 

Mercury Ice Storm Blast:

  EB:  8D6 EB, AP (+1/2), END 6
12	2 - 

Mercury Ice Storm Blast:

  Entangle:  6D6 Entangle Linked to Energy Blast (-1/2), END 6
15	3 - 

Mercury Bubbles:

  Darkness:  6", END 6



Equipment:


11	

Computer:

  Microscopic Vision:  x1000, Radar Sense, UV Vision, 360 Degee 
	Sensing - with all senses, Only in Hero ID (-1/4), Concentrate (-1/2), 
	Independent (-2), OAF (-1), Fragile (-1/4),



Background Skills


10	Talent:  Eidetic Memory
2	AK:  Tokyo 11-
3	Computer Programming 14-
2	English (fluent)
2	German (fluent)
0	Japanese (native)
3	Paramedic 14-
3	PS:  Student 14--
1	Spanish (basic)
3	Systems Operation 14-
3	Scientist
3	SC:  Chemistry 15-
3	SC:  Geology 15-
2	SC:  Mathematics 14-
1	SC:  Medicine 11-
3	SC:  Physics 15-
3	Scholar
3	KS:  Chess 15-


231	Total Powers & Skills Cost
250	Total Character Cost

100+	Disadvantages

  
5	Distinctive Features:  Blue sailor fuku
5	Distinctive Features:  Blue hair
15	DNPC:  Urawa (incomp) 8-
30	Hunted:  Negaverse (MoPow, NCI) 14-
15	Physical Limitation:  Underage - 14 (Fre, Great)
15	Physical Limitation:  Wears contact (All, Slight)
5	Psychological Limitation:  Always Studying (U, M)
15	Psychological Limitation:  In love with Urawa (U, T)
10	Psychological Limitation:  Protective of Friends (C, M)
10	Psychological Limitation:  Shy (U, S)
5	Reputation:  Sailor Senshi 8-
15	Secret ID:  Ami Mizuno


250	Total Disadvantage Points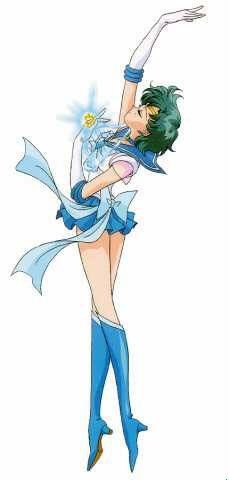 Designer's Notes: Ami Mizuno, Sailor Mercury, is the Brains of the Sailor Team. A certified genius, she is supposed to have a 200 IQ, and be the top student in all of Japan. She has a wide variety of strong science and computer skills. She's smart, but much of the grade rank comes from constant hard work. Ami is almost ALWAYS seen with some kind of school book in hand... even when sitting on a beach on summer vacation! She's also terribly shy, known to blush at the slightest hint of being romantically interested in anything. One of her darkest fears is that had she not met Usagi—in many ways her total opposite—she would have been lonely all her life.
Mercury's powers are all water-based, following the 5 Classic Asian elements. Mercury tends to specialize in cold water, however: an icy-cold fog (Darkness), and an energy-blast/entangle that encases its target in a block of ice.
In addition, she has very compact computer—basically similar in size & shape to a hand-held computer, and her Visor, which is her specialized sensors—radar, infrared, and 360-degree sensing.
(Sailor Mercury created by Naoko Takeuchi, character sheet created by David Walker)
---
---
Return to Anime and Manga Character Adaptations