EXCESSIVE FORCE
MAJOR CARNAGE



Val	Char	Cost	Roll	Notes


20	STR	10	13-	Lift 400 kg; 4d6 HTH Damage [2]
20	DEX	30	13-	OCV:  7/DCV:  7
20	CON	20	13-
17	BODY	14	12-
18	INT	8	13-	PER Roll 13-
11	EGO	2	11-	ECV:  4
20	PRE	10	13-	PRE Attack:  4d6
10	COM	0	11-

10/18	PD	6		Total:  10/18 PD (0/8 rPD)
4/12	ED	0		Total:  4/12 ED (0/8 rED)
5	SPD	20		Phases:  3, 5, 8, 10, 12
10	REC	4
40	END	0
40	STUN	3		

Total Characteristic Cost:  134

Movement:

	Running:	8"/16"
		Leaping:	6"/12"
		Swimming:	3"/6"



Cost	Powers


	

Rage Meter


20	1)  

Rage Filler:

  Absorption 2d6  (Energy, Energy/Physical), Varying Effect (+1)
3	2)  

Rage Meter:

  Endurance Reserve  (50 END, 0 REC) Reserve; Begins Combat at Zero (-1/2); REC, 
	Filled by Rage Filler (+0); Personal REC (-1/2)

	

Martial Arts:

  

Special Forces


	

Maneuver	OCV	DCV	Notes


3	Aikido Throw	+0	+1	7d6 +v/5, Target Falls
4	Boxing Cross	+0	+2	9d6 Strike
4	Choke		-2	+0	Grab One Limb; 3 1/2d6 NND
4	Judo Disarm	-1	+1	Disarm; 45 STR to Disarm roll
4	Karate Chop	-2	+0	HKA 2d6 +1
4	Kung Fu Block	+2	+2	Block, Abort
3	Suplex		+1	+1	7d6 Strike; Target Falls
5	Tae Kwon Do Kick
			-2	+1	11d6 Strike
12	+3 HTH Damage Classes (already added in)
	 
90	

Special Forces Attacks:

  Multipower, 90-point reserve
3u	1)  

Flashkick:

  EB 8d6; No Range (-1/2), Concentrate: 1/2 DCV (-1/4) 

plus

 Leaping 5"; 
	Linked to EB (-1/2), END 5
2u	2)  

Hyper Punch:

  HA +4d6, Autofire (5 shots; +1/2); Hand-To-Hand Attack (-1/2), END 3
2u	3)  

Spinning Clothesline:

  HA +4d6, Area Of Effect Nonselective (One Hex; +1/4); Hand-To-Hand 
	Attack (-1/2), END 2
3u	4)  

Necksnapper:

  HKA 2d6, NND (rigid rPD on the neck, or anything else that prevents the neck/head 
	from being turned and twisted the right way; +1), Does BODY (+1); Must Target The Head (-1), Must 
	Follow Grab (-1/2), No STR Bonus (-1/2), Requires A STR Roll  (No Active Point penalty to Skill 
	Roll; -1/4), END 9
	 
41	

Turbo Spinning Clothesline:

  HA +6d6, Area Of Effect Nonselective (One Hex; +1/4), Autofire 
	(5 shots; +1 1/2); Hand-To-Hand Attack (-1/2), Extra Time: full phase (-1/2), END 8
	 
	

Gear


21	1)  

AK-47/AKM 7.62 R:

 RKA 2d6, +1 STUN Multiplier (+1/4), 30 Charges (+1/4), Autofire (5 shots; +1/2); 
	STR Minimum (STR Min. Cannot Add/Subtract Damage; -1 1/4), OAF (-1), Beam (-1/4), Real Weapon (-1/4)
	

plus

 +2 OCV; OAF (-1), Real Weapon (-1/4) 

plus

 +1 vs Range; OAF (-1), [30]
5	2)  

Makarov PM 9mmR:

  RKA 1d6; STR Minimum (STR Min. Cannot Add/Subtract Damage; -1), OAF (-1), 
	8 Charges (-1/2), Beam (-1/4), Real Weapon (-1/4) 

plus

 +1 vs Range; OAF (-1), [8]
12	3)  

Concealed Body Armor:

  Armor (5 PD/5 ED); IIF (-1/4)
	 
	

Training


15	1)  

Toughness:

  Physical Damage Reduction, Resistant, 25%
15	2)  

Toughness:

  Energy Damage Reduction, Resistant, 25%
5	3)  

Defensive Reflexes:

  Missile Deflection (Thrown Objects)
15	4)  

Disquieting Aura:

  Change Environment 8" radius, -4 PRE for purposes of resisting character's 
	Presence Attacks; Requires A PRE Roll  (-3/4), No Range (-1/2), END 3

	

Perks


30	

The Men:

  Follower: Soldiers
6	

Lion's Share of the Profits:

  Money:  Wealthy
1	

Good Reputation For Being Bad:

  Reputation:  Bad Ass Mercenary (A medium-sized group) 11-, +1/+1d6
15	

The Villa:

  Base:  Tropical Hotel
3	Well-Connected
1	1)  Contact:  Arms Dealers 11-
4	2)  Contact:  Georges DuLuc; Fixer (Contact has significant Contacts of his own, Contact has 
	useful Skills or resources, Good relationship with Contact) 11-
2	3)  Contact:  Underworld Dealers/Fences (Contact has useful Skills or resources) 11-
8	4)  Contact: Russian Military, Organization Contact (x3) 12-
8	5)  Contact: Spetszaz, Organization Contact (x3) 12-

	

Talents


6	

Skilled Warrior:

  Combat Luck (3 PD/3 ED)
8	

Steady Aim:

  Combat Shooting

	

Skills


10	+2 with HTH Combat
5	+1 with Ranged Combat
6	+2 with Special Forces Training
	 
3	Breakfall 13-
3	Climbing 13-
3	Combat Driving 13-
3	Concealment 13-
3	Cryptography 13-
3	Demolitions 13-
3	Fast Draw 13-
5	Interrogation 14-
4	Navigation (Air, Land, Marine) 13-
3	Paramedic 13-
2	Professional Skill: Commando 11-
2	Professional Skill: Street Fighter 11-
3	Security Systems 13-
3	Shadowing 13-
3	Sleight of Hand 13-
3	Stealth 13-
3	Streetwise 13-
6	Survival (Arctic/Subarctic, Temperate/Subtropical, Urban) 13-
3	Tactics 13-
3	Teamwork 13-
3	Tracking 13-
2	Weapon Familiarity:  Small Arms
3	Linguist
2	1)  Language:  English (Completely Fluent, w/Accent)
2	2)  Language:  Georgian (Fluent Conversation)
1	3)  Language:  German (Fluent Conversation)
0	4)  Language:  Russian (Idiomatic, native accent)
1	5)  Language:  Slovenian (Fluent Conversation)
2	6)  Language:  Thai (Fluent Conversation)
3	Scholar
1	1)  KS: Knowledge Skill: Martial Arts Styles 11-
1	2)  KS: Knowledge Skill: Military 11-
1	3)  KS: Knowledge Skill: Special Forces 11-
2	4)  KS: Knowledge Skill: Spetsnaz 12-
3	Traveler
1	1)  AK: City Knowledge: Berlin 11-
1	2)  AK: City Knowledge: Kiev 11-
1	3)  AK: City Knowledge: London 11-



Total Powers & Skill Cost:  502
Total Cost:  636

200+	Disadvantages


10	Distinctive Features:  Style Limitation (Not Concealable; Noticed and Recognizable; Detectable By 
	Commonly-Used Senses; Not Distinctive In Some Cultures)
5	Hunted:  Fighters of Note 11- (As Pow, Watching)
15	Hunted:  The Special Forces 8- (As Pow, NCI, Capture)
20	Psychological Limitation:  Greedy & Self Serving Common, Total
15	Psychological Limitation:  Overconfidence Very Common, Moderate
10	Psychological Limitation:  Vengeful Uncommon, Strong
5	Reputation:  Powerful Fighter, 8-
5	Rivalry:  Professional (Zangief; Rival is As Powerful; Seek to Outdo, Embarrass, or Humiliate Rival; 
	Rival Aware of Rivalry)
342	

Experience Points

Total Disadvantage Points:  636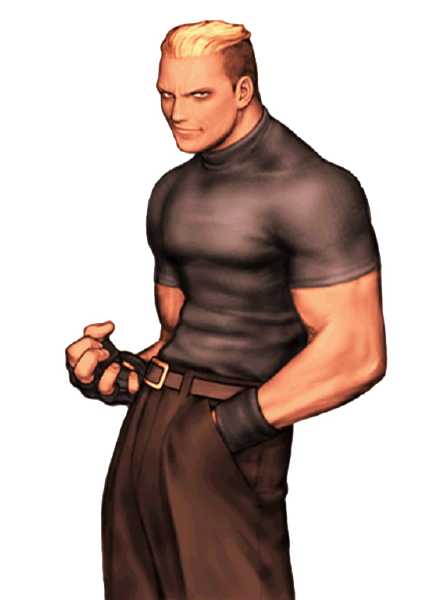 Background/History: A former Russian commando who turned mercenary as Russia was turning away from communism. When in monaco on a few weeks rest, he found himself drawn to underground and not so underground multi-style fighting competitions. On a lark he entered. The pay was good, the challenge was even better. He changed careers again, but kept the mercenary work on the side. Later he decided that teams, or stables, made more money, gained more infamy, and were a good investment. He gathered a small group of large, violent men to his banner and called them Excessive Force. They fight under the EF banner, provide security or other services to all manner of cliental and make the former communist a very rich capitalist.
Personality/Motivation: Urich is a relatively contemptible man. Greedy, arrogant, violent, and a casual killer. He thinks of himself first, second, and often third. His men are expendable, as is anyone or anything else. He desires security, wealth, power, and a good time.
Quote: This will hurt allot. Crush them. Use Excessive Force.
Powers/Tactics: A cagey fighter with some lethal techniques as well as some standard "Fighting Game Universe" special abilities.
Campaign Use: Leader of a small group of fighters/mercenaries.
Group Relations: He'd trade them all for more money. Or his life. He's fond of them as underlings, they are simple and easy to control.
Appearance: Very well built man with hard features, a lean, muscular body and well groomed appearance. Short brown hair, brown eyes. and tailored clothing for the occasion. In his combat guise he wears black and gray camouflage fatigues and a black tank top.
Picture used is Ryuji Yamazaki from SNK's King of Fighters series.
---
---
Return to Video Game-Derived Character Adaptations