EXCESSIVE FORCE
HAMMER



Val	Char	Cost	Roll	Notes


23	STR	13	14-	Lift 606.3kg; 4 1/2d6 HTH Damage [2]
15	DEX	15	12-	OCV:  5/DCV:  5
20	CON	20	13-
17	BODY	14	12-
15	INT	5	12-	PER Roll 12-
15	EGO	10	12-	ECV:  5
19	PRE	9	13-	PRE Attack:  3 1/2d6
8	COM	-1	11-

20	PD	10		Total:  20 PD (5 rPD)
20	ED	11		Total:  20 ED (5 rED)
4	SPD	15		Phases:  3, 6, 9, 12
10	REC	2
40	END	0
40	STUN	1		

Total Characteristic Cost:  124

Movement:

	Running:	7"/14"
		Leaping:	4"/8"
		Swimming:	2"/4"



Cost	Powers


	

Rage Meter


20	1)  

Rage Filler:

  Absorption 2d6  (Energy, Energy/Physical), Varying Effect (+1)
3	2)  

Rage Meter:

  Endurance Reserve  (50 END, 0 REC) Reserve; Begins Combat at Zero (-1/2); REC, 
	Filled by Rage Filler (+0); Personal REC (-1/2)

	

Martial Arts:

  

Sumo Wrestling


	

Maneuver	OCV	DCV	Notes


3	Air Smash	+0	-1	6 1/2d6 +v/5 Strike; You Fall, Target Falls; FMove
4	Crush		+0	+0	10 1/2d6 Crush, Must Follow Grab
4	Sleeper Hold	-2	+0	Grab One Limb; 3d6 NND
3	Grappling Throw	+0	+2	8 1/2d6 Strike; Target Falls; Must Follow Grab
3	Hold		-1	-1	Grab Two Limbs, 43 STR for holding on
4	Root		+0	+0	48 STR to resist Shove; Block, Abort
4	Shove		+0	+0	48 STR to Shove
3	Slam		+0	+1	6 1/2d6 +v/5, Target Falls
3	Take Down	+2	+1	6 1/2d6 Strike; You Fall, Target Falls
8	+2 HTH Damage Classes (already added in)
	 
81	

Sumotori Specials:

  Multipower, 81-point reserve
2u	1)  

Hundred Hand Slap:

  HA +5d6, Autofire (5 shots; +1/2); Hand-To-Hand Attack (-1/2), END 4
1u	2)  

Eye Rake:

  Sight Group Flash 5d6; No Range (-1/2), Not vs covered Eyes: Slightly (-1/4), END 2
3u	3)  Didn't Feel A Thing:  Force Wall (10 PD), Hardened (+1/4), Transparent to ED Attacks (+1), 
	Invisible Power Effects (Fully Invisible; +1); Can't Move or Attack (-1), Self Only (-1/2), END 8
	 
38	

The Dragon Hammer:

  HA +11d6, Double Knockback (+3/4); Hand-To-Hand Attack (-1/2), Gestures 
	(Requires both hands; -1/2), Extra Time (Delayed Phase, -1/4), Incantations (-1/4), END 10
	 
	

Training


18	1)  

Tough Hide:

  +5 PD, Hardened (+1/4) 

plus

 +5 ED, Hardened (+1/4) 

plus

 Damage 
	Resistance (5 PD/5 ED), Hardened (+1/4)
15	2)  

Really Tough:

  Physical Damage Reduction, Resistant, 25%
15	3)  

Really Tough

:  Energy Damage Reduction, Resistant, 25%
6	4)  

Large And In Charge:

  Knockback Resistance -3"
13	5)  

Bracing:

  Knockback Resistance -10"; Costs Endurance (-1/2), END 2
4	6)  

Swat Away The Stones:

  Missile Deflection (Thrown Objects); Will Not Work Against Heavy 
	Missiles (-1/4)
2	7)  

Surprisingly Swift:

  Running +1" (7" total), END 1

	

Perks


3	

Part Of The Team:

  Fringe Benefit:  Membership: Excessive Force
5	

Salary:

  Money:  Well Off
1	

Some Reputation:

  Reputation:  Feared Street Fighter (A medium-sized group) 11-, +1/+1d6
10	

Home Field Advantage:

  Base: Arena

	

Talents


7	

Slap Happy:

  Lightning Reflexes: +7 DEX to act first with Hundred Hand Slap Attack

	

Skills


25	+5 with HTH Combat
8	

Hundred Hand Competence:

  +4 with Hundred Hand Slap
	 
3	Analyze:  Combat 12-
3	Breakfall 12-
3	Computer Programming 12-
6	Gambling (Card Games, Sports Betting, Go-Moku, Mahjongg) 12-
3	Hoist 12-
3	Interrogation 13-
5	KS:  Sumo 14-
2	KS: Martial Arts Styles 11-
2	KS: Street Fighting Circuit 11-
5	Language:  English (Idiomatic, native accent)
0	Language:  Japanese (Idiomatic, native accent; Native)
3	Security Systems 12-
5	Streetwise 14-
3	Teamwork 12-



Total Powers & Skill Cost:  365
Total Cost:  489

200+	Disadvantages


10	Distinctive Features:  Style Limitation (Not Concealable; Noticed and Recognizable; Detectable By 
	Commonly-Used Senses; Not Distinctive In Some Cultures)
15	Hunted:  Edmund Honda & His students 8- (Mo Pow, Harshly Punish)
5	Hunted:  Fighters of Note 11- (As Pow, Watching)
10	Hunted:  Rugal's Dark Empire 8- (Mo Pow, NCI, Watching)
10	Hunted:  Shadowlaw 8- (Mo Pow, NCI, Watching)
20	Psychological Limitation:  Bully (Very Common, Strong)
15	Psychological Limitation:  Compulsive Gambler (Common, Strong)
15	Psychological Limitation:  Fear of E. Honda (Common, Strong)
15	Psychological Limitation:  Greedy Common, Strong
5	Reputation:  Powerful Fighter, 8-
10	Reputation: Disgraced Sumotori: , Frequently (11-)
15	Rivalry:  Professional (Edmond Honda; Rival is More Powerful; Seek to Harm or Kill Rival; Rival 
	Aware of Rivalry)
144	

Experience Points

Total Disadvantage Points:  489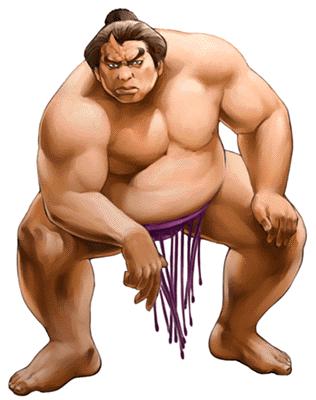 Background/History: Hedio Izumo was an up and coming Sumotori, a student of the famed Edmund Honda. He was talented and many thought he'd one day best his mentor and become a champion. However, Hedio was not well liked in sumo circles. He was a bully and enjoyed toying with and humiliating his opponents. This was bad enough but he was also a compulsive gambler. Eventually the underworld elements he owed money to called in favors and he did anything from throw bouts to throw his weight around on their behalf.
His illicit activities eventually caused his public downfall and his old mentor, Master Honda, was furious. The last meeting between the two was violent and one sided. Hedio was told in no uncertain terms what would happen to him if he sullied the sport that they had loved so much. Hedio took the hint and began working the street fighting circuit. He took the nickname, the Hammer and soon was asked to join the team Excessive Force.
Personality/Motivation: The Hammer is a classic bully, only a little braver when confronted. He is deathly afraid of Edmund Honda, as his old mentor has proven himself to be the clearly superior combatant. Hedio trains to overcome Edmund, but he still fears the man.
Quote: When you're a hammer, everyone else looks like a nail.
Powers/Tactics: Big and hard to move, the Hammer is surprisingly apt defensively; he can take a beating. He uses his special strikes to batter his opponent about and then lumbers after them.
Campaign Use: Bigman to fight your big men.
Group Relations:
The Anvil:

Greg is Hedio's usual partner. They get along okay. Inspite of the Anvil's prejudices.
Major Carnage: Hammer fears him too. He knows more-so than his idiotic cohorts what a bad ass the Major really is. He realizes that he is only as valuable as he is useful and thus he strives to keep the Major happy.

Muscle Power:

Hedio likes to gamble with the guy. But other than that he thinks he's a moron.
Appearance: Big Sumo. They look similar.
The picture is Akatsuki Maru from some SNK video game.
---
---
Return to Video Game-Derived Character Adaptations