EXCESSIVE FORCE
GREG "ANVIL" HART



Val	Char	Cost	Roll	Notes


28	STR	18	15-	Lift 1212.6kg; 5 1/2d6 HTH Damage [3]
16	DEX	18	12-	OCV:  5/DCV:  5
25	CON	30	14-
23	BODY	26	14-
10	INT	0	11-	PER Roll 11-
10	EGO	0	11-	ECV:  3
20/30	PRE	10	13-/15-	PRE Attack:  4d6/6d6
12	COM	1	11-

25/28	PD	14		Total:  25/28 PD (0/3 rPD)
20/23	ED	10		Total:  20/23 ED (0/3 rED)
4	SPD	14		Phases:  3, 6, 9, 12
11	REC	0
50	END	0
50	STUN	0		

Total Characteristic Cost:  141

Movement:

	Running:	8"/16"
		Leaping:	5"/10"
		Swimming:	2"/4"



Cost	Powers


	

Rage Meter


20	1)  

Rage Filler:

  Absorption 2d6  (Energy, Energy/Physical), Varying Effect (+1)
3	2)  

Rage Meter:

  Endurance Reserve  (50 END, 0 REC) Reserve; Begins Combat at Zero (-1/2); REC, 
	Filled by Rage Filler (+0); Personal REC (-1/2)

	

Martial Arts:

  

Sanbo/Brawling


	

Maneuver	OCV	DCV	Notes


5	Backbreaker/Piledriver
			-2	+0	HKA 2d6 +1 , Target Falls
4	Choke		-2	+0	Grab One Limb; 3 1/2d6 NND
4	Disarm		-1	+1	Disarm; 53 STR to Disarm roll
4	Escape		+0	+0	58 STR vs. Grabs
3	Hold		-1	-1	Grab Two Limbs, 53 STR for holding on
4	Kidney Blow	-2	+0	HKA 2d6 +1
4	Low Blow	-1	+1	3 1/2d6 NND
3	Powerbomb	+0	+2	10 1/2d6 Strike; Target Falls; Must Follow Grab
4	Punch		+0	+2	10 1/2d6 Strike
4	Reversal	+2	+2	Block, Abort
5	Roundhouse	-2	+1	12 1/2d6 Strike
3	Slam		+0	+1	8 1/2d6 +v/5, Target Falls
3	Take Down	+2	+1	8 1/2d6 Strike; You Fall, Target Falls
12	+3 HTH Damage Classes (already added in)
	 
8	

Ear Pop (Flash):

  Hearing Group Flash 5d6; No Range (-1/2), Gestures (-1/4), END 1
43	

Spinning Clothesline:

  HA +5d6, Personal Immunity (+1/4), Area Of Effect (2" radius; +3/4), 
	Autofire (5 shots; +1 1/2); Extra Time: full phase (-1/2), Hand-To-Hand Attack (-1/2), END 9
56	

Great White North:

  EB 12d6, Personal Immunity (+1/4), Explosion (-1 DC/3"; +1); Gestures, Requires 
	Gestures throughout (Requires both hands; -1), Extra Time (Extra Segment, -1/2) 

plus

 
	Leaping 6"; Upward Movement Only (-1), Linked (EB; -1/2), No Noncombat Movement (-1/4), END 14
	

Notes:

  Anvil concentrates, leaps into the air, and smashes down with an explosive blast.
	 
	

Massive And Powerful


5	1)  

Bully:

  +10 PRE; Offensive Only (-1)
6	2)  

Nice Try Little Man:

  +5 PD; Only Versus Opponents One Size Smaller (-1/2) 

plus

 
	+5 ED; Only Versus Opponents One Size Smaller (-1/2)
9	3)  

Unnaturally Tough Skin:

  Armor (3 PD/3 ED)
30	4)  

Toughness:

  Physical Damage Reduction, Resistant, 50%
6	5)  

Heavy:

  Knockback Resistance -3"
4	6)  

Long Legs:

  Running +2" (8" total), END 1
4	7)  

Reach:

  Stretching 1", Reduced Endurance (0 END; +1/2); Always Direct (-1/4), No Noncombat 
	Stretching (-1/4), No Velocity Damage (-1/4)

	

Perks


3	Contact:  Militant Survivalists (Canadian) (Contact has useful Skills or resources) 11-
2	Contact: American Wrestling Association 11-
2	Contact: Canadian Wrestling 11-
3	Membership:  Fringe Benefit:  Membership: Excessive Force
2	

Manages To Save A Little:

  Money:  Well Off
4	

Strongman Reputation:

  Reputation:  Most Powerful Man in Canada (A large group) 11-, +2/+2d6
10	

Home Turf:

  Base: Personal Arena
	

Notes:

  A lodge in Northern Canada, it has a big arena and living quarters for the Anvil 
	and his team.

	

Talents


14	

To Dumb To Scare:

  Fearless

	

Skills


25	+5 with HTH Combat
	 
3	Demolitions 11-
3	Gambling (Baseball, Horse Racing, Poker) 11-
3	Hoist 11-
7	Interrogation 15- (17-)
2	KS: Oil Rigging 11-
2	KS: Sambo 11-
2	KS: Street Fighter Circuit 11-
2	KS: Strongman Contests 11-
3	Mechanics 11-
2	Professional Skill: Street Fighter 11-
7	Streetwise 15- (17-)
6	Survival (Arctic/Subarctic, Mountain) 12-
3	TF:  Common Motorized Ground Vehicles, Wheeled Military Vehicles
2	WF:  Small Arms



Total Powers & Skill Cost:  368
Total Cost:  509

200+	Disadvantages


10	Distinctive Features:  Large Sized Humanoid (Concealable; Noticed and Recognizable; Detectable 
	By Commonly-Used Senses)
10	Distinctive Features:  Style Limitation (Not Concealable; Noticed and Recognizable; Detectable 
	By Commonly-Used Senses; Not Distinctive In Some Cultures)
10	Hunted:  Angry opponent seeking rematch 8- (As Pow, Harshly Punish)
10	Hunted:  Brian Battler 8- (As Pow, Harshly Punish)
5	Hunted:  Fighters of Note 11- (As Pow, Watching)
5	Hunted:  Rolento's Army 8- (Mo Pow, Watching)
10	Hunted:  Shadowlaw 8- (Mo Pow, NCI, Watching)
5	Physical Limitation:  Large Size & Weight (at least 200 KG +) (Infrequently, Slightly Impairing)
15	Psychological Limitation:  Abusive Bully (Common, Strong)
15	Psychological Limitation:  Arrogant/Cruel (Common, Strong)
15	Psychological Limitation:  Likes inflicting Pain (Common, Strong)
15	Psychological Limitation:  Sexist/Racist (Common, Strong)
15	Reputation:  Fierce opponent, 11- (Extreme)
169	

Experience Points

Total Disadvantage Points:  509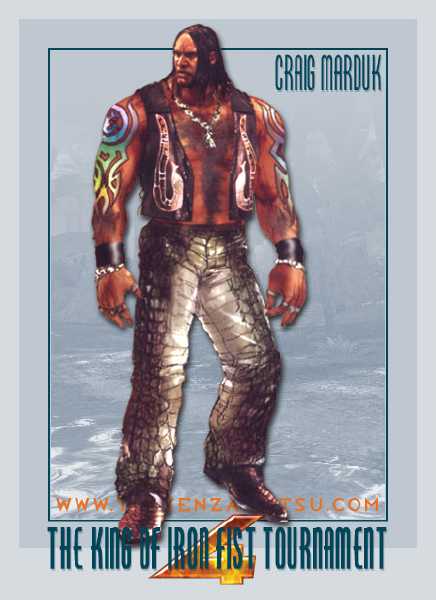 Background/History: Anvil is a huge Canadian tough guy who found fighting for money to be even better than fighting for no reason. Born and raised in an isolated community of paranoid and xenophobic survivalists, Greg Hart happily grew up one. He's been a thug all his life and he's not looking to stop anytime soon. A giant of a man, he has always gotten by on his might, abusing those smaller than him. When he found his way to the fighting circuit, he was an instant hit. He won a few matches, lost a few. But it garnered him the attention of Major Carnage. Although fighting with a Japanese and a Russian didn't appeal to him in the slightest, all that money did. Surprisingly, Greg's never regretted joining up; he has lots of money now, several nice trucks, and hot women will give him the time of day once he flashes his money around.
Personality/Motivation: Just an awful human being. Like a wrestling bad guy, he is devoid of positive traits. He's a racist, sexist, bully with a mean streak and no fear. He is a dangerous man. Though he'd never admit it, he likes his fellow misanthropes in Excessive Force.
Quote: It's time for the pain.
Powers/Tactics: Surprisingly sophisticated fighter, he has trained in combat SAMBO to aid his brawling.
Campaign Use: Thug.
Group Relations:
The Hammer:

Sure the guy is a Japanese fat man, he's tougher than most and treats Greg okay.

Major Carnage:

Greg's learned not to cross the boss. He respects the Russian and won't cause trouble.

Muscle Power:

Greg's never met anyone stronger than him. He has a bit of fear for the American.
Appearance: The Anvil is easily the largest member of Excessive Force. He likes to wear a plaid shirt and denim vest with the sleeves torn off of both. Grubby jeans, hiking boots and a John Deere cap round out his wardrobe. Outside of the ring, Greg wears the same clothes and rarely changes, as is obvious from his body odor. He also likes to drive large trucks and hunt mose and bear, but considers it unsporting to use a gun.
Okay, the pic is a stretch. It is (obviously) Craig Marduk from Namco's Tekken Series.
---
---
Return to Video Game-Derived Character Adaptations