MAD MAX 2: THE ROAD WARRIOR
THE HUMUNGUS MACHINE



Val	CHA	Cost	Notes


5	Size	25	Length 6.35m, Width 3.17m, Height 3.17m, Volume 64m^3, Mass 3.2 ton, OCV +3, KB -5
43	STR	8	HTH Damage 8 ½d6  END [4]
15	DEX	10

0	PD	-3	3 PD (3 rPD)
0	ED	-3	3 ED (3 rED)
3	SPD	10	Phases:  4, 8, 12
5	OCV	10
5	DCV	10

19	BODY	4


Total Characteristic Cost:  71





Movement:

	Ground:		48m/182m (384m)
		Leaping:	0m
		Swimming:	0m



Cost	Abilities and Equipment


15	

Motorized Wheeled Vehicle:

  Ground Movement +36m (48m total), x4 Noncombat; OAF (standard tires; -1 ½), 
	Only On Appropriate Terrain (-¼), 2 Continuing Fuel Charges lasting 6 Hours each (easily-
	obtained fuel; -0)
2	

Nitrous Oxide Injectors:

  Ground Movement, x2 Noncombat (x8 total); OIF Bulky (-1), 6 Continuing 
	Charges lasting 1 Turn each (-¼)
5	

Six-Wheeled Chassis:

  +2 wheels (total of 6)
4	

Heavy Tyres:

  DEF 3, BODY 3
-2	

Ground Vehicle:

  Leaping -4m
-2	

Ground Vehicle:

  Swimming -4m
6	

Exposed Cockpit:

  +3 PD; Limited Coverage (does not protect occupants; -½) 

plus

 +3 ED; Limited 
	Coverage (does not protect occupants; -½)
5	

Public Address System:

  Hearing Group Images, +3 to PER Roll, Reduced Endurance (0 END; +½); OAF 
	Bulky (-1 ½), Set Effect (-1), No Range (-½)

	

Skills


6	

Off-Road Suspension:

  +3 versus Off-Road Driving Penalties
1	

Spoiler:

  +1 with Ground Movement; OIF Bulky (-1), Only At Speeds Over 40 MPH (-1)



Total Abilities & Equipment Cost:  40
Total Vehicle Cost:  111

Value Complications
Total Complication Points:  0
Total Cost:  111/5 = 22



Description: The Humungus Machine is the personal vehicle of the Lord Humungus. Apparently based off of a Ford F-150 chassis, it's a serious road machine, boasting six tires, two large fuel tanks in the back, six nitrous oxide canisters for extra power, a rack on the front for prisoners, a loudspeaker system, and other amenities.
Humungus Machine Hero Designer File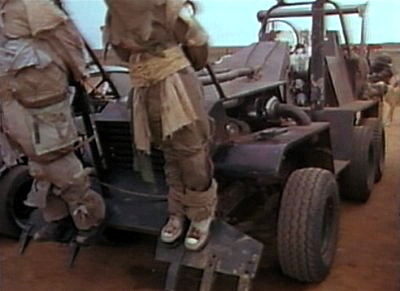 ---
Return to Movie-Derived Character Adaptations.