THE PRINCESS BRIDE
COUNT TYRONE RUGEN



Val	CHA	Cost	Roll	Notes


15	STR	5	12-	Lift 200 kg; 3d6 HTH Damage [3]
18	DEX	24	13-	OCV:  6/DCV:  6
15	CON	10	12-
12	BODY	4	11-
18	INT	8	13-	PER Roll 13-
15	EGO	10	12-	ECV:  5
18	PRE	8	13-	PRE Attack:  3 1/2d6
18	COM	4	13-

6	PD	3		Total:  6 PD (0 rPD)
5	ED	2		Total:  5 ED (0 rED)
4	SPD	12		Phases:  3, 6, 9, 12
6	REC	0
30	END	0
28	STUN	0		

Total Characteristic Cost:  90





Movement:

	Running:	6"/12"
		Leaping:	2"/4"
		Swimming:	2"/4"



Cost	Powers & Skills


	

Martial Arts:

  

Fencing


	

Maneuver	OCV	DCV	Damage


3	Cut		+1	+0	Weapon +2 DC Strike
4	Froissement	-1	+1	Disarm; 25 STR to Disarm roll
5	Lunge		+1	-2	Weapon +4 DC Strike
4	Parry		+2	+2	Block, Abort
5	Slash		-2	+1	Weapon +4 DC Strike
5	Thrust		+1	+3	Weapon  Strike
0	Weapon Element:  Blades

	

Perks


9	Contact:  Prince Humperdink (Contact has very useful Skills or resources, Very Good relationship 
	with Contact) 14-
6	Fringe Benefit:  Count
10	Money:  Wealthy

	

Skills


6	+2 with Fencing

2	AK: Florin 11-
3	High Society 13-
7	

"I'm Starting [Westley] On The Machine Tonight":

  Interrogation 15-
3	

"It Took Me Half A Lifetime To Invent [The Machine]":

  Inventor 13-
2	KS: Fencing 11-
4	

"I'm Sure You've Discovered My Deep And Abiding Interest In Pain":

  KS: Pain (causes, 
	effects, and so on) 14-
0	Language:  English (idiomatic; literate)
2	PS: Count 11-
3	SS:  Anatomy 13-
0	TF:  Equines
2	WF:  Blades, Thrown Knives, Axes, and Darts



Total Powers & Skill Cost:  85
Total Cost:  175

100+	Disadvantages


10	Distinctive Features:  Six-Fingered Hand (Concealable; Noticed and Recognizable; Detectable 
	By Commonly-Used Senses)
10	Distinctive Features:  Style (Not Concealable; Noticed and Recognizable; Detectable By 
	Large Group)
10	Hunted:  Inigo Montoya 8- (As Pow, Harshly Punish)
0	Normal Characteristic Maxima
20	Psychological Limitation:  Ill-Tempered And Arrogant (Very Common, Strong)
15	Psychological Limitation:  Sadist (Common, Strong)
10	

Six-finged Man Bonus
175	Total Disadvantage Points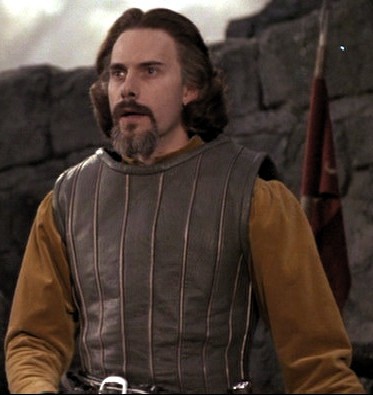 Background/History: Count Rugen is Prince Humperdink's confidant and close associate. He is an evil man, self-centered, ruthless, and currently engaged in writing the "...definitive work on pain."
Personality/Motivation: Rugen is a less than a pleasant person. At one point he describes himself as having a considerable temper and a murderous wrath. He certainly isn't someone to be trifled with.
Quote: "I am writing the definitive history of pain..."
Powers/Tactics: Rugen is an expert at torture and the application of pain. He is also a capable inventor, and spent 11 years perfecting "The Machine," a huge suction-pump device that draws life out of a body. Simulating this is probably best handled through a Body Drain with an extended recovery period (say centuries?). It takes about a minute to drain 1d6 of Body, and the subject needs to be strapped down. Naturally The Machine is an Immobile Focus.
Appearance: Count Rugen is probably in his late thirties, and is described as "... a big man, with black hair and black eyes and great shoulders and a black cape and gloves." And, of course, he has six fingers on his right hand.
Count Tyrone Rugen's Hero Designer File
Count Rugen created by William Goldman, character sheet written by Michael Surbrook.)
---
---