NINJA SCROLL
UTSUTSU MUJURO



Val	CHA	Cost	Roll	Notes


20	STR	10	13-	Lift 400 kg; 4d6 HTH Damage [2]
30	DEX	60	15-	OCV:  10/DCV:  10
18	CON	16	13-
13	BODY	6	12-
20	INT	10	13-	PER Roll 13-
14	EGO	8	12-	ECV:  5
20	PRE	10	13-	PRE Attack:  4d6
14	COM	2	12-

8	PD	4		Total:  8 PD (0 rPD)
7	ED	3		Total:  7 ED (0 rED)
7	SPD	30		Phases:  2, 4, 6, 7, 9, 11, 12
8	REC	0
36	END	0
32	STUN	0		

Total Characteristics Cost:  159





Movement:

	Running:	11"/22"
		Leaping:	10"/20"
		Swimming:	2"/4"



Cost	Powers & Skills


	

Martial Arts:

  

Kenjutsu


	

Maneuver		OCV	DCV	Damage


4	Bind			+1	+0	30 STR Bind
4	Block			+2	+2	Block, Abort
4	Disarm			-1	+1	30 STR Disarm
4	Evade			+0	+5	Dodge vs All, Abort
4	Lightning Stroke	+2	+0	Weapon +1 DC
5	Running Stroke		+1	+0	Weapon +v/5; Full Move
5	Sacrifice Stroke	+1	-2	Weapon +2 DC
5	Slashing Stroke		-2	+1	Weapon +2 DC
	Use Art With Swords

18	

Katana:

  HKA 1 1/2d6 (3d6 w/STR), Reduced Endurance (0 END; +1/2); OAF (-1)
11	

Wakazashi:

  HKA 1d6 (2d6 w/STR), Reduced Endurance (0 END; +1/2); OAF (-1)
17	

Blade Of Light:

  Sight Group Flash 4d6, Reduced Endurance (0 END; +1/2); OIF (any bladed 
	weapon; -1/2), Requires Light To Use (-1/4)
11	

Anime Leaping:

  Leaping +6" (10" forward, 5" upward) (Accurate), END 1
10	

Swift Of Foot:

  Running +5" (11" total), END 1
27	

Acute Hearing:

  Spatial Awareness (Hearing Group), Increased Arc Of Perception (360 Degrees)

	

Talents


22	

Acute Hearing:

  Danger Sense (self only, out of combat, Function as a Sense) 13-

	

Skills


12	+4 with Kenjutsu

3	Breakfall 15-
3	Climbing 15-
3	Concealment 13-
10	Defense Maneuver I-IV 
5	Fast Draw (Blades) 16-
3	High Society 13-
3	KS: Famous Swordsmen 13-
3	KS: Kenjutsu 13-
0	Language:  Japanese (idiomatic)
3	Riding 15-
3	Sleight Of Hand 15-
3	Stealth 15-
1	WF:  Blades


207	Total Powers & Skills Cost
366	Total Character Cost

200+	Disadvantages


10	Distinctive Features:  Style (Not Concealable; Noticed and Recognizable; Detectable By Large Group)
15	Physical Limitation:  Blind (All the Time, Slightly Impairing)
15	Psychological Limitation:  Gunslinger Mentality (Common, Strong)
20	Psychological Limitation:  Overconfidence (Very Common, Strong)
15	Reputation:  One of the Eight Devils of Kimon, 11- (Extreme)
10	Rivalry:  Professional (with all other swordsmen; Rival is As Powerful; Seek to Harm or Kill Rival; 
	Rival Aware of Rivalry)
20	Social Limitation:  Subject To Orders (Very Frequently, Major)
61	

Blind Swordsman Bonus
366	Total Disadvantage Points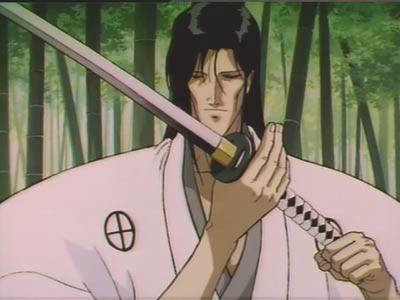 Background/History: Utsutsu is possibly the most "normal" of the Eight Devils. He is a swordsmen, albeit a blind swordsmen. Possessing cultured mannerisms and dressed in fashionable clothing, Utsutsu can easily be underestimated. This can be a lethal mistake, as he is quite a capable killer.
Personality/Motivation: Utsutsu likes to test his skill against other swordsmen, and duel (or attempt to duel) any well-known warrior he comes across. His is very sure of his abilities, even going so far as to tell Jubei "In order to beat me you must not make a sound...." Due to his perceptive hearing, his blindness is only a small hindrance, but is still a disadvantage. As with all of the Eight Devils, he is subject to the orders of Himuro and Yurimaru.
Quote: "If you want to kill me, then don't make a sound."
Powers/Tactics: Aside from his physical prowess with the swords, Utsutsu is very strong (He supported Jubei and Kagero as they climbed up Jubei's sword wire with one hand), and is very fast. He is capable of blindingly fast sword strikes, quick dodges, and incredible leaps. His most impressive power, though, is his hearing. Although blind, Utsutsu is more than capable of fighting multiple opponents by listening to their movements. At one point he goes toe-to-toe with Jubei in a bamboo forest without a problem.
Appearance: Utsutsu is tall, about 6' in height, with a thin build. His hair is very long, falling almost to his waist. He is reasonably handsome, with eyes that are perpetually closed due to his blindness. He dresses in a fine white kimono and dark hakama. He carries a daisho (paired swords) in his belt.
Utsutsu Mujuro's Hero Designer File
(Utsutsu Mujuro created by Yoshiaki Kawajiri, character sheet created by Michael Surbrook based on material written by David Kuijt)
---
---
Return to Anime and Manga Character Adaptations