NINJA SCROLL
SHIJIMA



Val	CHA	Cost	Roll	Notes


20	STR	10	13-	Lift 400 kg; 4d6 HTH Damage [2]
26	DEX	48	14-	OCV:  9/DCV:  9
20	CON	20	13-
13	BODY	6	12-
14	INT	4	12-	PER Roll 12-
18	EGO	16	13-	ECV:  6
25	PRE	15	14-	PRE Attack:  5d6
10	COM	0	11-

8	PD	4		Total:  8 PD (0 rPD)
7	ED	3		Total:  7 ED (0 rED)
6	SPD	24		Phases:  2, 4, 6, 8, 10, 12
8	REC	0
40	END	0
33	STUN	0		

Total Characteristics Cost:  150





Movement:

	Running:  9"/18"
		Leaping:  10"/20"
		Swimming:  2"/4"
		Teleport:  15"/240"



Cost	Powers & Skills


10	

Shadow Manipulation:

  Elemental Control, 20-point powers
34	1)  

Shadow Images:

  Sight Group Images Increased Size (16" radius; +1), -4 to PER Rolls, END 4
27	2)  

Shadow Walk:

  Teleportation 15", Position Shift, x16 Noncombat; Only To Or From 
	Shadows (-1/2), END 5
7	3)  

Create And/Or Stretch Shadows:

  Change Environment 4" radius, -4 to Normal Sight PER Rolls; 
	No Range (-1/2), END 2
23	4)  

Hide In Shadows:

  Invisibility to Sight and Hearing Groups , No Fringe, Costs END Only To 
	Activate (+1/4); Only In Shadows (-1/2), END 3

31	

Shijma's Claw And Chain:

  HKA 2d6, Reduced Endurance (0 END; +1/2); OIF (-1/2), No STR Bonus (-1/2) 
	

plus

 Stretching 3", Reduced Endurance (0 END; +1/2); OIF (-1/2), Only To Cause Damage (-1/2), 
	Always Direct (-1/4), No Noncombat Stretching (-1/4)
29	

Tantric Ritual:

  Mind Control 16d6 (Human class of minds), Telepathic (+1/4), Reduced Endurance 
	(0 END; +1/2); Extra Time (5 Minutes, Only to Activate, -1), Based on CON (Defense: PD; -1), 
	Gestures, Requires Gestures throughout (-1/2), No Range (-1/2), Limited Class Of Minds 
	(women only; -1/2), Concentration (1/2 DCV; -1/4)
10	

Bo Shuriken:

  RKA 1d6, Autofire (3 shots; +1/4), 9 Recoverable Charges (+1/4); OAF (-1), 
	Range Based On STR (-1/4), [9 rc]
7	

Shadow Climb:

  Clinging (normal STR); Only In Shadows (-1/2)
9	

Ninja Springing About:

  Leaping +4" (8" forward, 4" upward) (Accurate), END 1
6	

Fast On His Feet:

  Running +3" (9" total), END 1

	

Skills


16	+2 with All Combat
6	+2 with Concealment, Shadowing, Tracking

7	Acrobatics 16-
3	Breakfall 14-
3	Climbing 14-
3	Concealment 12-
1	Language:  Japanese (idiomatic; literate)
3	Riding 14-
3	Shadowing 12-
7	Stealth 16-
3	Tracking 12-
2	WF:  Blades, Shuriken


250	Total Powers & Skills Cost
400	Total Character Cost

200+	Disadvantages


10	Distinctive Features:  Strange Grayish Cast To His Skin (Concealable; Noticed and Recognizable; 
	Detectable By Commonly-Used Senses)
15	Psychological Limitation:  Casual Killer (Common, Strong)
15	Psychological Limitation:  Perverse/Sneaky—Likes To Set Traps And Strike From Darkness (Common, Strong)
15	Reputation:  One of the Eight Devils of Kimon, 11- (Extreme)
20	Social Limitation:  Subject To Orders (Very Frequently, Major)
125	

Experience
400	Total Disadvantage Points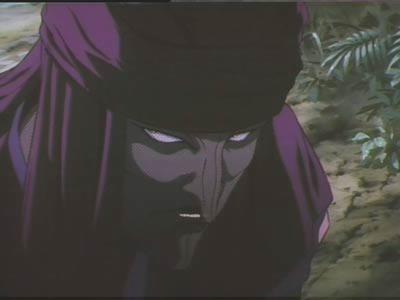 Background/History: Shijima is one of the more sneaky of the Eight Devils. A master of deception, Shijima prefers to strike from shadows and darkness. His powers put him on the dividing line of the weird scale in Ninja Scroll. He's a lot stranger than Utsutsu or Yurimaru, but no where close to the freaky level of Benisato or Mushizo.
Personality/Motivation: Shijima is pretty basic as far as disadvantages go. He will kill without a second thought, and likes to set traps and ambushes, strike from the protection of his shadows and confuse and harass the enemy before actually making his kill. This can be a problem, especially when he underestimates his enemy's fighting prowess.
Quote: "How could he have dodged Shijima's claw?"
Powers/Tactics: Shijima has a whole host of really weird powers. He can create and manipulate shadows, disappear into said shadows, and seemingly teleport through them. He also can generate visual illusions, creating something like 20+ copies of himself in an attempt to deceive Jubei. If given time, he can control someone's actions, through a semi-tantric ritual I won't bother to describe here (watch the film). It's possible he can control dead bodies (i.e. "puppet" them around). He carries his "claw" (described above) and a handful of bo shuriken. It's even possible he has an assortment of hand-to-hand fighting skills, but the movie didn't show any.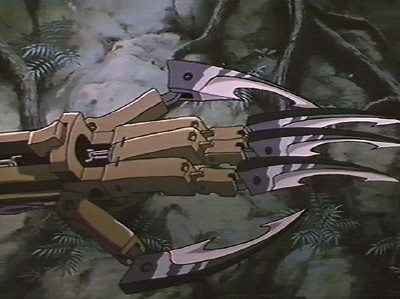 Appearance: Shijima is tall and thin with a weird grayish cast to his skin. He wears an odd purple costume with a rounded cap. On his right hand is Shijima's Claw, a fearsome bladed weapon that can be launched via a short length of chain at a target. He can also retract the Claw with a pulley and spring system.
(Shijima created by Yoshiaki Kawajiri, character sheet created by Michael Surbrook based on material written by David Kuijt. Additional material by John D. Prins)
---
---
Return to Anime and Manga Character Adaptations