BALROG'S GANG
BIRDIE



Val	Char	Cost	Roll	Notes


25	STR	15	14-	Lift 800 kg; 5d6 HTH Damage [2]
16	DEX	18	12-	OCV:  5/DCV:  5
25	CON	30	14-
24	BODY	28	14-
13	INT	3	12-	PER Roll 12-
16	EGO	12	12-	ECV:  5
18	PRE	8	13-	PRE Attack:  3 1/2d6
9	COM	0	11-

20/23	PD	15		Total:  20/23 PD (0/3 rPD)
10/13	ED	5		Total:  10/13 ED (0/3 rED)
4	SPD	14		Phases:  3, 6, 9, 12
10	REC	0
50	END	0
50	STUN	0		

Total Characteristic Cost:  151

Movement:

	Running:	8"/16"
		Leaping:	5"/10"
		Swimming:	1"/2"



Cost	Powers


	

Rage Meter


20	1)  

Rage Filler:

  Absorption 2d6  (Energy, Energy/Physical), Varying Effect (+1)
3	2)  

Rage Meter:

  Endurance Reserve  (50 END, 0 REC) Reserve; Begins Combat at Zero (-1/2); REC, 
	Filled by Rage Filler (+0); Personal REC (-1/2)

	

Martial Arts:

  

Self Developed Chain Fighting/Dirty Infighting


	

Maneuver	OCV	DCV	Notes


3	Bad Hammer	+2	+1	7d6 Strike; You Fall, Target Falls
4	Bandit Chain	-2	+0	Grab One Limb; 3d6 NND
3	Bull Head Charge
			+0	-1	7d6 +v/5 Strike; You Fall, Target Falls; FMove
3	Bull Horn (Head Butt)
			+1	+0	9d6 Strike
4	Crush		+0	+0	11d6 Crush, Must Follow Grab
4	Disarm		-1	+1	Disarm; 45 STR to Disarm roll
4	Kidney Blow	-2	+0	HKA 2d6
4	Low Blow	-1	+1	3d6 NND
3	Martial Grab	-1	-1	Grab Two Limbs, 45 STR for holding on
5	Murder Chain	-2	+0	HKA 2d6 , Target Falls
4	Punch		+0	+2	9d6 Strike
5	Roundhouse	-2	+1	11d6 Strike
8	+2 HTH Damage Classes (already added in)
1	Weapon Element:  Chain Weapons, Unarmed Combat
	 
13	

Chain:

  Multipower, 20-point reserve, all slots OIF (Chain of Opportunity; -1/2)
1u	1)  

Chain Smash

:  HA +2d6; Hand-To-Hand Attack (-1/2), OIF (Chain of Opportunity; -1/2), END 1
1u	2)  

Chain:

 Stretching 2"; Only For Attacks/No "Fine Manipulation" (-1/2), OIF (Chain of 
	Opportunity; -1/2), No Noncombat Movement (-1/4), END 1
	 
	

Special Moves


37	1)  

Bull Ravenger:

  HA +5d6, Reduced Endurance (1/2 END; +1/4), Power Can Draw END from Character 
	or END Reserve (+1/4), Double Knockback (+3/4); Hand-To-Hand Attack (-1/2), END 2
	

Notes:

  This attack simulates a full "screen" throw. Birdie grabs his opponent and hurls 
	them both into the air slamming the foe to the ground then launching him across the battle field.
75	2)  

Chain Storm:

  EB 11d6, Personal Immunity (+1/4), Continuous (+1), Area Of Effect (12" Radius; +1), 
	Conforming (+1/2); No Range (-1/2), Gestures (Requires both hands; -1/2), OIF - Length of Chain (-1/2), 
	Can Be Missile Deflected (-1/4), END 21
	 
4	

Armored Vest:

  Armor (3 PD/3 ED); Activation (-1), OIF (-1/2)

	

Perks


20	

Birdie's Gang:

  Followers: Gang Members
	

Notes:

  Birdie has a couple of Thugs who are loyal to him over Balrog. They are his insurance 
	policy.
3	Fringe Benefit:  Membership: Balrog's Gang
3	Well-Connected
1	1)  Contact: London Underworld 11-
1	2)  Contact: Mad Gear Gang  8-
1	3)  Contact: Shadowlaw 8-

	

Skills


15	+3 with HTH Combat
9	+3 with Chain Maneuvers
	 
3	Breakfall 12-
3	Bribery 13-
3	Bureaucratics 13-
3	Climbing 12-
3	Criminology 12-
6	Forgery (Commercial Goods, Documents, Pick Something) 12-
8	Gambling (Sports Betting, Blackjack, Craps, Dominoes, Pick Something, Poker) 12-
3	Interrogation 13-
3	Lockpicking 12-
3	Persuasion 13-
2	Professional Skill: Criminal Enforcer 11-
3	Security Systems 12-
5	Shadowing 13-
3	Stealth 12-
5	Streetwise 14-
2	Survival (Urban) 12-
1	Weapon Familiarity:  Unarmed Combat & Clubs, Chain & Rope Weapons
3	Scholar
3	1)  KS: Criminal Underworld (London) 13-
1	2)  KS: Gang Organization 11-
3	3)  KS: Shadowlaw 13-
2	4)  KS: Street Fighter Circuit 12-
3	Traveler
1	1)  CK: Bristol 11-
1	2)  CK: Las Vegas 11-
1	3)  CK: London 11-



Total Powers & Skill Cost:  340
Total Cost:  490

200+	Disadvantages


15	Distinctive Features: Tall, Punk Looking Fellow With A British Accent (Concealable, Always Noticed 
	and Causes Major Reaction, Detectable By Commonly-Used Senses)
10	Hunted:  Shin Balrog 8- (Occasionally), More Powerful, NCI, Watching
15	Hunted: Interpol:  8- (Occasionally), As Powerful, NCI, Harshly Punish
20	Hunted: Shadowlaw:  8- (Occasionally), More Powerful, NCI, Harshly Punish
15	Psychological Limitation:  Ambitious (Common, Strong)
10	Psychological Limitation:  Greedy Common, Moderate
15	Psychological Limitation:  Lecherous (Common, Strong)
15	Psychological Limitation:  Overconfidence (Very Common, Moderate)
10	Reputation:  Marked for Death by Shadowlaw, Sometimes (8-) (Extreme)
10	Reputation: Criminal Thug: , Frequently (11-)
5	Rivalry: Sodom:  Professional (Rival is As Powerful; Seek to Outdo, Embarrass, or Humiliate 
	Rival; Rival Aware of Rivalry)
10	Unluck: 2d6
105	Experience Points

Total Disadvantage Points:  490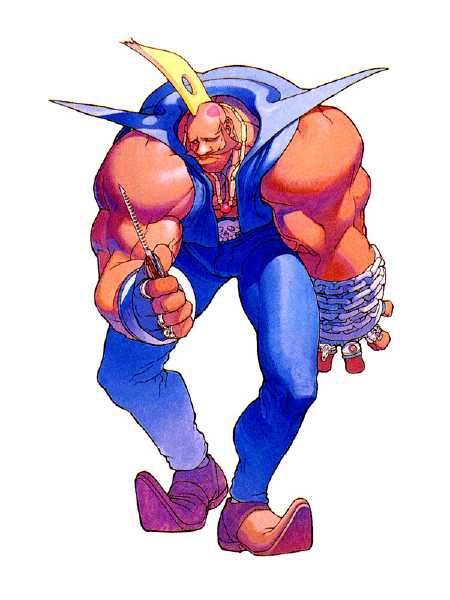 Background/History: Bridie started out as a street thug in the first Street Fighter game. He decided to up his lot in life by joining Shadowlaw, then after tasting the good life, he tried to take over. Birdie is fairly bright and a decent planner, however, he severely underestimated Lord Bison, and overestimated his right hand man, Balrog. Birdie was beaten and nearly killed for his efforts and ran away to start his own gang. Things hadn't gone his way until he met up with his former flunkie, Balrog. The oaf had seemingly become a crimelord overnight, running things in Vegas. Thinking he could easily take the spoils from one as dim as Balrog, Birdie joined up. He has found to his surprise and great fear that Balrog is not the same man Birdie knew in Shadowlaw.
Personality/Motivation: Ambition, greed, and a little bit of laziness defines Birdie. He is supremely confident in his strength and savvy to get him through life. Right now he wonders if he isn't in over his head.
Quote: "Did you just call me something? Why don't you tell me again!"
"Eh? What was that? Speak up. I can't hear you from down there!"
"Hey! My clothes are stained with your blood! Help me clean it up!"
"I am Birdie! The most rotten villain in the world... I hope!"
"If my name is Birdie, then why are you saying, "CHEAP! CHEAP!" (my favorite one)"
"Oh, what!? ... Before? I looked pale because I was sick!!"
"That was a pleasant snapping! At least four or five ribs..."
"You were ugly before we met... Now I can't even bear to look!"
Powers/Tactics: A skilled brawler, and chain fighter. Birdie is one of the "bricks" of the FGU. A strong man capable of taking and dishing out punishment. Birdie believes a good offense is the best offense. He charges in a deals out damage hoping to be able to shrug off his foes attacks.
Campaign Use: A thug. A worldly, smart thug, but a thug none the less.
Group Relations:
Balrog:

The new and improved Balrog has Birdie quite intimidated. He's still looking to replace him as leader, but now he's not going to try to control the "Las Vegas Demon"; he wants him eliminated. Birdie is careful, and has gathered agents in the organization loyal to himself. He is patient and will work slowly.

Brian Battler:

A tool to be used. Brian isn't that bright and his love of violence is an easy lure. Birdie gets along fine with him, but has no loyalty to anyone but himself.

Heavy D!:

Scares him more than Balrog as he's shown the ability to read minds! Or close enough. He's hard to scheme against.
Appearance: Birdie is a large, black man from the streets of London. He has a powerful upper body. He wears a denim vest, blue jeans, cowboy boots, and lots of chains and studs. Around his neck is gold chain with a red stone at the center, and he wears large red earrings. He has a heart tattooed on both of his temples and sports a thin yellow mohawk with a circle cut out of it. He wears a stylized mutton-chop mustache as well.
---
---
Return to Video Game-Derived Character Adaptations