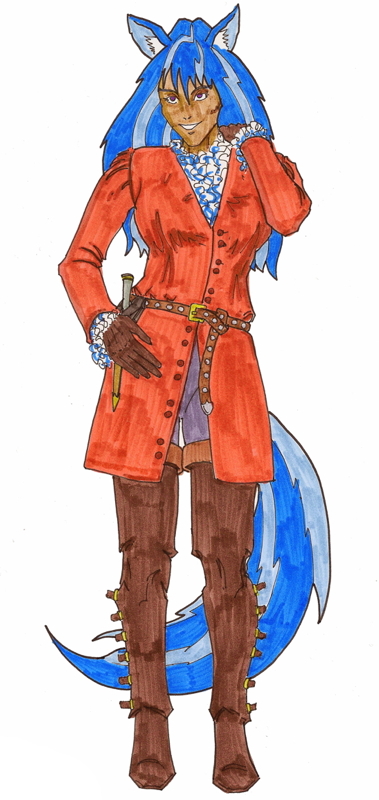 Background/History: To hear her tell it, the origins of "The Wondrous Lady Teodora, Player Nonpareil" are as grandiose as her name. Depending on who's asking (and what she things she can get away with), Teodora has claimed to be everything from a high-born noble-lady on the run from a vindictive husband, to a crown princess, forced to flee her homeland due to the actions of a cruel stepmother/wicked advisor/military coup. In truth, she's exactly what she advertises—an actress, born into a family of players who has now struck out on her own. However, the Lady Teodora isn't one to let facts get in the way of a good story. She knows people tend to hear (or see) only what they want and will often fill in any carefully placed blanks with information of their own creation, allowing her to be more than a mere "actress," but a "Player Nonpareil!"
Personality/Motivation: To most everyone she meets, the Lady Teodora is (by degrees) arrogant, condescending, imperious, and vain. But, as with most things related to a player of her caliber, this too is an act. Since she advertises herself as "the wondrous" she knows people expect her (for the most part) to act to the part, and the Lady Teodora isn't one to disappoint her audience. On the other hand, to the other two members of her troupe, she's caring, helpful, an attentive teacher, and a demanding director of stage shows. As with many in the traveling show business, Lady Teodora views her companions as family, while most anyone else is a "rube" to be exploited. Of course, for an acting troupe, said exploitation doesn't mean cheating the audience, but instead it often boils down to performing "low-brow" entertainment (ribald and vulgar humor, lewd dances, and violent bouts of stage combat) in order to appeal to the viewer's baser desires.
Quote: "Ladies and gentlemen! Prepare to be awed and amazed by the matchless thespian talents of The Wondrous Lady Teodora, Player Nonpareil!"
Powers/Tactics: Having literally been on stage since before she could walk, the Lady Teodora is quite skilled at the acting arts. She is a skilled singer, a dexterous dancer, and an excellent actress. She's capable of reciting epic poems, telling stories of all sorts, performing simple "magic" (i.e. Sleight of Hand) tricks, and knows by heart select scenes from the classics (and is quite adept at one-woman reenactments of said scenes). In addition, she's also rather skilled with rapier and can put on a show of fencing with the best of them. And although most of her sword-work is showy and flashy (as stage fighting should be) she can handle herself in an actual fight as well, as several bandits have discovered—much to their regret.
Campaign Use: Despite her imperious manners (and tendency to speak in the third person), the Lady Teodora can be an excellent source of information and advice for a party of PCs. Of course, they'll need to get past her public persona first, but any well-equipped part of adventurers will almost certainly not qualify as a rube in Teodora's eyes. In fact, she might try and use them as guards or escorts for her traveling show—at least until she reaches the next town. In addition, since she knows a wide variety of legends and stories, she might be able to offer advice or fill in the details on any fragments of information the PCs have.
To make the Lady Teodora more powerful, simply add in The Great And Powerful Option. To make her less powerful, remove her Stage Combat Fencing Package.
The Wondrous Lady Teodora is a character from the author's Well of the Worlds campaign setting. In settlings that lack fox-tailed (and eared) people, you might want to make her something equally exotic—an elf for example.
Appearance: The Wondrous Lady Teodora stands nearly six feet in height, with a well-proportioned albeit athletic physique. She has a naturally coppery/sun-bronzed complexion, which is in stark contrast to her long ice blue (run through with streaks of white) hair. As she is of the Fox People, she has a matching large bushy tail and tall tapering ears atop her head. Her typical mode of dress is a linen shirt, set with extensive ruffles at the cuff and neck, a form-fitting knee-length cotehardie open at the neck (in order to show off all those ruffles), close-fitting woolen hose, and thigh-high leather boots. Over this she wears a leather belt, heavily decorated with metal studs, a large belt purse, and attachments for hanging a sword and dagger.
(Character sheet created by Michael Surbrook)