BATTLE ANGELS
LIEUTENANT AMANDA GARRISON



Val	Char	Cost	Roll	Notes


15	STR	5	12-	Lift 200 kg; 3d6 HTH Damage [1]
27	DEX	51	14-	OCV:  9/DCV:  9
20	CON	20	13-
12	BODY	4	11-
13	INT	3	12-	PER Roll 12-
13	EGO	6	12-	ECV:  4
18	PRE	8	13-	PRE Attack:  3 1/2d6
16	COM	3	12-

16/19	PD	7		Total:  16/19 PD (6/9 rPD)
16/19	ED	6		Total:  16/19 ED (6/9 rED)
6	SPD	23		Phases:  2, 4, 6, 8, 10, 12
10	REC	6
40	END	0
40	STUN	10		

Total Characteristic Cost:  158

Movement:

	Running:	8"/16"
		Flight:		5"/5"
		Leaping:	4"/8"
		Swimming:	3"/6"



Cost	Powers


	

Rage Meter


20	1)  

Rage Filler:

  Absorption 2d6  (Energy, Energy/Physical), Varying Effect (+1)
3	2)  

Rage Meter:

  Endurance Reserve  (50 END, 0 REC) Reserve; Begins Combat at Zero (-1/2); REC, 
	Filled by Rage Filler (+0); Personal REC (-1/2)

	

Martial Arts:

  

Special Forces


	

Maneuver	OCV	DCV	Notes


3	Air Catch	+0	+1	5d6 +v/5, Target Falls
4	Block		+2	+2	Block, Abort
4	Choke 		-2	+0	Grab One Limb; 3d6 NND
4	Disarm		-1	+1	Disarm; 35 STR to Disarm roll
3	Grappling Throw	+0	+2	7d6 Strike; Target Falls; Must Follow Grab
5	Jab		+1	+3	5d6 Strike
3	Legsweep	+2	-1	6d6 Strike, Target Falls
5	Overhead Kick (Airsick Kick)
			-2	+1	9d6 Strike
5	Reverse Turning Kick
			+1	-2	9d6 Strike
4	Snap Kick	+2	+0	7d6 Strike
8	+2 HTH Damage Classes (already added in)
	 
75	

Ki Multipower:

  Multipower, 75-point reserve
4u	1)  

Sonic Boom:

  EB 9d6; Gestures: Instant Power (-1/4), END 4
6u	2)  

Sonic Break:

  EB 8d6, Penetrating (+1/2), END 6
3u	3)  

Somersault Justice:

  HA +4d6, Reduced Endurance (0 END; +1/2), Area Effect: Line (+1); 
	Hand-To-Hand Attack (-1/2)
6u	4)  

Flash Kick:

  HA +3d6, Penetrating (+1/2), Reduced Endurance (0 END; +1/2); Hand-To-Hand 
	Attack (-1/2) 

plus

 EB 6d6, Penetrating (+1/2), END 4
	 
54	

Crossfire Blitz:

  HA +6d6, Autofire (5 shots; +1/2), Penetrating (+1/2), Armor Piercing x1 (+1/2); 
	Hand-To-Hand Attack (-1/2) 

plus

 Flight 5"; Horizontal Flight only (-1), Linked (Hand-to-Hand 
	Attack; -1/2), No Noncombat Movement (-1/4), END 8
7	

Armored Uniform:

  Armor (3 PD/3 ED); IIF (-1/4)
10	

Fighting Spirit:

  Physical Damage Reduction, Resistant, 25%; Stun Only (-1/2)

	

Perks


9	

Special Forces:

  Contact (Contact has access to major institutions, Contact has useful Skills or 
	resources), Organization Contact (x3) (9 Active Points) 8-
5	

Member Of The Battle Angels:

  Fringe Benefit:  International Driver's License, Membership: 
	Battle Angels, Passport

	

Talents


12	Defensive Fighter:  Combat Luck (6 PD/6 ED)

	

Skills


8	+1 with All Combat
5	+1 with HTH Combat
6	+2 with Special Forces
	 
2	CK: Washington DC 11-
3	Acrobatics 14-
3	Analyze:  Style 12-
3	Breakfall 14-
3	Bureaucratics 13-
3	Climbing 14-
3	Combat Driving 14-
3	Concealment 12-
3	Criminology 12-
3	Cryptography 12-
3	Deduction 12-
3	Electronics 12-
3	Forensic Medicine 12-
3	Interrogation 13-
3	Lockpicking 14-
3	Paramedic 12-
3	Security Systems 12-
3	Shadowing 12-
3	Sleight of Hand 14-
3	Stealth 14-
3	Streetwise 13-
2	Survival (Urban) 12-
4	TF:  Common Motorized Ground Vehicles, Two-Wheeled Motorized Ground Vehicles, Two-Wheeled Muscle-
	Powered Ground Vehicles, Wheeled Military Vehicles
5	Tactics 13-
3	Tracking 12-
6	WF:  Common Martial Arts Melee Weapons, Common Melee Weapons, Small Arms
3	Scholar
1	1)  KS: American Style Special Forces 11-
1	2)  KS: Military/Mercenary/Terrorist World 11-
1	3)  KS: Pentagon 11-
2	4)  KS: US Military 12-



Total Powers & Skill Cost:  371
Total Cost:  529

200+	Disadvantages


5	Distinctive Features:  Military outlook, bearing (Concealable; Noticed and Recognizable; Detectable 
	By Commonly-Used Senses; Not Distinctive In Some Cultures)
5	Hunted:  Other Warriors of Note 11-, As Powerful, Watching
10	Hunted:  Shadowlaw 8- (Mo Pow, NCI, Watching)
15	Hunted:  The Black Widow Company 8- (Mo Pow, Harshly Punish)
15	Hunted: "Commander" Martin Eurich:  11- (Frequently), As Powerful, Harshly Punish
10	Hunted: Luis De Lobo (The Iron Wolf):  8- (Occasionally), As Powerful, Harshly Punish
5	Physical Limitation:  No Left Eye; Impaired Vision (Infrequently, Slightly Impairing)
15	Psychological Limitation:  Enjoys testing her skills against others (Common, Strong)
20	Psychological Limitation:  Honorable Common, Total
15	Psychological Limitation:  Superpatriot Common, Strong
10	Reputation: Skilled Warrior: , Frequently (11-)
5	Rivalry :  Professional (The Femme Fatals; Rival is As Powerful; Seek to Outdo, Embarrass, or 
	Humiliate Rival; Rival Aware of Rivalry)
10	Social Limitation:  Dishonorably Discharged  (Occasionally, Major)
10	Style Disadvantage:  Easily Concealed, Always Noticed and Causes Major Reaction, Detectable By 
	Commonly-Used Senses
179	

Experience Points

Total Disadvantage Points:  529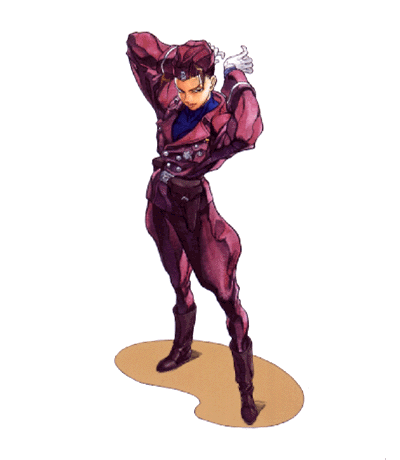 Background/History: A former member of Army Intelligence, Amanda Garrison worked closely with the US Military's Special Forces Squadron as an investigator and field agent. She left the army after a scandal involving a married superior officer. Although there was no affair, a rival had used doctored evidence and in a panic, the officer arranged for Lt Garrison to be discharged. A skilled combatant with a flair for show and dramatics, she found herself a popular fighter on the underground fighting circuit. She formed the Battle Angels because teams get more publicity and a team of attractive women fighters gets more yet. She maintains contact with the Special Forces unit and the Eagle Squadron and occasionally she and her fellow "Angels" do work for the organizations.
Personality/Motivation: Lt Garrison is now a professional fighter and mercenary. Although she had her standards and honor, she is in this to make a living and will occasionally take a job that is morally gray. She has developed her team to work well together, and operate as professionals when doing mercenary work.
Quote: "At ease...you look terrible." (To defeated opponent)
Powers/Tactics: A skilled fighter, trained in American Special Forces combat by Charlie Nash. Uses the famed Sonic Boom and Flash Kick varient taught by Nash.
Campaign Use: An American answer to Cammy White. She and her Battle Angels can be used as rival fighters in a circuit based campaign, or as "good guy" mercenaries in a more espionage based game.
Group Relations:
Area:

Occasionally, Amanda wonders why she got into babysitting... but she appreciates Area's drive and intelligence. The team is banking some of their earnings to allow Area a workshop. Judging by her talents with the arm, they could get some nice weaponry from that.

Diana VanHutzen:

Diana has been Amanda's friend for years. They get along well. She trusts the boxer with her life.

Oulan:

She's never seen a fighter like Oulan up close. She's mystified, awed, and honored that the warrior sought them out.

Tsugumi:

Hyperkinetic people person. Amanda gets a kick out of her other 'baby fighter'. She's glad Tsugumi's there for Area too.
Appearance: attractive brunette with shoulder length hair and brown eyes. She has dark skin and is of Native American and Irish heritage. She tends to "dress the part" and wears fatigues, combat boots, and a green sports bra. Also can be seen in the costume depicted in the picture.
This is official Capcom art for a Mech Fighter Game. Character I do believe was named Mary.
---
---
Return to Video Game-Derived Character Adaptations