BATTLE ANGELS
AREA



Val	Char	Cost	Roll	Notes


10/25	STR	0	11-/14-	Lift 100 kg/800 kg; 2d6/5d6 HTH Damage [1/2]
16	DEX	18	12-	OCV:  5/DCV:  5
13	CON	6	12-
10	BODY	0	11-
23	INT	13	14-	PER Roll 15-
14	EGO	8	12-	ECV:  5
11	PRE	1	11-	PRE Attack:  2d6
12	COM	1	11-

8/24	PD	6		Total:  8/24 PD (0/16 rPD)
8/24	ED	5		Total:  8/24 ED (0/16 rED)
5	SPD	24		Phases:  3, 5, 8, 10, 12
8	REC	6
30	END	2
30	STUN	8		

Total Characteristic Cost:  98

Movement:

	Running:	6"/16"/12"/32"
		Leaping:	2"/22"/4"/44"
		Swimming:	2"/4"



Cost	Powers


	

Rage Meter


20	1)  

Rage Filler:

  Absorption 2d6  (Energy, Energy/Physical), Varying Effect (+1)
3	2)  

Rage Meter:

  Endurance Reserve  (50 END, 0 REC) Reserve; Begins Combat at Zero (-1/2); REC, 
	Filled by Rage Filler (+0); Personal REC (-1/2)

	

Martial Arts:

  

Basic Self Defense Training


	

Maneuver	OCV	DCV	Notes


4	Block		+2	+2	Block, Abort
4	Dodge		--	+5	Dodge, Affects All Attacks, Abort
5	Kick		-2	+1	6d6/9d6 Strike
4	Punch		+0	+2	4d6/7d6 Strike
3	Throw		+0	+1	2d6/5d6 +v/5, Target Falls
	 
	

Battlesuit:

 Rocket Arm, all slots OIF (-1/2)
6	1)  

BattleArm!:

  +15 STR; No Figured Characteristics (-1/2), Right Arm Only (-1/2), OIF (-1/2), END 1
54	2)  

Five Star Raid:

  EB 10d6, Penetrating (+1/2), Area Of Effect (50" Line; +1), Continuous (+1); 
	Activation Roll 12- (-3/4), Increased Endurance Cost (x2 END; -1/2), OIF (-1/2), Gestures (-1/4), 
	Incantations (-1/4), END 34
35	3) 

 Ground Rocket Gun:

  EB 7d6, Reduced Endurance (0 END; +1/2); OIF (-1/2)
	

Notes:

  Launches Rocket Fist. Returns at end of phase.
33	4)  

Upload:

  HA +6d6, Autofire (3 shots; +1/4), Reduced Endurance (0 END; +1); Hand-To-Hand 
	Attack (-1/2), OIF (-1/2)
	

Notes:

  Three Rapid Fire Punches
16	5)  

Terminator:

  RKA 2d6, +1 Increased STUN Multiplier (+1/4); Only vs Targets on the Ground (-1/2), 
	OIF (-1/2), Gestures (Smashes Ground with Rocket Arm; -1/4), END 4
12	6)  

Armored Costume:

  Armor (6 PD/6 ED); OIF (-1/2)
13	7)  

Reinforced Armored Battle Arm:

  Armor (10 PD/10 ED); Activation Roll 12- (-3/4), OIF (-1/2)
	 
23	

Jackson Kick:

  HA +4d6, Double Knockback (+3/4); Hand-To-Hand Attack (-1/2)	3
	

Notes:

  Lightning fast double kick that sends target flying.
	 
13	

Rocketboots:

  Multipower, 20-point reserve, all slots OIF (-1/2)
1u	1)  Running +10" (6"/16" total); OIF (-1/2), END 2
1u	2)  Leaping +20" (2"/25" forward, 1"/12 1/2" upward); OIF (-1/2), END 2
	 
3	

Perceptive:

  +1 PER with all Sense Groups

	

Perks


5	

Member Of The Battle Angels:

  Fringe Benefit:  International Driver's License, Membership: Battle 
	Angels, Passport

	

Talents


6	

Better Lucky Than Dead:

  Combat Luck (3 PD/3 ED)
3	

Math-whiz:

  Lightning Calculator

	

Skills


3	Computer Programming 14-
3	Cryptography 14-
3	Deduction 14-
9	Electronics 17-
7	Inventor 16-
9	Mechanics 17-
3	Paramedic 14-
3	Security Systems 14-
3	Stealth 12-
1	Streetwise 8-
3	Systems Operation 14-
15	Weaponsmith (Biological Weapons, Chemical Weapons, Energy Weapons, Firearms, Incendiary Weapons, 
	Missiles & Rockets, Muscle-Powered HTH, Muscle-Powered Ranged) 17-
3	Scholar
1	1)  KS:  Streetfighter Circuit 11-
1	2)  KS: High Technology Industries 11-
2	3)  KS: Scientific World 14-
3	Scientist
1	1)  Chemistry 11-
2	2)  Computer Science 14-
3	3)  Cybernetics 15-
3	4)  Electrical Engineering 15-
2	5)  Mathematics 14-
3	6)  Mechanical Engineering 15-
2	7)  Physics 14-
3	8)  Research 15-
2	9)  Robotics 12-
1	10)  SS:  Biophysics 11-
4	11)  SS:  Micro-circuitry 16-
2	12)  Vehicle Engineer 12-



Total Powers & Skill Cost:  367
Total Cost:  465

200+	Disadvantages


15	Distinctive Features:  Nerd With Gigantic Mechanical Arm (Concealable; Always Noticed and Causes 
	Major Reaction; Detectable By Commonly-Used Senses)
10	Enraged:  if Father's Genius/Legacy is mocked or questioned (Uncommon), go 11-, recover 14-
5	Hunted:  Fighters of Note 11- (As Pow, Watching)
20	Hunted:  Rugal Bernstein 8- (Mo Pow, NCI, Harshly Punish)
15	Psychological Limitation:  Determined to prove weapons are viable and worthwhile (Common, Strong)
15	Psychological Limitation:  Obsession with technology; uber nerd. (Very Common, Moderate)
15	Psychological Limitation:  Yearns for acceptance and praise (Common, Strong)
5	Reputation:  Powerful Fighter, 8-
15	Social Limitation:  Minor Age: 16 (Frequently, Major)
10	Style Limitation
5	Unluck: 1d6
20	Vulnerability:  2 x STUN Electrical Attacks (Common)
115	

Experience Points

Total Disadvantage Points:  465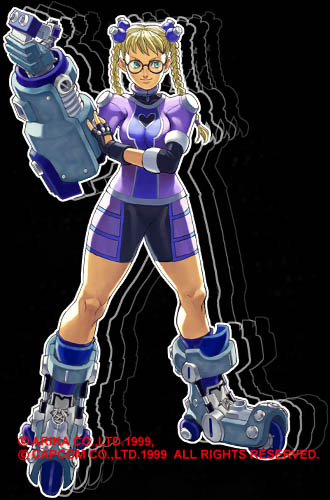 Background/History: The devoted daughter of an eccentric inventor, Area (named for Area 51) is on a quest to find the men who killed her father. Although his work was often scoffed at, it was apparently worthy enough for some arms dealer to try to take for themselves. Dr. Realm was killed during the robbery. Area, taking up her father's weapons and carrying her own equipment with her, has take up the role of obsessed seeker of vengeance. At this time she is unsure of who she should be hunting. Her clues have been rather sparse, but she continues to hunt the men who killed her beloved father.
It was during one of her fact finding missions that Area encountered the Battle Angels. The young warrior wannabe and the more experienced fighters ended up working together to escape the clutches of Shadowlaw. Although disappointed that the Shadowlaw connection turned out to be false, Area was pleased to meet such powerful fighters. Lt Garrison, not thrilled with the idea of carting around a slightly crazy young girl with visions of vengeance, she decided it was safer for the girl to be with true warriors. Area, without any true leads, decided to accompany the Battle Angels, hoping she could find out something about her father's death in the process.
Area (last name unknown) appeared in Street Fighter EX plus, the EX series is the product of Akira, not Capcom (merely licensed the Street Fighter name and characters to them) and thus not a Canon Street Fighter Character. So everything about her has been made up by me save the art and the names of her combat maneuvers.
Personality/Motivation: A nerd with an over developed sense of vengeance. She is fiercely proud of hers and her late father's work. She seeks his murderers to bring them to justice. Although she is fairly upbeat and outgoing, she often feels alone and abandoned. She clings to the other Battle Angels emotionally and if one were seriously hurt she would be driven to avenge them too. She loves technology of all kinds and where as other fighters might develop new maneuvers and ki abilities, Area will probably develop more and more weapons and gadgets.
Quote: "Talk to the HAND!!!"
Powers/Tactics: Area has little combat training, but she is getting better. She tends to keep her opponents at a distance if at all possible; using her rocket fists ranged attacks, closing with her rocket boots and then escaping.
Campaign Use: A techno geek in the FGU. She is a gadgeteer and at a slight disadvantage in most fights as she's barely faster than the lumbering bricks and lacks their defenses. If she's too weak, give her some defensive gadgets (FF or Force Wall).
Appearance: See illustration. A fit sixteen year old girl with blonde hair and thick glasses.
---
---
Return to Video Game-Derived Character Adaptations