DELTA RED
CAMMY WHITE



Val	Char	Cost	Roll	Notes


13	STR	3	12-	Lift 151.6kg; 2 1/2d6 HTH Damage [1]
31	DEX	63	15-	OCV:  10/DCV:  10
18	CON	16	13-
11	BODY	2	11-
13	INT	3	12-	PER Roll 14-/16-
13	EGO	6	12-	ECV:  4
18	PRE	8	13-	PRE Attack:  3 1/2d6
20	COM	5	13-

14/18	PD	8		Total:  14/18 PD (3/7 rPD)
11/15	ED	4		Total:  11/15 ED (3/7 rED)
7	SPD	29		Phases:  2, 4, 6, 7, 9, 11, 12
10	REC	6
40	END	2
35	STUN	8		

Total Characteristic Cost:  169

Movement:

	Running:	8"/32"
		Leaping:	5"/10"
		Swimming:	4"/16"



Cost	Powers


	

Rage Meter


20	1)  

Rage Filler:

  Absorption 2d6  (Energy, Energy/Physical), Varying Effect (+1)
3	2)  

Rage Meter:

  Endurance Reserve  (50 END, 0 REC) Reserve; Begins Combat at Zero (-1/2); REC, 
	Filled by Rage Filler (+0); Personal REC (-1/2)

	

Martial Arts:

  

Special Forces


	

Maneuver	OCV	DCV	Notes


3	Air Throw	+1	+1	4 1/2d6
4	Block		+2	+2	Block, Abort
5	Cannon Drill	+2	-2	8 1/2d6
4	Disarm		-1	+1	Disarm; 33 STR to Disarm roll
4	Flying Thrust Kick
			+2	+0	6 1/2d6 Strike
5	Handstand Kick/Power Uppercut
			-2	+1	8 1/2d6 Strike
3	Legsweep	+2	-1	5 1/2d6 Strike, Target Falls
4	Punch		+0	+2	6 1/2d6 Strike
5	Spinning Back Fist
			+1	-2	8 1/2d6 Strike
3	Suplex		+2	+1	4 1/2d6 Strike; You Fall, Target Falls
3	Thigh Press	+0	+2	6 1/2d6 Strike; Target Falls; Must Follow Grab
3	Throw		+0	+1	4 1/2d6 +v/5, Target Falls
8	+2 HTH Damage Classes (already added in)
	 
115	

Special Forces Maneuvers:

  Multipower, 115-point reserve
3u	1) 

 Reverse Shaft Breaker:

  HA +6d6, Penetrating (+1/2); Hand-To-Hand Attack (-1/2), END 4
2u	2)  

Spin Drive Smasher:

  HA +8d6, Armor Piercing x1 (+1/2); Hand-To-Hand Attack (-1/2), Gestures 
	(Requires both hands; -1/2), Reduced Penetration (-1/4), Requires 2 To Hit rolls (-1/4), END 6
3u	3)  

Spinning Foot Sweep:

  HA +5d6, Area Effect: Radius (+1); Hand-To-Hand Attack (-1/2), END 5
2u	4)  

Spinning Knuckle:

  HA +8d6; Hand-To-Hand Attack (-1/2), Reduced Penetration (-1/4), END 4
6u	5)  

Killer Bee Assault:

  HA +9d6, Penetrating (+1/2), Autofire (5 shots; +1/2); Hand-To-Hand 
	Attack (-1/2), No Knockback (-1/4) 

plus

 +5 with OCV; Linked (Killer Bee Assault; -1/2), 
	Costs Endurance (-1/2), END 11
	 
	

Gear


7	1)  

Walther PPK S .380A:

 RKA 1d6; STR Minimum (STR Min. Cannot Add/Subtract Damage; -1), OAF (-1), 
	7 Charges (-1/2), Beam (-1/4), Real Weapon (-1/4) 

plus

 +1 OCV; OAF (-1), Real Weapon (-1/4)
	

plus

 +1 vs Range; OAF (-1), [7]
6	2)  

Armored Field Uniform:

  Armor (4 PD/4 ED); OIF (-1/2), Activation (-1/2)
9	3)  

Combat Knives:

  HKA 1/2d6 (1d6+1 w/STR), Range Based On STR (+1/4); OAF (-1), 2 Recoverable 
	Charges (-1), No Knockback (-1/4), [2 rc]
	

Notes:

  (x2 number of items)
8	4)  

Throat Mic:

  Radio Perception/Transmission (Radio Group); IIF - Throat Mic (-1/4)
	 
	

Athletics


20	1)  

Toughness:

  Physical Damage Reduction, Resistant, 50%; Stun Only (-1/2)
5	2)  

Runs Like A Cheetah:

  Running 0" (8" Total), X4 Noncombat, END 1
8	3)  

Leaps Like A Gazelle:

  Leaping +3" (5 1/2" Forward, 2 1/2" Upward) (Accurate), END 1
5	4)  

Swims Like A Fish:

  Swimming 0" (4" total) (x4 Noncombat), END 1
6	5)  

Acute Senses:

  +2 PER with All Sense Groups
2	6)  

Eagle Eye:

  +2 PER with Normal Sight

	

Perks


24	

MI-6 Agent:

  Fringe Benefit:  Basic 8- Contact: Intelligence Agencies, Concealed Weapon Permit 
	(where appropriate), Federal/National Police Powers: UK, International Driver's License, License 
	to Kill, Membership: Member of Delta Red, Passport, Security Clearance: UK
3	Well-Connected
1	1)  Contact: Chun Li (Contact has useful Skills or resources) 8-
1	2)  Contact: Dudley (Contact has significant Contacts of his own) 8-
4	3)  Contact: Intelligence Community (Contact has access to major institutions, Contact has 
	significant Contacts of his own, Contact has useful Skills or resources) 11-
3	4)  Contact: MI-6 13-
5	5)  Contact: Special Forces (Contact has useful Skills or resources), Organization Contact (x3) 8-

	

Talents


6	Combat Luck (3 PD/3 ED)
15	Combat Sense 12-
28	Danger Sense (Immediate Vicinity, Out of Combat) 17-

	

Skills


20	+4 with HTH Combat
9	+3 with Pistols
6	+2 with Special Forces Training
4	+2 with Reverse Shaft Breaker
	 
3	Acrobatics 15-
3	Analyze:  Style 12-
3	Breakfall 15-
3	Bugging 12-
1	Bureaucratics 8-
3	Climbing 15-
3	Combat Driving 15-
3	Computer Programming 12-
3	Contortionist 15-
3	Criminology 12-
3	Cryptography 12-
3	Demolitions 12-
3	Forensic Medicine 12-
1	High Society 8-
3	Interrogation 13-
3	Lockpicking 15-
3	Paramedic 12-
3	Persuasion 13-
3	Security Systems 12-
3	Stealth 15-
3	Streetwise 13-
8	Survival (Arctic/Subarctic Forests, Marine Surface, Mountain, Temperate/Subtropical Forests, 
	Tropical Forests, Urban) 12-
5	TF:  Common Motorized Ground Vehicles, Parachuting, Advanced, Parachuting, Basic, Two-Wheeled 
	Muscle-Powered Ground Vehicles, Wheeled Military Vehicles
2	WF:  Small Arms, Clubs, Unarmed Combat
3	Scholar
2	1)  KS:  MI-6 12-
2	2)  KS:  Martial Arts World 12-
2	3)  KS: Espionage World 12-
2	4)  KS: Special Forces 12-



Total Powers & Skill Cost:  498
Total Cost:  667

200+	Disadvantages


5	Distinctive Features:  Small Scar On Face (Easily Concealed; Noticed and Recognizable; Detectable 
	By Commonly-Used Senses)
10	Distinctive Features:  Style Disadvantage: Special Forces Concealable, Noticed and Recognizable, 
	Detectable By Commonly-Used Senses
20	Hunted:  MI-6 14- (Very Frequently), More Powerful, NCI, Watching
25	Hunted:  Master Bison 11- (Frequently), More Powerful, NCI, Harshly Punish
5	Hunted:  Other Martial Artists of note 11-, As Powerful, Watching
10	Hunted: The War Dolls:  8- (Occasionally), As Powerful, Harshly Punish
15	Psychological Limitation:  Amnesia (no memories before age 18) Infrequently, Fully Impairing
20	Psychological Limitation:  Loyal to MI-6 Common, Total
15	Psychological Limitation:  Wishes to discover her past Common, Strong
10	Reputation:  Former ShadowLaw Agent, 8- (Extreme)
10	Reputation:  World Warrior, Frequently (11-)
5	Unluck: 1d6
317	

Experience Points

Total Disadvantage Points:  667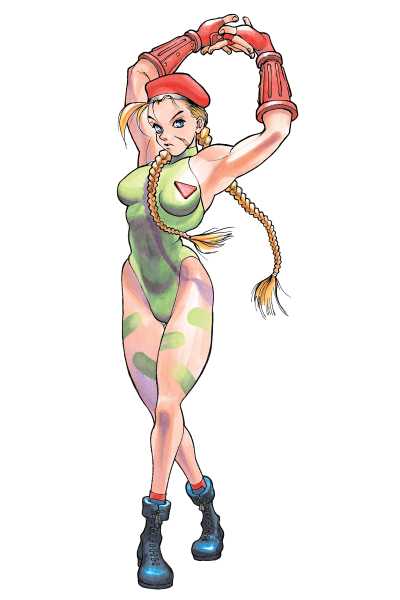 Background/History: Cammy's entire life is a mystery. She was dropped off at British Intelligence headquarters and abandoned. Taken in, an investigation could find no trace of her origin, and Cammy herself has no memories of her life before she turned 18 (she is currently 19). While undergoing evaluation and testing, Cammy displayed her phenomenal reflexes and fighting skills. British MI-6 then decided to "adopt" Cammy and train to work as one of their field agents. Cammy, in turn, took to the training like a duck to water. In an effort to infiltrate Shadowlaw operations, Cammy was entered into a local Street Fighter tournament. Cammy was glad to enter and has since risen to "World Warrior" status. She also gets closer to Shadolaw and Lord Vega with each tournament, drawn deeper by memories she is only now starting to uncover..
Personality/Motivation: Cammy is loyal and dedicated to the aims of MI-6. She enjoys the thrill and danger of MI-6 missions, and can be counted on to be in the thick of things if trouble happens. She is also troubled about her missing memories, and wonders who she really is what where she comes from. This introspection makes her troubled and depressed at times, but her natural good humor usually sees her through.
Quote: "Minor damage... Memory error! What am I doing here...?"
"Data evaluated! Target exhibited zero capability. Terminating..."
"Target destroyed! Remaining in secondary combat mode!"
"Fighting data retrieved successfully!"
"Your missing teeth will remind you of my victory"
"You must enjoy being beat, let me remodel your face one more time"
"Malfunction... Malfunction... Woah!? Did I just do that!?"
"Mission complete! Standing by for the next command!!"
"Condition green! Motor functions operating at maximum efficiency!"
"Life readings confirmed. Power readings are negative!"
"Shut up and fight!"
Powers/Tactics: Fast and aggressive, Cammy's got precious few ranged attack options (gun and knife) and she closes combat quickly.
Campaign Use: Another agent from a government organization. Delta Red is willing to work with others but they can be insular when necessary for the campaign. They are very close. Cammy is the leader, even though Wolf technically outranks her.
Appearance: Cammy is very short, standing 5'4" and weighing a little over 100 pounds. She has a well-muscled, athletically-proportioned body, blue eyes and long blonde hair that she keeps bound up in twin braids. A small scar is visible on the lower left of her face. Cammy's costume consists combat boots, a dark green one-piece bodysuit that is lacks arms and legs, and a red beret. She also wears what looks like sparring pads on her hands and forearms.
---
---
Return to Video Game-Derived Character Adaptations