ORIGINAL CREATURES
GRANDFATHER OF ALL THE REPTILES



Val	CHA	Cost	Roll	Notes


80	STR	70	25-	Lift 1.6 ktons; 16d6 HTH Damage [8]
15	DEX	10	12-
40	CON	30	17-
8	INT	-2	11-	PER Roll 11-
5	EGO	-5	10-
40	PRE	30	17-	PRE Attack:  8d6

8	OCV	25
5	DCV	10
2	OMCV	-3
2	DMCV	-3
3	SPD	10		Phases:  4, 8, 12

28	PD	16		Total:  28 PD (10 rPD)
24	ED	12		Total:  24 ED (10 rED)
24	REC	20
80	END	12
35	BODY	25
95	STUN	38       

Total Characteristics Cost:  293

Movement:

	Running:	12m/24m
		Leaping:	0m
		Swimming:	12m/24m



Cost	Powers & Skills


30	

Scaled Hide:

  +10 PD, Resistant (+½) 

plus

 +10 ED, Resistant (+½)
85	

Five Heads:

  Duplication (creates 4 375-point Duplicates); Cannot Recombine (-0)
50	

Bite:

  HKA 2 ½d6 (6 ½d6 w/STR), Area Of Effect (1m Radius; +¼), END 5
60	

As Tough As It Looks:

  Physical Damage Reduction, Resistant, 50% 

plus

 Energy Damage Reduction, Resistant, 50%
32	

Shell:

  Resistant Protection (16 PD/16 ED); Requires A Roll (11- roll; or Locations 8-13; -½)
30	

Heavy:

  Knockback Resistance -30m
0	

Heavy:

  Leaping -4m (0m total)
4	

Aquatic:

  Swimming +8m (12m total), END 1
5	

Tail:

  Extra Limb (1), Inherent (+¼); Limited Manipulation (-¼)
3	

Adapted To The Water:

  LS  (Extended Breathing: 1 END per 5 Minutes)
3	

Great Age:

  LS  (Longevity: 800 Years)
10	

Long Necks:

  Reach +10m

	

Talents


4	

Aquatic:

  Environmental Movement (no penalties in water)



Total Powers & Skill Cost:  337
Total Cost:  629

175+	Matching Complications (50)


20	Physical Complication:  Animal Intelligence (Frequently; Greatly Impairing)
20	Physical Complication:  Cold-Blooded (Frequently; Greatly Impairing)
20	Physical Complication:  Gigantic (roughly 32m long; +8 OCV for others to hit, +8 to PER Rolls for others to perceive) 
	(Frequently; Greatly Impairing)
20	Physical Complication:  Very Limited Manipulation (Frequently; Greatly Impairing)



Total Complications Points:  50
Experience Points:  454


	
Ecology: Found in the Gray Marshes, this gigantic multi-headed snapping turtle is known to the local lizardmen tribes as Aksommdee, which translates to "Grandfather of all lizard-kind." Not surprisingly, many lizardman tribes worship Aksommdee as a divine being, treating it as a god taken material form. Sacrifices are made to it on a regular basis, with slaves, captives taken in battle, and the largest animals taken in hunting and fishing expeditions offered up. While Grandfather eagerly devours the offerings placed before it, he's not above attacking and eating his benefactors either, especially if he catches one alone in the depths of the marshes. The lizardmen, for their part, accept such incidents as simply part of nature's wheel.
Personality/Motivation: Typical animal motivations.
Powers/Tactics: Despite its great size (or, perhaps because of it), Grandfather is an ambush predator, lying in wait in deep bodies of water, or amid thick stands of growth. It will extend its necks in different directions with each head searching independently, quickly snapping up anything that looks edible (basically anything human-sized or larger). Grandfather will prey on fish, alligators, snakes, lizards, deer, cougars, and even the local lizardmen.
Appearance: Grandfather is an immense five-headed snapping turtle. Measuring roughly 100 feet in length from the tip of one of its beaks to the end of its long tail, Grandfather is well over two centuries old (based on sightings), and may be as much as a half a millennium in age. Grandfather's scales are a dull bronze, while its lighter colored shell is heavily pitted with age and is covered in small clusters plant growth.
Designer's Notes: Grandfather-of-all-the-Reptiles comes from a drawing I found of a five-headed snapping turtle. The name "Grandfather" is borrowed from the Indonesian myth of "Father-of-all-the-Turtles" (see The Asian Bestiary, Volume 1), while the idea of a huge snapping turtle of unknown age living in the local swamp is something I first suggested for a Haymaker! project years and years ago. The Gray Marshes are something I developed for a Digital Hero submission, and aren't found in any setting. Other than a name and the lizardmen, I don't have much else in mind for the place.
Grandfather himself was created by simply scaling up the Hydra found in the HERO System Bestiary—a solution that escaped me for months it seems. I simply tinkered with a few values, compared Grandfather to a other Gigantic-sized creatures found in the HERO System Bestiary and The Asian Bestiary, Volume 2, and I was ready to go.
GRANDFATHER OF ALL THE REPTILES
(HEAD)



Val	CHA	Cost	Roll	Notes


Val	CHA	Cost	Roll	Notes
60	STR	50	21-	Lift 102.4 tons; 12d6 HTH Damage [6]
15	DEX	10	12-
30	CON	20	15-
8	INT	-2	11-	PER Roll 11-
5	EGO	-5	10-
25	PRE	15	14-	PRE Attack:  5d6

8	OCV	25
5	DCV	10
2	OMCV	-3
2	DMCV	-3
3	SPD	10		Phases:  4, 8, 12

28	PD	16		Total:  28 PD (10 rPD)
24	ED	12		Total:  24 ED (10 rED)
24	REC	20
60	END	8
13	BODY	3
58	STUN	19		

Total Characteristics Cost:  189

Movement:

	Running:	0m
		Leaping:	0m
		Swimming:	0m



Cost	Powers & Skills


30	

Scaled Hide:

  +10 PD, Resistant (+½) 

plus

 +10 ED, Resistant (+½)
50	

Bite:

  HKA 2 ½d6 (6 ½d6 w/STR), Area Of Effect (1m Radius; +¼), END 5
60	

As Tough As It Looks:

  Physical Damage Reduction, Resistant, 50% 

plus

 Energy 
	Damage Reduction, Resistant, 50%
32	

Shell:

  Resistant Protection (16 PD/16 ED); Requires A Roll (11- roll; or Locations 8-13; -½)
30	

Heavy:

  Knockback Resistance -30m
0	

Goes Where The Main Body Goes:

  Leaping -4m (0m total)
0	

Goes Where The Main Body Goes:

  Running -12m (0m total)
0	

Goes Where The Main Body Goes:

  Swimming -4m (0m total)
3	

Adapted To The Water:

  LS  (Extended Breathing: 1 END per 5 Minutes)
3	

Great Age:

  LS  (Longevity: 800 Years)
10	

Long Necks:

  Reach +10m



Total Powers & Skill Cost:  186
Total Cost:  375

175+	Matching Complications (50)


20	Physical Complication:  Animal Intelligence (Frequently; Greatly Impairing)
20	Physical Complication:  Cold-Blooded (Frequently; Greatly Impairing)
10	Physical Complication:  Large (roughly 3m long, +2 OCV, +2 to PER Rolls) (Infrequently; 
	Slightly Impairing)
20	Physical Complication:  Very Limited Manipulation (Frequently; Greatly Impairing)



Total Complications Points:  50
Experience Points:  200



Grandfather of All The Reptiles' (main body) Hero Designer File
Grandfather of All The Reptiles' (head) Hero Designer File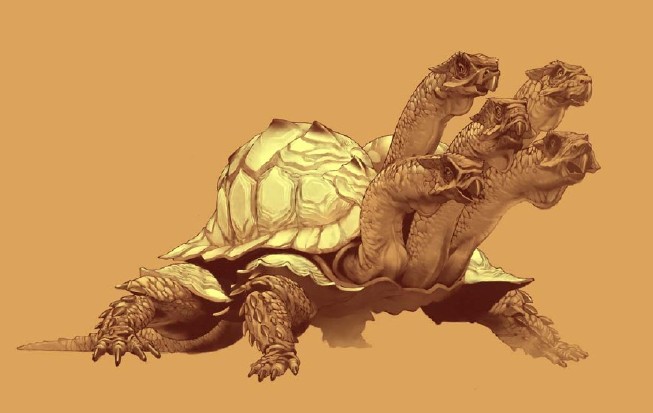 ---
Return to Original Champions Characters