"Real" Armor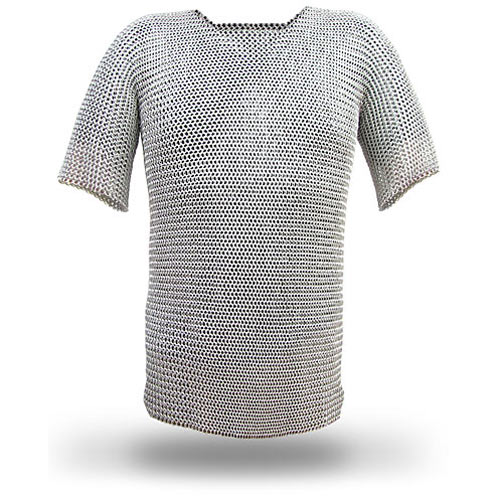 Brigadine

This is armor consisting of a layer of small steel plates sandwiched in between two layers of cloth or leather (or both). Popular from about 1400 onwards. A lighter version is called a jack. This armor is a direct descendent of the early "coat of plates."

Cuir Bouilli

Armor made from leather soaked in melted wax. Some descriptions make it sound to be leather soaked (or boiled) in hot oil.

Lamallar

Armor formed from small metal plates laced together. Popular with warriors of the Middle East. Used in Europe around 500 AD. This form of armor was almost extensively used in Japan.

Mail

Armor made riveted metal rings interlocked together to form a flexible metal mesh. Also known as "chainmail." Other names for this form of armor are "ringmail" and "linkmail ." This type of armor dates to Roman times (

lorica hamata

)

Plate

Armor made from rigid metal plates. Originally, such defenses were used in addition to mail armor. Later, full suits of completely articulated plates were made. A "white harness" is a fully covering suit of plate armor.

Scale

Armor made overlapping metal (or horn or leather) plates (

i.e.

scales) riveted to a heavy leather backing. This type of armor dates back to the Romans (

lorica squamata

).

Splint

Armor made vertical strips of metal riveted to a heavy leather backing. This type of armor is a common form of limb defense from circa 1250 to circa 1350.
"Fantasy" Armor
Banded Mail

Armor made from horizontal strips of metal. The closest historical form of this armor would be the Roman

lorica segmetata

.

Plate Mail

Armor comprised of a chain coat and plate reinforcement. Representative of late 1300's armors. A better terms would be "transitional" plate.

Ring Mail

Armor made from a heavy leather coat with metal rings sewn flat upon it. No actual pictorial or physical evidence seems to exist of any sort of armor that ever looked like this.

Splint Mail

See Splint above. Due to it's construction, it would be impossible to make a full body suit of this armor.
Armor Pieces
Aketon

See gambeson.

Armet

Fitted helmet. 15th Century, Italian in origin.

Arming Doublet

A padded gambeson worn underneath metal armor. Fitted with points (strings) to attach armor pieces; may have gussets of mail sewn on the insides of joints (elbow, arm-pit).

Aventail

Chain neck guard attached to the edge of the helmet.

Barbute

Close-fitting metal helmet with a T-shaped opening in the front.

Bascinet

Close-fitting metal helmet.

Bevor

Combined neck and chin protection, worn with some types of Sallet or Burgonet.

Breastplate

Torso protection. Worn with or without a backplate.

Brigandine

Cloth armor, where plates of metal are riveted between two layers of sturdy cloth.

Buckler

Small round shield.

Burgonet

Light helmet worn in the 16th century. Could be combined with a Bevor for neck and chin protection, or worn open-faced.

Byrnie

Mail shirt. See also hauberk.

Camail

see aventail.

Chapel-de-fer

Broad-brimmed metal helmet.

Chausses

Mail leg protection.

Coat-of-plates

See brigandine.

Coif

Hood and neck protection, sometimes extending down to cover the shoulders. Usually of mail, sometimes leather.

Corselet

General military half-armor. Usually of plate, and covering the arms, torso and upper legs.

Cuirass

Breast and back plates.

Cuir Boulli

Thick leather armor, hardened by boiling in water or wax (and possibly oil.)

Cuisses

Thigh armor.

Fauld

Abdominal protection, worn below a breastplate.

Gambeson

A padded and quilted body armor, worn underneath heavier armor for comfort, or by itself as light armor.

Gamboised Cuisses

Padded and quilted thigh defenses. 13th-14th C.

Gauntlets

Hand armor. Could be mail, plate, or quilted (usually in combination with a long-armed gambeson).

Gorget

Rigid metal neck protection. Depending upon the type of helmet worn, this could be either outside or inside the helmet's lower rim.

Great Helmet

Large metal helmet, often fitted over an open bascinet or coif.

Greave

Shin and ankle armor.

Hauberk

Mail shirt. Arms could be short or long; the hauberk could extend down to cover the thighs. "Hauberk" could also be used to refer to a scale armor covering the same regions.

Heater

"Flatiron"-shaped shield.

Jack

Cloth armor, thickly padded and stuffed with tow or linen. Usually many layers. Quite comfortable.

Kettle hat

Broad-brimmed metal helmet.

Kite

Long tear drop-shaped shield.

Pauldron

Shoulder armor.

Pavise

Large squarish shield for protecting crossbowmen in sieges.

Plackart

Short breastplate, for protecting the abdomen and short ribs.

Rerebrace

Upper arm protection.

Sabaton

Foot armor. Also called a solleret.

Sallet

Fitted brimless metal helmet.

Vambrace

Lower arm protection.

Ventail

Mail face protection in the form of a flap that laces up over the nose and lower face, leaving the eyes uncovered.

Visored Bascinet

Fitted metal helmet and face protection.