THE TICK
THE EVIL MIDNIGHT BOMBER
(WHAT BOMBS AT MIDNIGHT)



Val	CHA	Cost	Roll	Notes


10	STR	0	11-	Lift 100.0kg; 2d6
13	DEX	9	12-	OCV:  4/DCV:  4
13	CON	6	12-
11	BODY	2	11-
15	INT	5	12-	PER Roll 12-
7	EGO	-6	10-	ECV:  2
10	PRE	0	11-	PRE Attack:  2d6
8	COM	-1	11-

4	PD	2		Total:  4 PD (0 rPD)
6	ED	3		Total:  6 ED (0 rED)
2	SPD	0		Phases:  6, 12
5	REC	0
26	END	0
24	STUN	1		

Total Characteristics Cost:  21

Movement:

	Running:	6"/12"
		Leaping:	2"/4"
		Swimming:	2"/4"



Cost	Powers & Skills


8	

Time Bombs:

  RKA 2d6, Trigger (Activating the Trigger requires a Zero Phase Action, Trigger requires 
	a Zero Phase Action to reset, Character can set Trigger multiple times, Trigger can expire (it has 
	a time limit); +¼), Explosion (+½); 16 Charges which Never Recover (-2), Independent (-2), OIF Expendable 
	(Very Difficult to obtain new Focus; Magnetic Time Bombs; -1), No Range (-½), [16 nr]

	

Skills


3	Combat Driving 12-
7	Demolitions 14-
5	Electronics (Explosives) 14-



Total Powers & Skill Cost:  23
Total Cost:  44

25+	Disadvantages


20	Normal Characteristic Maxima
15	Psychological Limitation:  Compelled To Blow Up Superheroes (Uncommon; Total)
20	Psychological Limitation:  Multiple Personality Disorder (Common; Total)



Total Disadvantage Points:  44



Background/History: The Evil Midnight Bomber is one of the funniest villains to ever grace The Tick universe. He has multiple personalities and they're all insane; he tries to blow up the Comet Club to gain fame as a supervillain but thanks to The Tick he ends up blowing up the Sidekick's Lounge. What really makes the Bomber funny is his dialogue and voice.
Personality/Motivation: Rarely goes a second without mumbling to himself snatches of conversations with an unknown second party (given his obvious psychosis, this other person may just be a second personality), particularly those glorifying himself ("So I says, 'Tell me I'm wrong, baby!' And he says, 'I can't, baby, 'cause you're not!'")
Quote: "Ah ha ha ha ha ha! Sixty seconds till midnight--sixty seconds to nowhere, baby! You have all become victims of the Evil Midnight Bomber what bombs--Hey! Pay attention!"
Powers/Tactics: Explosives expert. Crazed bomber who tries to blow up establishments of all sorts, preferably superhero conventions.
The Evil Midnight Bomber's Hero Designer File
(Character sheet by Jon Burleson.)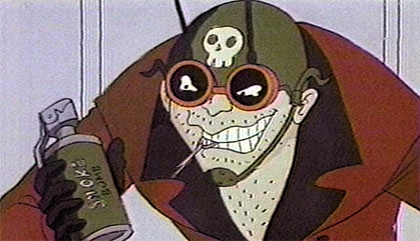 ---
---
Return to Comic-Derived Character Adaptations