BOLT
BOLT



Val	Char	Cost	Roll	Notes


45	STR	-5	18-	Lift 12.8tons; 9d6 HTH Damage [4]
17	DEX	21	12-	OCV:  6/DCV:  6
18	CON	16	13-
22	BODY	24	13-
9	INT	-1	11-	PER Roll 15-
12	EGO	4	11-	ECV:  4
19	PRE	9	13-	PRE Attack:  3 1/2d6
12	COM	1	11-

28	PD	27		Total:  28 PD (14 rPD)
12	ED	8		Total:  12 ED (8 rED)
4	SPD	13		Phases:  3, 6, 9, 12
12	REC	14
40	END	2
40	STUN	6		

Total Characteristic Cost:  141

Movement:

	Running:	21"/42"
		Leaping:	12"/24"
		Swimming:	4"/8"



Cost    Powers & Skills


15	

Bolt Powers:

  Elemental Control, 30-point powers
17	1)  

Super Strength:

  +40 STR; No Figured Characteristics (-1/2), END 4
63	2)  

Super Bark:

  EB 30d6, Area Of Effect (31" Cone; +1); 1 Charge (-2), No Range (-1/2), 
	Extra Time (Full Phase, -1/2), Costs Endurance (-1/2), END 30
10	3)  

Laser Vision:

  EB 4d6, Armor Piercing (+1/2); Beam (-1/4), Concentration (1/2 DCV; -1/4), END 3
15	4)  

Super Quick:

  Running +15" (21" total), END 3

	

Martial Arts:

  

Dogfighting


	

Maneuver	OCV	DCV	Notes


4	Charge		+0	-2	11d6 +v/5 Strike, FMove
4	Crush		+0	+0	13d6 Crush, Must Follow Grab
5	Flying Grab	-2	-1	Grab Two Limbs, 55 STR for holding on; FMove
3	Flying Tackle	+0	-1	9d6 +v/5 Strike; You Fall, Target Falls; FMove
4	Nerve Strike	-1	+1	2d6 NND

1	

Combat-Acclimated:

  +3 PRE; Only To Protect Against Presence Attacks (-1)
11	Damage Resistance (14 PD/8 ED)
3	

Super Jumping:

  Leaping +3" (12" forward, 6" upward), END 1
12	

Super Canine Senses:

  +4 PER with All Sense Groups
5	

Canine Nose:

  Tracking with Normal Smell
3	

Canine Ears:

  Ultrasonic Perception (Hearing Group) (Hearing Group)

   

Perks


10	

Penny:

  Follower

   

Talents


3	Lightsleep

   Skills
5	Concealment 13-; Self Only (-1/2)
3	

Bolt Powers:

  Power 11-
5	Stealth 13-
3	

With Penny:

  Teamwork 12-



Total Powers & Skill Cost:  204
Total Cost:  345

200+   Disadvantages


10	DNPC:  Dr. Forester (Penny's Father) 11- (Normal; Useful Noncombat Position or Skills)
15	Has to chase cats:  (Uncommon), go 11-, recover 11-
30	Hunted:  Dr. Calico (The Green-Eyed Man) 14- (Mo Pow, NCI, Harshly Punish)
5	Hunted:  International Conspiracy of Cats 11- (Less Pow, NCI, Watching)
15	Physical Limitation:  Very Limited Manipulation Frequently, Greatly Impairing
5	Physical Limitation:  Small (no larger than about 1m; +3" KB) Infrequently, Slightly Impairing
10	Physical Limitation:  Near Human Intelligence (Frequently, Slightly Impairing)
20	Psychological Limitation:  Very protective of Penny (Common, Total)
10	Social Limitation:  Pet (Frequently, Minor)
15	Susceptibility to Styrofoam:  1d6 drain to Bolt Powers per Phase (Uncommon)
10	Vulnerability:  2 x STUN Sonic Attacks (Uncommon)

Total Disadvantage Points:  345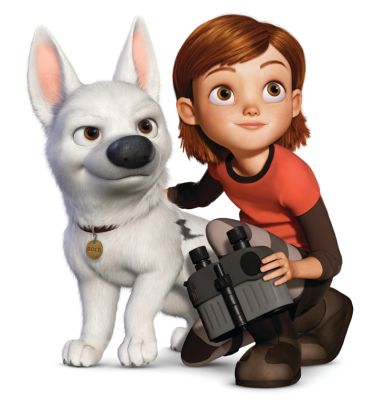 Background/History: Bolt was an ordinary puppy that Penny Forrester and her father picked up at the animal shelter. Until Dr Forrester's enemies started closing in on him, when he used the facilities of his lab to turn Bolt into the perfect protector for his daughter.
Personality/Motivation: Loves Penny, will do anything to protect and help her.
Quote: "Bark!"
Powers/Tactics: Bolt is super strong and tough, his bark is much worse than his bite.
Campaign Use: Dr. Calico and his International Conspiracy of Cats have kidnapped Dr. Forrester (Penny's Father) and are trying to force him to use his technology to create a force of Super Agents. Penny and Bolt fight back against his army of Agents and Thugs.
Appearance: A medium sized mixed-breed dog. Has white fur, a bushy tail, and alert ears.
---
---
Return to Western Animation-Derived HERO System Character Adaptations.