DARK EMPIRE
ALICE



Val	Char	Cost	Roll	Notes


15	STR	5	12-	Lift 200 kg; 3d6 HTH Damage [1]
26	DEX	48	14-	OCV:  9/DCV:  9
18	CON	16	13-
12	BODY	4	11-
13	INT	3	12-	PER Roll 14-
13	EGO	6	12-	ECV:  4
18	PRE	8	13-	PRE Attack:  3 1/2d6
16	COM	3	12-

12	PD	6		Total:  12 PD (3 rPD)
12	ED	5		Total:  12 ED (3 rED)
6	SPD	24		Phases:  2, 4, 6, 8, 10, 12
7	REC	0
40	END	2
40	STUN	11		

Total Characteristic Cost:  147

Movement:

	Running:	8"/16"
		Leaping:	7"/11"
		Swimming:	3"/6"
		Teleportation:	8"/8"



Cost	Powers


	

Rage Meter


20	1)  

Rage Filler:

  Absorption 2d6  (Energy, Energy/Physical), Varying Effect (+1)
3	2)  

Rage Meter:

  Endurance Reserve  (50 END, 0 REC) Reserve; Begins Combat at Zero (-1/2); REC, 
	Filled by Rage Filler (+0); Personal REC (-1/2)

	

Martial Arts:

  

Savate


	

Maneuver	OCV	DCV	Notes


4	Block		+2	+2	Block, Abort
4	Coup de pied bas (low kick)
			+0	+2	5d6 Strike
5	Coup de pied chasse (side kick)
			-2	+1	7d6 Strike
4	Crochet (Hook)	+2	+0	5d6 Strike
4	Disarm		-1	+1	Disarm; 25 STR to Disarm roll
5	Direct (Jab/Cross)
			+1	+3	3d6 Strike
3	Footsweep	+2	-1	4d6 Strike, Target Falls
2	Weapon Element:  Blades, Clubs (Cane)
	 
82	

Esoteric Martial Arts Skills:

  Multipower, 82-point reserve
4u	1)  

Paralytic Strike:

  Entangle 3d6, 3 DEF, Works Against EGO, Not STR (+1/4), Takes No Damage 
	From Attacks All Attacks (+1/2), Based On EGO Combat Value (Mental Defense applies; +1); 
	No Range (-1/2), Restrainable (-1/2), Cannot Form Barriers (-1/4), END 8
2u	2)  

Backflip Kick:

  HA +5d6; Hand-To-Hand Attack (-1/2) 

plus

 Leaping +3" (7" forward, 
	3 1/2" upward) (Accurate, Position Shift); Linked (Hand-To-Hand Attack; Lesser Power can only be 
	used when character uses greater Power at full value; -3/4), No Noncombat Movement (-1/4), END 3
5u	3)  

Diamond Hand:

  HKA 2d6 (2d6+1 w/STR), +1 STUN Multiplier (+1/4), Penetrating (+1/2), END 5
	 
86	

Feeding Frenzy:

  EB 12d6, Personal Immunity (+1/4), Area Of Effect (8" Any Area; +1), Conforming (+1/2), 
	Selective Target (+1/4); Restrainable (-1/2), No Range (-1/2), Can Be Blocked (-1/4), Extra Time 
	(Delayed Phase, -1/4) 

plus

 Teleportation 8", No Relative Velocity, Position Shift; Linked 
	(EB; Lesser Power can only be used when character uses greater Power at full value; -3/4), Must 
	Pass Through Intervening Space (-1/4), No Noncombat Movement (-1/4), END 21
	

Notes:

  This attack involves Alice laying a variety of smackdowns on anyone in the 8" area she creates. 
	The teleport is her moving from one side to the other. Visually she seems to split into several 
	"after images" and attacks all present. This is her "Agent Stomper."
2	

Focus:

  Mental Defense (5 points total)
7	

Skilled Climber:

  Clinging (normal STR); Cannot Resist Knockback (-1/4), Requires a Skill Roll (-1/4)
6	

Keen Senses:

  +2 PER with All Sense Groups
5	

Incredibly Stealthy:

  Invisibility to Hearing Group ; Only When Not Attacking (-1/2), Requires 
	A Skill Roll (Stealth) (-1/2), END 1
	 
	

Cybernetic Eye


6	1)  

Eagle Vision:

  +4 versus Range Modifier for Sight Group
7	2)  

Infrared Vision:

  Infrared Perception (Sight Group), Transmit
10	3)  

Magnification:

  Microscopic ( x100) with Sight Group

	

Perks


3	Dark Empire Head quarters:  Access
3	Dark Empire Computers:  Computer Link
1	Fighting World:  Contact 8-
1	Black Belt:  Custom Perk
11	

Perks Of The Job:

  Fringe Benefit:  Concealed Weapon Permit (where appropriate), International 
	Driver's License, Membership: Dark Empire, Passport, Security Clearance: Bernstein Enterprises
4	Executive Assistant Salary:  Money:  Well Off

	

Talents


3	Depth/Range Sense:  Absolute Range Sense
3	Internal Clock:  Absolute Time Sense
3	Handy:  Ambidexterity (Reduce Off Hand Penalty to -2)
6	Combat Grace:  Combat Luck (3 PD/3 ED)

	

Skills


5	+1 with HTH Combat
6	+2 with Martial Art
	 
3	Breakfall 14-
3	Climbing 14-
3	Contortionist 14-
3	Disguise 12-
2	Forgery (Documents) 12-
3	High Society 13-
3	Interrogation 13-
3	Lipreading 12-
3	Lockpicking 14-
3	PS: Administrative Assistant 12-
3	Paramedics 12-
3	Persuasion 13-
3	Security Systems 12-
3	Seduction 13-
3	Shadowing 12-
3	Sleight Of Hand 14-
3	Stealth 14-
3	Streetwise 13-
3	Teamwork 14-
3	Linguist
0	1)  Language:  English (idiomatic)
3	2)  Language:  French (idiomatic; literate)
5	3)  Language:  Japanese (idiomatic; literate)
3	Scholar
2	1)  KS: Arenas 12-
1	2)  KS: Martial Arts World 11-
2	3)  KS: Military/Mercenary/Terrorist World 12-
1	4)  KS: Poisons/Toxins 11-
1	5)  KS: Savate 11-
2	6)  KS: Underworld Organizations 12-



Total Powers & Skill Cost:  404
Total Cost:  551

200+	Disadvantages


10	Distinctive Features:  Style Limitation (Not Concealable; Noticed and Recognizable; Detectable 
	By Commonly-Used Senses; Not Distinctive In Some Cultures)
5	Hunted:  Fighters of Note 11- (As Pow, Watching)
20	Hunted:  Interpol 8- (Mo Pow, NCI, Harshly Punish)
20	Hunted:  Special Forces 8- (Mo Pow, NCI, Harshly Punish)
15	Psychological Limitation:  Casual Killer (Common, Strong)
20	Psychological Limitation:  Devoted to Rugal (Common, Total)
15	Psychological Limitation:  Power hungry (Common, Strong)
10	Reputation:  Assassin, 8- (Extreme)
5	Reputation:  Powerful Fighter, 8-
10	Rivalry:  Professional (Mature & Vice; Rival is As Powerful; Seek to Harm or Kill Rival; Rival 
	Aware of Rivalry)
20	Social Limitation:  Subject to orders from Rugal (Frequently, Severe)
201	

Experience Points

Total Disadvantage Points:  551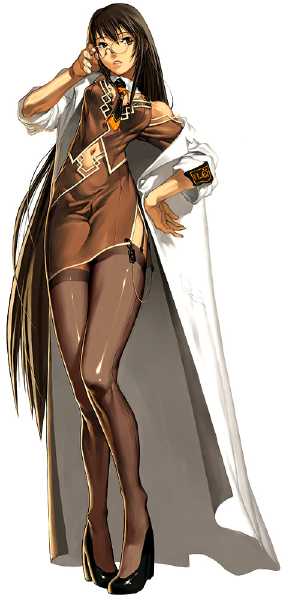 Background/History: A young woman of mixed French-Irish descent working in a temp agency, she was "chosen" by Rugal Bernstein to be one of his assistants, replacements to the traitorous Mature and Vice. Alice proved to be a quick study, taking to the stealth and assassination training. She has studied the French art of Savate. Her martial arts talents were learned during a period where she and Seymone were exposed to a serum containing traces of the blood of M. Bison's second body. The powers that Bison had apparently aid in the quick study of quasi-mystical martial arts and psychic abilities.
Alice lost an eye during her training and had it replaced with a cybernetic, similar to her master, Rugal's.
Personality/Motivation: Alice is a devoted servant of Rugal. She enjoys the money, thrills, and sense of power she now possesses. She knows she isn't the fiercest warrior of all but she has come along way in a short time. She hopes with continued dedication to Rugal she will gain steadily more abilities.
Quote: "Watch out, lover, I might just steal your heart... Diamond Hand!!! ...See? It still beats."
Powers/Tactics: Alice is a quick fighter, relying on her speed and agility over her crushing power to win the day. Her Diamond Hand is a fierce attack, but she saves the worst for her Feeding Frenzy an assault on everyone who gets in her way.
Campaign Use: She is an assassin and "Herald" of Rugal, usually the first notion that he is active in this particular caper is an appearance by Alice.
Appearance: A lithe brunette with glasses and sexed up traditional business wear. I'm scouring the internet looking for something appropriate but for now we'll use Embra from War of Genesis III by Hyung Tae Kim.
---
---
Return to Video Game-Derived Character Adaptations