KNIGHTS OF THE DINNER TABLE
SARA FELTON



Val	Char	Cost	Roll	Notes


10	STR	0	11-	Lift 100 kg; 2d6 HTH Damage [2]
11	DEX	3	11-	OCV:  4/DCV:  4
13	CON	6	12-
11	BODY	2	11-
15	INT	5	12-	PER Roll 12-
12	EGO	4	11-	ECV:  4
11	PRE	1	11-	PRE Attack:  2d6
16	COM	3	12-

4	PD	2		Total:  4 PD (0 rPD)
6	ED	3		Total:  6 ED (0 rED)
3	SPD	9		Phases:  4, 8, 12
5	REC	0
26	END	0
23	STUN	0       

Total Characteristics Cost:  38






Movement:

	Running:	6"/12"
		Leaping:	2"/4"
		Swimming:	2"/4"



Cost  Powers & Skills


	

Perks


3	

Knights of the Dinner Table:

  Fringe Benefit:  Membership

	

Talents


3	

Sexist Remarks Reflex:

  Lightning Reflexes: +3 DEX to act first with Grab
	

Notes:

  Sara has reflexes that would scare a striking cobra. Those instant reflexes, however, 
	are generally used for only one thing around the table. The second someone makes a sexist comment, 
	Sara's hand is tightly gripped on his or her shirt, pulling him or her into range of the fist she 
	has cocked and ready to launch into the face of the offender.

	

Skills


5	Acting 12-
2	KS: RPGs 11-



Total Powers & Skill Cost:  13
Total Cost:  51

25+	Disadvantages


0	Normal Characteristic Maxima
15	Psychological Limitation:  Code Vs. Killing (Common; Strong)
10	Psychological Limitation:  Dislikes Sexism (Uncommon; Strong)
20	Psychological Limitation:  Honesty (Very Common; Strong)



Total Disadvantage Points:  51



Background/History: Sara Felton is the exception that proves the rule. Where the rest of the Knights Of the Dinner Table are the fire, heart and soul, Sara is the cooler, wiser head of the group, the perfect foil to their impetuousness - a consummate professional in the business of HackMaster.
Moving from Wisconsin to Muncie, the hometown of her cousin B.A. Felton, Sara was invited to join the Knights. The wealth of experience she brought to the Table was more than anyone expected - role-playing for ten years, regional champion of the Wisconsin Gary Jackson Role-Playing Tourney for four years running and attending the HackMaster camp in 1992 (spending ten days in grueling study of demi-human cultures).
Sara even stretches her skills into the role of GameMaster with ease, her latest triumph being to convince a bunch of sexist Hack'N'Slash maniacs to put aside their usual characters for a night and play female characters, warming her up for an upcoming GaryCon tournament.
Sara is quite the perfectionist; for her, the art of HackMaster and role-playing is more of a science to be carefully and properly executed, whether in the playing, GameMastering, or even tasks such as mere mapping. Her role-playing is technically near perfect, with her ability to either suppress or use her personal feelings to enhance her role-playing. She has earned her respect - not only from the people who live in the many worlds of HackMaster, but even from the most impossible taskmasters of the game - the Knights Of the Dinner Table.
Personality/Motivation: Sara has reflexes that would scare a striking cobra. Those instant reflexes, however, are generally used for only one thing around the table. The second someone makes a sexist comment, Sara's hand is tightly gripped on his or her shirt, pulling him or her into range of the fist she has cocked and ready to launch into the face of the offender.
Unless a sexist comment has been made, Sara maintains her cool at all times. Sure, she regrets the loss of her favorite character Zayre the Barbarian, but she keeps the perspective that Zayre was just a fictional construct defined by numbers on paper. A cool, calm professional, Sara is ready to move on to bigger and better game sessions with her expertise in the game that is HackMaster.
Sara Felton's Hero Designer File
(Character sheet by Jon Burleson.)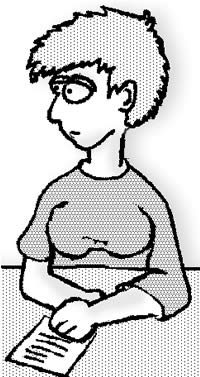 ---
---
Return to Comic-Derived Character Adaptations