ASTRO BOY
DOCTOR PACKADERMUS J. ELEFUN



Val	CHA	Cost	Roll	Notes


7	STR	-3	10-	Lift 66 kg; 1d6 HTH Damage [1]
8	DEX	-6	11-	OCV:  3/DCV:  3
10	CON	0	11-
11	BODY	4	11-
20	INT	10	13-	PER Roll 13-
10	EGO	0	11-	ECV:  3
12	PRE	2	11-	PRE Attack:  2d6
9	COM	0	11-

2	PD	1		Total:  2 PD (0 rPD)
4	ED	2		Total:  4 ED (0 rED)
3	SPD	12		Phases:  4, 8, 12
3	REC	0
20	END	0
20	STUN	0		

Total Characteristics Cost:  22

Movement:

	Running:	6"/12"
		Leaping:	1"/2"
		Swimming:	2"/4"



Cost	Powers & Skills


	

Perks


25	

Head of the Ministry of Science:

  Fringe Benefit:  Director of major national government agency,
	License to practice a profession, Member of the Lower Nobility, Membership, Passport, Security Clearance

	

Skills


3	Bureaucratics 11-
4	Language:  English (completely fluent; literate)
0	Language:  Japanese (idiomatic; literate)
3	Scientist
2	1)  SS:  Metallurgy 12-
3	2)  SS:  Physics 13-
5	3)  SS:  Robotics 15-



Total Powers & Skill Cost:  46
Total Cost:  67

25+	Disadvantages


10	Age:  60+
20	Distinctive Features:  Very Large Nose (Not Concealable; Always Noticed and Causes Major Reaction; 
	Detectable By Virtually Everyone)
0	Normal Characteristic Maxima
12	

Experience Points

Total Disadvantage Points:  67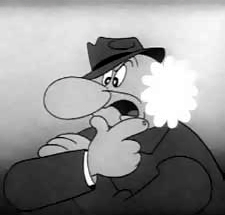 Background/History: Ochanomizu is the head of the Ministry of Science.
Personality/Motivation: Ochanomizu wants both humans and robots to co-exist in peace. Whenever he sees Astro fighting another robot, he wants to stop it, though he has had lapses.
Designer's Notes: Dr. Packadermus J. Elefun is from Astro Boy. In Japan he is known as Dr. Ochanomizu, from the series Tetsuwan Atom.
Dr. Packadermus J. Elefun's Hero Designer File
(Dr. Packadermus J. Elefun created by Osamu Tezuka, character sheet by Jon Burleson.)
---
---
Return to Anime and Manga Character Adaptations