VENDETTA RHAPSODY
CONTAINED
(Cloud Form)



Val	CHA	Cost	Roll	Notes


0	STR	-10	9-	Lift 25 kg; 0d6 HTH Damage
11	DEX	3	11-	OCV:  4/DCV:  4
13	CON	6	12-
10	BODY	0	11-
23	INT	13	14-	PER Roll 14-
13	EGO	6	12-	ECV:  4
8	PRE	-2	11-	PRE Attack:  1 1/2d6
6	COM	-2	10-

12	PD	12	Total:  12 PD (12 rPD)
12	ED	9	Total:  12 ED (12 rED)
4	SPD	19	Phases:  3, 6, 9, 12
6	REC	6
8	END	-9
23	STUN	6		

Total Characteristics Cost:  57

Movement:

	Running:	0"/0"
		Flight:		13"/52"
		Swimming:	0"/0"



Cost	Powers & Skills


43	Multiform (375 Character Points in the most expensive form); OIF (containment suit; -1/2), Gestures (-1/4)
2	+5 PRE; Only To Defend Against Presence Attacks (-1)
51	

Intangible:

  Desolidification  (affected by magnetic and radiation attacks), Inherent (+1/4), 
	Reduced Endurance (0 END; +1/2), Persistent (+1/2); Always On (-1/2), Can't Pass 
	Through Lead (-1/4)
32	

Radiation Emission:

  RKA 1d6, Explosion (+1/2), Reduced Endurance (0 END; +1/2), 
	Persistent (+1/2), NND (Defense:  Life Support versus Radiation; +1), Does BODY (+1), 
	Continuous (+1), Affects Physical World (+2); Gradual Effect (20 Minutes; -1), Always 
	On (-1/2), No Range (-1/2), Only Versus Living Things (-1/2)
12	Damage Resistance (12 PD/12 ED)
7	Power Defense (15 points); Only Versus Radiation-Based Attacks (-1)
48	

Energy-Form Flight:

  Flight 13", Position Shift, x4 Noncombat, Reduced Endurance 
	(0 END; +1/2), Persistent (+1/2); Always On (-1/2)
-12	Running -6"
-2	Swimming -2"
10	N-Ray Perception (Sight Group)
	

Notes:

  Stopped by Lead, Gold, Force Fields, and so on.
10	Increased Arc Of Perception (360 Degrees) with Sight Group
45	LS  (Eating: Character does not eat; Immunity All terrestrial poisons and chemical warfare 
	agents; Immunity: All terrestrial diseases and biowarfare agents; Safe in High Pressure; 
	Safe in High Radiation; Safe in Intense Cold; Safe in Intense Heat; Safe in Low 
	Pressure/Vacuum; Self-Contained Breathing; Sleeping: Character does not sleep)

	

Perks


7	Base
2	Reputation:  protector of the homeless (Homeless in St. Louis) 8-, +2/+2d6

	

Skills


2	AK: St. Louis 11-
3	Computer Programming 14-
3	Electronics 14-
3	Inventor 14-
3	PS: Scientist 14-
3	Shadowing 14-
3	Stealth 11-
2	Survival (Urban) 14-
3	Scholar
1	1)  KS: ICoMP 11-
2	2)  KS: The Metahuman World 14-
2	3)  KS: The Scientific World 14-
1	4)  KS: The Second Syndicate 11-
3	Scientist
2	1)  SS:  Chemistry 14-
2	2)  SS:  Mathematics 14-
2	3)  SS:  Nuclear Physics 14-
2	4)  SS:  Physics 14-
2	5)  SS:  Subatomic Physics 14-


304	Total Powers & Skills Cost
366	Total Character Cost

200+	Disadvantages


15	Dependence:  Containment in magnetic field, Takes 1d6 Damage (Very Common, 5 Minutes)
15	Distinctive Features:  Cloud Of Radiation (Not Concealable; Noticed and Recognizable; Detectable By Commonly-Used Senses)
20	Hunted:  ICoMP 8- (Mo Pow, NCI, Capture)
20	Physical Limitation:  Mute (All the Time, Greatly Impairing)
15	Physical Limitation:  No Manipulation (Frequently, Greatly Impairing)
5	Physical Limitation:  No Sense Of Smell/Taste (Infrequently, Slightly Impairing)
20	Psychological Limitation:  Protective Of Civilians (Very Common, Strong)
15	Psychological Limitation:  Seeks To Become Human Again (Common, Strong)
10	Reputation:  composed of deadly radiation, 8- (Extreme)
15	Susceptibility:  from Radiation-abosorbing materials in his hex 2d6 Drain to Radiation Emission Power  Instant (Uncommon)
11	

Experience
	(14 points unspent)
366	Total Disadvantage Points



CONTAINED
(Suit Form)



Val	CHA	Cost	Roll	Notes


25	STR	15	14-	Lift 800 kg; 5d6 HTH Damage [2]
23	DEX	39	14-	OCV:  8/DCV:  8
23	CON	26	14-
10	BODY	0	11-
23	INT	13	14-	PER Roll 14-
13	EGO	6	12-	ECV:  4
13	PRE	3	12-	PRE Attack:  2 1/2d6
10	COM	0	11-

12/20	PD	7	Total:  12/20 PD (0/8 rPD)
12/20	ED	7	Total:  12/20 ED (0/8 rED)
5	SPD	17	Phases:  3, 5, 8, 10, 12
10	REC	0
46	END	0
35	STUN	0		

Total Characteristics Cost:  133

Movement:

	Running:	6"/12"
		Gliding:	1"/11"/2"/22"
		Leaping:	5"/40"
		Swimming:	2"/4"



Cost	Powers & Skills


62	Multipower, 62-point reserve
6u	1)  

Plasma Burst:

  EB 10d6, Reduced Endurance (1/2 END; +1/4), END 2
4u	2)  

Radiation Vent:

  EB 3d6, NND (Life Support versus Radiation; +1), Does BODY (+1), 
	Area Of Effect (10" Cone; +1); No Range (-1/2), END 6
3u	3)  

Concentrated Blast:

  RKA 4d6; Only Versus Living Things (-1/2), No Knockback (-1/4), END 6
4u	4)  

Radiation Effects:

  Major Transform 3d6, Improved Results Group (Any Radiation-
	related effect; +1/4); Limited Range (15"; -1/4), Only Versus Living Beings (-1/4), END 6
2u	5)  

Reclaim Expelled Energy:

  Aid  BODY 4 1/2d6; Only Restores to Starting Values (-1/2), 
	Self Only (-1/2), Only Versus BODY Lost During A Suit-Breaching Attack (-1/4)
2u	6)  

Compression Of Energy Form:

  Shape Shift  (Touch Group, limited group of shapes, any Humanoid 
	shape), Reduced Endurance (0 END; +1/2), Persistent (+1/2); Limited Effect (only affects 
	jointedness/inflation of suit; -1/4)

8	

Nearly Weightless:

  Multipower, 10-point reserve, all slots Cannot Carry Anyone With Him (-1/4)
1u	1)  Gliding 10"; Cannot Carry Anyone With Him (-1/4)
1u	2)  Leaping 0" (5" forward, 2 1/2" upward) (x8 Noncombat); Cannot Carry Anyone With 
	Him (-1/4), END 1

24	

Armored Suit:

  Armor (8 PD/8 ED)
48	

Just an Empty Suit:

  Physical Damage Reduction, Resistant, 50%; Not Versus Attacks That 
	Affect Desolid (-1/4) 

plus

 Physical Damage Reduction, Resistant, 50%; Not Versus Attacks That 
	Affect Desolid (-1/4)
5	

Tinted Eyepieces:

  Sight Group Flash Defense (5 points)
-8	

Low Mass:

  +4î Knockback Susceptibility
4	

Reinforced Suit:

  Lack Of Weakness (-4) for Killing Attacks
7	

Radiation Form:

  Power Defense (15 points); Only Versus Radiation-Based Attacks (-1)
1	

Nearly Weightless:

  Gliding 1", Persistent (+1/2)
6	HRRP (Radio Group); OIF (wrist radio; -1/2), Sense Affected As Sight Group And Radio 
	Group (-1/2)
6	Healing BODY 2d6; OAF (sealant patches; -1), Self Only (containment suit; -1/2), 8 
	Charges (-1/2), Extra Time (Full Phase, -1/2), [8]
45	

Radiation Form:

  LS  (Eating: Character does not eat; Immunity All terrestrial poisons 
	and chemical warfare agents; Immunity: All terrestrial diseases and biowarfare agents; Safe 
	in High Pressure; Safe in High Radiation; Safe in Intense Cold; Safe in Intense Heat; Safe 
	in Low Pressure/Vacuum; Self-Contained Breathing; Sleeping: Character does not sleep)

	

Perks


7	Base
3	Contact:  Sam Reynolds, Investment banker (Contact has useful Skills or resources) 11-
2	Reputation:  protector of the homeless (Homeless in St. Louis) 8-, +2/+2d6

	

Skills


6	+2 with Multipower

2	AK: St. Louis 11-
3	Computer Programming 14-
3	Electronics 14-
3	Inventor 14-
3	PS: Scientist 14-
3	Shadowing 14-
3	Streetwise 12-
2	Survival (Urban) 14-
3	Scholar
1	1)  KS: ICoMP 11-
2	2)  KS: The Metahuman World  14-
2	3)  KS: The Scientific World  14-
1	4)  KS: The Second Syndicate  11-
3	Scientist
2	1)  SS:  Chemistry 14-
2	2)  SS:  Mathematics 14-
2	3)  SS:  Nuclear Physics 14-
2	4)  SS:  Physics 14-
2	5)  SS:  Subatomic Physics 14-


293	Total Powers & Skills Cost
426	Total Character Cost

200+	Disadvantages


10	Accidental Change (into base form):  from taking BODY damage 8- +1 per BODY (Common)
15	DNPC:  local homeless 8- (Incompetent)
15	Distinctive Features:  Bright Orange Radiation Suit (Not Concealable; Noticed and Recognizable; Detectable By Commonly-Used Senses)
20	Hunted:  ICoMP 8- (Mo Pow, NCI, Capture)
10	Physical Limitation:  Greatly Reduced Sense Of Touch (-2 to all PER & Skill Rolls when appropriate) (Infrequently, Greatly Impairing)
5	Physical Limitation:  No Sense Of Smell/Taste (Infrequently, Slightly Impairing)
5	Physical Limitation:  Permanently Weighs Only 6.4 kg (the weight of the suit) (Infrequently, Slightly Impairing)
15	Psychological Limitation:  Protective Of Civilians (Common, Strong)
15	Psychological Limitation:  Seeks To Become Human Again (Common, Strong)
10	Reputation:  composed of deadly radiation, 8- (Extreme)
20	Susceptibility:  if suit is breached 2d6 Major Transform (into base form) per Minute (Common)
86	

Experience
416	Total Disadvantage Points



CONTAINED'S BASE



Val	Char	Cost	Notes


8	Size	16	Length 25.4", Width 12.7", Area 322.54", DCV -9
5	BODY	3
6	DEF	12


Total Characteristic Cost:  31

Cost	Powers


3	

Magnetic Containment Chamber:

 Change Environment 2" radius, Reduced Endurance (0 END; +1/2); 
	Limited Coverage (7 hex chamber; -2), OIF Immobile (-1 1/2)

	

Perks


0	Grounds (x1 Base Size) (roof and parking lot)
0	Location:  City
10	Location:  City; Modifier Underground; Limited Coverage (50 hexes; -1)

	

Skills


13	Disguise 14-
5	Electronics Lab 10-
5	KS: General Knowledge Library 11-
5	SS:  Physics Lab 11-
5	SS:  Chemistry Lab 11-


46	Total Powers & Skill Cost
77	Total Cost

37+	Disadvantages


15	Physical Limitation:  Needs Constant Repair (All the Time, Slightly Impairing)
15	Social Limitation:  Secret Hideout (Occasionally, Severe)
10	Vulnerability:  1 1/2 x BODY Explosions (Common)
0	

Experience Points
Total Disadvantage Points: 77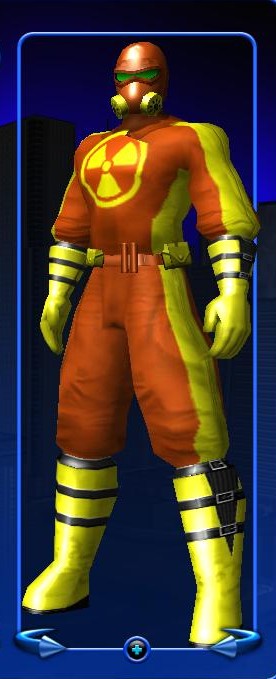 Background/History: "Well, Stern? What have you found out? Is it safe to continue the project? Has he talked to anyone else?"
"Hard to say, really. Conventional methods of interrogation aren't much use on this one. Apparently he no longer needs food or sleep, and we can't apply any...duress to him without flooding the building with radiation. We don't know the full extent of the damage he's caused, but for now we have him contained."
I'd heard enough. I unsealed the suit's gauntlet, stepped into the office, and fried both of them with gamma rays before making my escape.
My name is William Archer. Or at least, it was. I was a physicist. I and a few others were working for the government, on a project attempting to develop a new energy source—a way of suppressing the strong force and making ordinary matter fissionable, the way unstable elements like uranium and plutonium are. A way of turning anything—water, dirt, garbage—into a nearly limitless source of power.
The initial tests were going well. Then I started noticing things. Little things—a discrepancy in the budget here, a shipment of parts that went missing there, a few odd log-ins on the computer security records. I wasn't sure what to make of it at first. Maybe Dr. Boleman, the project's director, was skimming money from the project's funding, or using company resources to work on some pet project. I thought I'd talk to him privately, waited till after everyone else had gone home, and followed him down to Subbasement 3—a lab area that was supposed to be unoccupied. I walked in, and the place was crawling with techs who were working on...something. I didn't get a very good look, 'cos that's when someone hit me in the back of the head with a wrench....
I woke up in the Suppression Chamber, with the door locked and the capacitors charging up for another test. "Industrial accident" they told me the reports read. "Gross negligence". "Failure to follow procedure." Boleman figured he'd vaporize me, and no one would be the wiser.
Then the light hit me. The light, and the pain. Only I didn't die, shattered into a trillion subatomic pieces. Something of me remained, in the energy that was released.
I don't know how long I stayed that way. Somehow someone realized that there was still a mind, a life inside the energy they released. Somehow they managed to channel that energy, pump it into one of the radiation suits and seal me inside it. Then that sadist from ICoMP showed up. He told me that I was legally dead, and that he could do whatever he wanted with me. He told me I'd scatter to the four winds if he just unzipped the suit. He said I was working for ICoMP now, "or else".
But I had an idea or two of my own. Turns out my new radioactive form was a lot more cohesive than Stern gave me credit for. Within the confines of the suit, I was able to learn to control the radiation—to hold it together. When the time was right, I unzipped the suit myself—letting off just enough radiation to set off the sensors in my cell and lure the guards inside, thinking I'd suffered a suit breach or was trying to commit suicide. I managed to overpower the guard—with this lead-lined suit to "push" against, I'm surprising strong in this form—and swapped suits with him. Then I went back to Boleman's office to tender my resignation, and made off into the night.
That was four months ago. I've had to flee across country to St. Louis—seems Stern managed to survive, and he's none too thrilled that I'm still in one piece, so to speak. So I've been living on the streets, below the radar of the conventional authorities. I've even managed to find a home, a new community to belong to. The disenfranchised don't ask too many questions about who you were or what you're running from, and they're a bit more forgiving about your appearance—even if you're wearing a bright orange radiation suit.
I also hear St. Louis has got plenty of MY kind living here—the metahumans. The freaks. Maybe one of them might have a notion about how I can get my molecules back. Or maybe a few will have enough of a mad-on for ICoMP that they'll help me get to the bottom of whatever Boleman was working on, help me do some real damage to ICoMP.
For now, I'm still Contained. But they won't be able to hold me back forever....
---
Return to Vendetta Rhapsody