THE PHENOMENA DEPARTMENT
JAY AND KEI
JAY



Val	CHA	Cost	Roll	Notes


18	STR	8	13-	300kg; 3 1/2d6
15	DEX	5	12-	OCV:  5/DCV:  5
17	CON	14	12-
13	BODY	6	12-
10	INT	0	11-	PER Roll 11-
14	EGO	8	12-	ECV:  5
18	PRE	8	13-	PRE Attack:  3 1/2d6
12	COM	1	11-
7	PD	3		Total:  7 PD
5	ED	2		Total:  5 ED
3	SPD	5		Phases:  4, 8, 12
7	REC	0
34	END	0
35	STUN	4
Total Characteristics Cost:  64



Movement:

	Running:  6"/12"
		Swimming:  2"/4"



Cost	Powers & Skills


Combat Training:
5	Combat Skill Levels:  +1 with Hand-to-Hand
4	Combat Skill Levels:  +2 OCV with AMT Automag IV
	Martial Art:  Boxing and Police Self-Defense Training
	Maneuver	OCV	DCV	Damage
4	Block		+2	+2	Block, Abort
4	Cross		+0	+2	5 1/2d6 Strike
3	Jab		+2		+1	3 1/2d6 Strike
3	Wrist Lock	-1	-1	Grab One Limb; 28 STR Grab

Federal Bureau of Paranormal Investigation 

Skills


2	Contact (choose) 11-
2	Perk:  Concealed Weapons Permit
3	Perk:  Federal Police Powers
5	Talent:  Fast Draw 13-
2	AK:  American Southwest 11-
2	AK:  Los Angeles 11-
3	Bureacratics 13-
5	Combat Driving 13-
3	Criminology 11-
3	Deduction 11-
5	Demolitions 12-
3	Interrogation 13-
2	KS:  Federal Criminal Law and Procedure 11-
4	KS:  The Occult World 13-
2	KS:  The Supernatural 11-
2	PS:  Federal Law Enforcement Agent 11-
3	Shadowing 11-
3	Stealth 12-
3	Streetwise 13-
1	Tracking 8-
2	WF:  Small Arms

	

Skills


0	AK:  Washington DC Area 8-
0	English (native)
3	Mechanics 11-
4	Spanish
91	Total Powers & Skills Cost
155	Total Character Cost

75+	Disadvantages
	Distinctive Features:  
10	FBPI Agent (

i.e.

 a MIB) (EC, Maj)
5	Smokes Constantly (EC)
10	Hunted:  Assorted supernatural horrors (AsPow) 8-
3	Package Bonus:  FBPI
	Psychological Limitation:
15	Protective of his partner (C, S)
10	(15) Serious "work face", is all business (VC, M)
10	Reputation:  As a MIB (spooky and mysterious agent, Ext) 8-
10	Watched:  FBPI (MoPow, NCI) 8-
7	Experience
155	Total Disadvantage Points

KEI



Val	CHA	Cost	Roll	Notes


13	STR	3	12-	150kg; 2 1/2d6
18	DEX	24	13-	OCV:  6/DCV:  6
14	CON	8	12-
10	BODY	0	11-
18	INT	8	13-	PER Roll 13-
13	EGO	6	12-	ECV:  4
15	PRE	5	12-	PRE Attack:  3d6
16	COM	3	12-
6	PD	3		Total:  6 PD
4	ED	1		Total:  4 ED
3	SPD	2		Phases:  4, 8, 12
6	REC	0
28	END	0
25	STUN	1
Total Characteristics Cost:  64



Movement:

	Running:  6"/12"
		Swimming:  2"/4"



Cost	Powers & Skills


Combat Training:
5	Combat Skill Levels:  +1 with Pentjack-Silat
6	Combat Skill Levels:  +3 OCV with Glock 20
1	Martial Art:  Pentjack-Silat; Use Art with Blades
	Maneuver	OCV	DCV	Damage
4	Block		+2	+2	Block, Abort
4	Disarm		-1	+1	23 STR Disarm
4	Dodge		+0	+5	Dodge vs All, Abort
5	Kick		-2	+1	6 1/2d6 Strike
3	Legsweep	+2	-1	3 1/2d6 Strike; Target Falls
4	Punch/Elbow	+0	+2	4 1/2d6 Strike

Federal Bureau of Paranormal Investigation 

Skills


2	Contact (choose) 11-
2	Perk:  Concealed Weapons Permit
3	Perk:  Federal Police Powers
2	AK:  American Southwest 11-
5	Deduction 14-
3	Electronics 11-
2	KS:  Federal Criminal Law and Procedure 11-
3	KS:  The Occult World 13-
2	KS:  The Supernatural 11-
2	PS:  Federal Law Enforcement Agent 11-
2	SC:  Biology and Biochemistry 11-
2	SC:  Chemistry 11-
3	Stealth 13-
3	Streetwise 12-
5	Two Gun Fighting
2	WF:  Common Melee Weapons, Small Arms

	

Skills


3	Talent:  Ambidexterity
0	AK:  California 8-
3	AK:  Los Angeles 13-
0	English (native)
1	Spanish
86	Total Powers & Skills Cost
150	Total Character Cost

75+	Disadvantages
	Distinctive Features:  
10	FBPI Agent (

i.e.

 a MIB) (EC, Maj)
10	Tanned skin, deep red hair and fantastic figure (Conc)
10	Hunted:  Assorted supernatural horrors (AsPow) 8-
3	Package Bonus:  FBPI
	Psychological Limitation:
15	"Hot tempered" and a touch reckless (C, S)
10	(15) Protective of her partner (C, S)
10	Reputation:  As a MIB (spooky and mysterious 
	agent, Ext) 8-
10	Watched:  FBPI (MoPow, NCI) 8-
+3	Experience
153	Total Disadvantage Points

Background/History: Jay and Kei are agents for the Federal Bureau of Paranormal Investigation, a highly-secret division of the Federal Bureau of Investigation. The pair have been agents and partners for over five years, and during that time have faced a wide variety of supernatural threats. They have also come quite closely attached and have entered into a clandestine love-affair, which is strictly against regulations.
Jay himself is a former FBI agent. He got his start by dealing with organized crime, serial killers, kidnappings and bank robberies. He is more used to dealing with the physical (or as he puts it "The Real") world, as opposed to the more shadowy situations the FBPI finds itself in. Kei, on the other hand, was recruited directly into the FBPI. She is one of the Bureau's newer breed of agents, and is much more at ease with occult issues than her more stoic partner.
Personality/Motivation: As agents of the Federal Bureau of Paranormal Investigation, both Jay and Kei have a strong sense of duty to protect America from the supernatural unknown, whether it be ghosts, werewolves or vampires. In addition, they are quite protective of each other, even if they won't totally admit it, and neither is willing to let the other fall victim to some occult monster.
Jay is very business-like, and takes his job as an agent very seriously. He avoids making jokes or irrelevant comments when on the job, and always speaks in clearly enunciated sentences, especially when talking to eyewitnesses and suspects. In addition, he takes pride in remaining impassive, and will go great lengths to avoid looking ruffled, no matter what the circumstances. About the only time his stoic shell breaks is if Kei is seriously threatened, at which point he will move Heaven and Earth to assist her.
Kei is much more open and vibrant than her partner. She tends to speak her mind, no matter who she's talking to, and is quick with cutting jibes and smart remarks, even in combat. Kei also suffers from a short temper, and doesn't take kindly to insults, snide remarks at her (or Jay's) expense or being snubbed. She has butted heads with more than one member of a local law enforcement organization, and not even five years with the Bureau has tempered that habit. Naturally, this attitude has gotten her in to trouble quite consistently over the years.
Quote: Jay: "What are our assets?"
Kei: "My brains, your brawn, two Glock 20s, an AMT Automag IV, my Pentjack-Silat training and the baddest Ford Thunderbird in America."
Jay: "Let's rock."
Powers/Tactics: As members of the FBPI, Jay and Kei have received extensive training in investigation, law enforcement, the occult world and self defense. Individually, Jay specializes in working the "streets," and dealing with people, while Kei expertise is with electronic devices and chemistry. Combat wise, Jay has some skill at boxing, while Kei is a master of Pentjack-Silat. Both of them are well-armed, with Jay using a massive .44 caliber AMT Automag, while Kei carries two Glock 20s.
Both Jay and Kei know they are not equipped to slug it out with any sort of supernatural menace. If faced by an occult nightmare,the two will retreat (quite rapidly if they can get to Melvin - their car), regroup elsewhere and return, usually armed with weapons appropriate for facing their current foe. Against more conventional foes, the pair prefer use their guns first (guns are more intimidating, and with them Kei and Jay can usually even the odds faster), and will only close to hand-to-hand range as a last resort.
Equipment: As government agents, and highly specialized ones at that, Jay and Kei are absolutely loaded with gear. The both of them are usually carrying around the following items at all times: agency credit card, ATM card, badge, and ID card in their wallets; cell phone; personal data assistant; radio headset with mike; watch; shoulder holster (twin holsters in Kei's case) and finally the required pair of dark sunglasses.
This list does not include such items as stun guns, lockpick kits, forensic kits, surveillance gear and so one, which is usually kept stored in their car (see below). Additional equipment is usually acquired as needed or depending on the situation. Common additional equipment includes shotguns, armored vests, explosives, magnesium flares, crossbows, wooden stakes, holy water and napalm.
As far as personal weaponry, Jay is armed with a AMT Automag IV (.45 magnum, 2d6 RKA, +1 RMod, +1 STUN, 7 shots, 2 extra clips), while Kei carries twin Glock 20s in a cross-draw rig (10 mm, 1 1/2d6 RKA, 15 shots, 4 extra clips).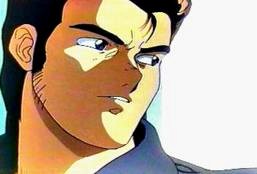 Melvin:
Melvin is a heavily modified black Ford Thunderbird. The car has been rebuilt with speed and power the main consideration, since you never know when you'll need to escape an onrushing Lovecraftian horror. It sports a turbo-charged V8 engine, airdam, skirts and a spoiler. The body is armored (DEF 6), the windows are bullet-resistant (DEF 5) and the tires are self-sealing. Melvin is equipped with a full-band radio, cell phone, computer with satellite uplink (complete with extensive case-history database) and an infrared and low-light visual snooping system. The car's back seat has been removed, and a rack is in place for a pair of shotguns (or other firearms) and a pair of armored vests (DEF 5 covers locations 8-12).
In the trunk of the car (and extending into where the back seat should be) is a comprehensive first aid kit (including burn treatments and antivenin), a portable chemical lab, and a great deal of electronics gear (used mainly for surveillance). The chemistry equipment is often combined with the electronics gear to make simple (but effective) explosives.
Note: the name "Melvin" is Kei's responsibility. She says it is short for "Melvin Smiley." When asked why the car is named "Melvin Smiley," she tends to laugh and respond with "You can't explain it."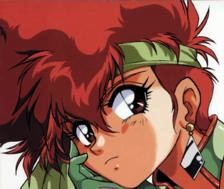 Appearance: Jay stands close to six feet in height, with broad shoulders and a fairly muscular build. His stern face and generally imposing mannerisms allow him a certain degree of presence in a confrontation, and most people think Jay is taller than he really is. Although visually he is starting to look his age (which is close to 40), Jay still wears his black hair in a highly unregulation ponytail, and smokes almost constantly (a habit Kei tends to rib him about).
Kei, on the other hand, is only a bit shorter than her partner, with the lithe sort of figure one normally assigns to fitness and swimsuit models. Her skin is deeply tanned, and is in sharp contrast to her thick red hair. She is in her mid-twenties, and dresses in well-tailored suits cut to allow her easy access to her guns as well as the flexibility needed to fight effectively.
For dress, Jay and Kei have taken the idea that they are the "Men in Black" to an absurd degree. Not only do they wear black suits, but all of their attire is black. Boots, pants, shirts, jackets, tie, gloves, sunglasses; everything is in basic black. Even their underwear is black (although Key shows a marked preference for lacy black lingerie). About the only spot of color is Kei's dark red ties, which she prefers to wear when meeting with other law enforcement officers of when going on eye-witness interviews.
---
Return to the Character Page