DRAGON BALL Z HERO
TENSHINHAN



Val	CHA	Cost	Roll	Notes


30	STR	20	15-	Lift 1600 kg; 6d6 HTH Damage [3]
26	DEX	48	14-	OCV:  9/DCV:  9
25	CON	30	14-
18	BODY	16	13-
15	INT	5	12-	PER Roll 14-
24	EGO	28	14-	ECV:  8
20	PRE	10	13-	PRE Attack:  4d6
10	COM	0	11-

17	PD	11		Total:  17 PD (0 rPD)
17	ED	12		Total:  17 ED (0 rED)
5	SPD	14		Phases:  3, 5, 8, 10, 12
11	REC	0
50	END	0
46	STUN	0		

Total Characteristic Cost:  194





Movement:

	Running:	9"/18"
		Flight:		20"/80"
		Leaping:	16"/32"
		Swimming:	2"/4"
		Teleportation:	18"/18"



Cost	Powers & Skills


	

Martial Arts:

  

Tsurusen-ryu


	

Maneuver		OCV	DCV	Damage


4	Block			+2	+2	Block, Abort
4	Bone-Breaking Blow	-2	+0	HKA 2d6
4	Dodge			--	+5	Dodge, Affects All Attacks, Abort
4	Elbow/Knee Strike	+2	+0	10d6 Strike
5	Kick			-2	+1	12d6 Strike
4	Punch			+0	+2	10d6 Strike
4	Tien-Hsueh Strike	-1	+1	3d6 NND
8	+2 HTH Damage Classes (Already Added In)

120	

Chi Techniques:

  Multipower, 120-point reserve
9u	1)  

Chi Blast:

  EB 14d6, Reduced Endurance (1/2 END; +1/4), END 3
7u	2)  Dodonpa:  EB 17d6; Gestures (must project energy from finger; -1/4), END 8
4u	3)  

Kamehameha:

  EB 20d6; Extra Time (Full Phase, -1/2), Gestures (Requires both 
	hands; uses both hands to shape the attack; -1/2), Increased Endurance Cost (x2 END; -1/2), 
	Incantations ("Kamehameha!"; -1/4), END 20
3u	4)  

Taiyoken:

   Sight Group Flash 8d6, Personal Immunity (+1/4), Explosion (+1/2); 
	No Range (-1/2), Gestures (Requires both hands; must throw out arms and legs to 
	"project" the light energy; -1/2), Incantations (Taiyoken!; -1/4), END 7
4u	5)  

Shinkikoho:

  RKA 4d6, Area Of Effect (6" Radius; +1); Side Effects, Side Effect 
	occurs automatically whenever Power is used (Drain 3d6 BODY and STUN; -1), 
	Gestures (Requires both hands; must position hands and fingers around face; -1/2), 
	Increased Endurance Cost (x2 END; -1/2), Incantations (Shinkikoho!; -1/4), END 24
5u	6) 

 Kiai:

  Dispel Chi Powers 25d6, any chi power one at a time (+1/4); Gestures 
	(Requires both hands; must cup hands around mouth; -1/2), Incantations (loud shout; -1/4), END 9

44	

Movement Techniques:

  Multipower, 44-point reserve
2u	1)  

Zazoken:

  Sight Group Images Increased Size (16" radius; +1), -4 to PER Rolls; No 
	Range (-1/2), Must Perform A Half-Move At Minimum (-1/2), END 4
2u	2)  

Sanzouken:

  Teleportation 18"; Only To Places The Character Can Normally Reach (-1/2), 
	Must Pass Through Intervening Space (-1/4), No Noncombat Movement (-1/4), END 4

40	

Chi Blocking:

  Missile Deflection (Any Ranged Attack), Missile Reflection
45	

Bukujutsu:

  Flight 20", x4 Noncombat, END 4
15	

Leaping To The Horizon:

  Leaping +10" (16" forward, 8" upward) (Accurate), END 1
6	

Fast On His Feet:

  Running +3" (9" total), END 1
75	

Shishin no Ken:

  Duplication (creates 4 324-point Duplicates), Rapid Duplication (can 
	create 4 Duplicates per Half Phase) (+1/2), Altered Duplicates (100%; +1); Base Form 
	Vanishes When Duplicates Are Formed, Must Form All 4 Duplicates Initially (-1), Extra 
	Time (Extra Segment, -1/2)
24	

Chi Sense:

  Detect Fighting Ability 14-/12- (Unusual Group), Discriminatory, Increased 
	Arc Of Perception (360 Degrees), Range, Sense, Telescopic:  +8
6	

Sharp Senses:

  +2 PER with all Sense Groups
19	

Shiyoken:

  Extra Limbs (arms)  (2); Costs Endurance (-1/2), Extra Time (Full Phase, Only 
	to Activate, -1/4) plus +4 with HTH Combat; Linked (Extra Limbs (arms); -1/4), END 1
10	

Telepathic Link To Chao-zu:

  Mind Link , Human class of minds, One Specific Mind, Psychic Bond

	

Skills

 
15	+3 with HTH Combat
12	+4 with Dodonpa, Kamehameha, and Chi Blast
8	+4 OCV with Missile Deflection

3	Acrobatics 14-
3	Breakfall 14-
3	Climbing 14-
2	KS: The Martial World 11-
2	KS: Tsurusen-ryu 11-
0	Language:  English (idiomatic; literate)
2	Survival (Mountain) 12-
4	TF:  Common Motorized Ground Vehicles, Large Planes, Small Planes


531	Total Powers & Skills Cost
725	Total Character Cost

200+	Disadvantages


15	DNPC:  Chao-Tzu 14- (Slightly Less Powerful than the PC)
10	Distinctive Features:  Style (Not Concealable; Noticed and Recognizable; Detectable By Large Group)
15	Psychological Limitation:  Honorable (Common, Strong)
15	Psychological Limitation:  Protective Of Chao-Tzu (Common, Strong)
5	Reputation:  former student of Tsurusennin, 8-
465	

Experience
725	Total Disadvantage Points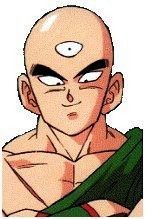 Background/History: Tenshinhan is one of the first really powerful characters that Goku encountered. Trained by Tsurusennin (a rival of Kamesennin), Tenshinhan fought Goku in the 22nd and 23rd Tenkaichi Budokai, winning the 22nd, but loosing to Goku in the 23rd. In both Tenkaichi Budokais Tenshinhan demonstrated some amazing chi powers, several of which were never seen again.
After the 22nd Tenkaichi Budokai, Tenshinhan renounced his association with Tsurusennnin and became one of the Z-fighters, helping Goku battle the Evil Demon King Piccolo, Nappa, Vegita, Freeza, and Cell. He was killed battling Nappa and Vegita and almost dies later on in a fight with Cell. Although a secondary character, Tenshinhan is a powerful fighter, with some impressive chi powers, and appeared frequently throughout the series.
Personality/Motivation: Tenshinhan was originally very arrogant, and very sure of himself. He shattered Yamcha's leg in the 22nd Tenkaichi Budokai and was very confident about beating Goku in the finals. Interestingly enough, he was angered by Tsurusennin having Chao-zu interfere in the fight and demanded that Chao-zu stop. When Kamesennin rescued Chao-zu from injury and/or death, Tenshinhan began to doubt his former training. He also stated that he was not a killer, and had no desire to replace Tao-pie-pie (Tsurusennin's brother) as an assassin. Tenshinhan became more of an honorable fighter, disdaining the use of weapons and other tricks and preferring to win his fights fairly, using only his own skills and chi powers.
Tenshinhan's closest friend and constant sidekick is the diminutive Chao-zu. The two are inseparable and are often found together. Tenshinhan is very protective of him, and will do his best to keep him out of harm's way.
Powers/Tactics: Tenshinhan is the master of a number of unique chi powers, many of which he only used once. Starting from the top, we have:
Naturally, Tenshinhan can utilize a number of other, more common, chi techniques, including flight, moving too fast to be seen, detecting other's chi, and deflecting (and possibly reflecting) chi blasts fired at him.
Appearance: Tenshinhan is tall and broad, standing at least six feet in height. He is well muscled, bald, and has three eyes (With the third set right above his nose in the lower half of his forehead.). He normally dresses in green trousers, white boots and a yellow sash for a belt. At other times he wears a partial tunic that leaves most of his chest bare. When fully dressed, he wears Mandarin Chinese looking clothing.
Tenshinhan has a long scar running across the right side of his chest. This is a result of a fight with Tao-pie-pie, after Tao-pie-pie was rebuilt as a cyborg.
(Tenshinhan created by Akiria Toriyama, character sheet created by Michael Surbrook)
TENSHINHAN
(Shishin no Ken version)



Val	CHA	Cost	Roll	Notes


20	STR	10	13-	Lift 400 kg; 4d6 Damage [2]
15	DEX	15	12-	OCV:  5/DCV:  5
18	CON	16	13-
18	BODY	16	13-
15	INT	5	12-	PER Roll 14-
24	EGO	28	14-	ECV:  8
20	PRE	10	13-	PRE Attack:  4d6
10	COM	0	11-

12	PD	8		Total:  12 PD (0 rPD)
12	ED	8		Total:  12 ED (0 rED)
3	SPD	5		Phases:  4, 8, 12
8	REC	0
36	END	0
37	STUN	0		

Total Characteristic Cost:  121





Movement:

	Running:	6"/12"
		Flight:		10"/40"
		Leaping:	9"/18"
		Swimming:	2"/4""



Cost	Powers & Skills


	

Martial Arts:

  

Tsurusen-ryu


	

Maneuver		OCV	DCV	Damage


4	Block			+2	+2	Block, Abort
4	Bone-Breaking Blow	-2	+0	HKA 2d6
4	Dodge			--	+5	Dodge, Affects All Attacks, Abort
4	Elbow/Knee Strike	+2	+0	8d6 Strike
5	Kick			-2	+1	10d6 Strike
4	Punch			+0	+2	8d6 Strike
4	Tien-Hsueh Strike	-1	+1	3d6 NND
8	+2 HTH Damage Classes (Already Added In)

67	

Chi Techniques:

  Multipower, 67-point reserve
6u	1)  

Chi Blast:

  EB 10d6, Reduced Endurance (1/2 END; +1/4), END 2
2u	2)  

Taiyoken:

   Sight Group Flash 6d6, Personal Immunity (+1/4), Explosion (+1/2); No 
	Range (-1/2), Gestures (Requires both hands; must throw out arms and legs to "project" 
	the light energy; -1/2), Incantations (Taiyoken!; -1/4), END 5
4u	3)  

Kiai:

  Dispel Chi Powers 18d6, any chi power one at a time (+1/4); Gestures 
	(Requires both hands; must cup hands around mouth; -1/2), Incantations (loud shout; -1/4), END 7
	 
25	

Bukujutsu:

  Flight 10", x4 Noncombat, END 2
10	

Leaping To The Horizon:

  Leaping +5" (9" forward, 4 1/2" upward) (Accurate), END 1
6	Sharp Senses:  +2 PER with all Sense Groups

	

Skills

 
24	+3 with All Combat

3	Acrobatics 12-
3	Breakfall 12-
3	Climbing 12-
2	KS: The Martial World 11-
2	KS: Tsurusen-ryu 11-
0	Language:  English (idiomatic; literate)
2	Survival (Mountain) 12-
7	Teamwork 14-
4	TF:  Common Motorized Ground Vehicles, Large Planes, Small Planes


207	Total Powers & Skills Cost
328	Total Character Cost

200+	Disadvantages


15	DNPC:  Chao-Tzu 14- (Slightly Less Powerful than the PC)
10	Distinctive Features:  Style (Not Concealable; Noticed and Recognizable; Detectable By Large Group)
15	Psychological Limitation:  Honorable (Common, Strong)
15	Psychological Limitation:  Protective Of Chao-Tzu (Common, Strong)
5	Reputation:  former student of Tsurusennin, 8-
68	

Experience
327	Total Disadvantage Points



Tenshinhan Shishin no Ken's Designer File
(Tenshinhan Shishin no Ken created by Akira Toriyama, character sheet created by Michael Surbrook)
---
Return to Dragon Ball Z Hero