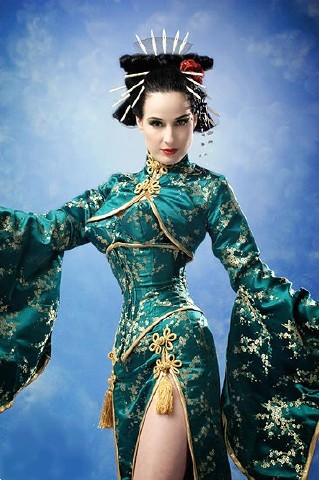 Active during the late twenties and early thirties, Wenyi Zhijuan was known as Long Nu Shanghai ("Dragon Lady of Shanghai") at the height of her fame. She owned and operated a brothel with the somewhat unsubtle name of Yung Er Tian ("Eternal Paired Paradise"), as well as an attached gambling hall, bar, and restaurant. Zhijuan catered mainly to Westerners (and their money), and made sure everything about Yung Er Tian fit the many preconceived notions foreign visitors had about China and its ways. Thus, she always appeared in public dressed in various tight-fitting cheong-sams, such as the one seen here, artfully cut to show off just a hint of skin. While very rich, she was also very generous, and carefully looked after her employees' well-being.
Zhijuan vanished in the late 1930s. Rumor has her using her cash and connections to aid the Chinese fight against the Japanese. Others say she was killed by the Japanese as an example, noting that Yung Er Tian ended up in Japanese hands in 1938 and was used as a "comfort station" for their troops.
Click here to see the character sheet for the Dragon Lady of Shanghai.