WESTERN ANIMATION-DERIVED CHARACTER ADAPTATIONS
ERIC TIBERIUS DUCKMAN



Val	CHA	Cost	Roll	Notes


10	STR	0	11-	Lift 100.0kg; 2d6
18	DEX	24	13-	OCV:  6/DCV:  6
20	CON	20	13-
13	BODY	6	12-
10	INT	0	11-	PER Roll 11-
13	EGO	6	12-	ECV:  4
15	PRE	5	12-	PRE Attack:  3d6
8	COM	-1	11-

6	PD	4		Total:  6 PD (0 rPD)
6	ED	2		Total:  6 ED (0 rED)
4	SPD	12		Phases:  3, 6, 9, 12
6	REC	0
40	END	0
28	STUN	0		

Total Characteristic Cost:  78





Movement:

	Running:	6"/12"
		Leaping:	2"/4"
		Swimming:	2"/4"
		Swinging:	4"/8"



Cost	Powers & Skills


	

Skills


1	

Powerline Roller Gig:

  Swinging 4"; OAF (equipment; -1), Restricted Path (Along Powerlines 	
	only; -1), END 1
10	Luck 2d6

	

Perks


2	Fringe Benefit:  Private Investigator License

	

Skills


3	Acrobatics 13-
3	Breakfall 13-
3	Climbing 13-
5	Criminology 12-
5	Deduction 12-
3	High Society 12-



Total Powers & Skill Cost:  35
Total Cost:  113

75+	Disadvantages


25	Dependent NPC:  Family 8- (Incompetent; Group DNPC: x4 DNPCs)
15	Distinctive Features:  Eyes Are In Glasses (Not Concealable; Noticed And Recognizable; Detectable 
	By Commonly-Used Senses)
5	Physical Limitation:  Short (Infrequently; Slightly Impairing)
15	Psychological Limitation:  Lazy, Incompetent, Self-Serving (Common; Strong)
10	Psychological Limitation:  Morally Unscrupulous, Sexual Deviant (Common; Moderate)
15	Social Limitation:  Rude, Ignorant, Slovenly (Very Frequently; Minor)



Total Disadvantage Points:  113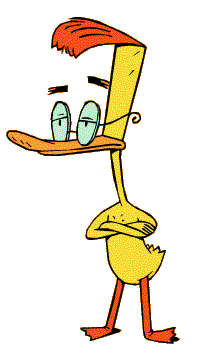 Background/History: Duckman isn't your average suave, sophisticated private eye. In fact, he's rude, ignorant, slovenly and hasn't had a date in years.
Personality/Motivation: A lazy, incompetent, self-serving, morally unscrupulous, sexual deviant.
Quote: "What the hell are YOU staring at?"
Powers/Tactics: With the help of his infinitely more capable sidekick, Cornfed, Duckman manages to solve enough cases to cover his alimony payments and cable TV bills.
Campaign Use: Duckman: Private Dick/Family Man animated TV series
Appearance: Duckman wears glasses which contain his eyes. They can be removed like normal glasses, taking his eyes with them. His glasses stay up, even though he has no ears.
Eric Tiberius Duckman's Hero Designer File
(Character sheet by Jon Burleson.)
---
Return to Western Animation-Derived HERO System Character Adaptations.