WESTERN ANIMATION-DERIVED CHARACTER ADAPTATIONS
PO



Val	Char	Cost	Roll	Notes


30	STR	20	15-	Lift 1600 kg; 6d6 HTH Damage [3]
11	DEX	3	11-	OCV:  4/DCV:  4
30	CON	40	15-
20	BODY	20	13-
13	INT	3	12-	PER Roll 12-
17	EGO	14	12-	ECV:  6
10	PRE	0	11-	PRE Attack:  2d6
14	COM	2	12-

10	PD	4		Total:  10 PD (2 rPD)
6	ED	0		Total:  6 ED (2 rED)
3	SPD	9		Phases:  4, 8, 12
12	REC	0
60	END	0
50	STUN	0       

Total Characteristics Cost:  109

Movement:

	Running:	5"/10"
		Leaping:	2"/4"
		Swimming:	2"/4"



Cost    Powers & Skills


	Martial Arts: 

Po Fu


	

Maneuver	OCV	DCV	Notes


4	Counterstrike	+2	+2	8d6 Strike, Must Follow Block
5	Defensive Block	+1	+3	Block, Abort
3	Defensive Throw	+1	+1	Block, Target Falls
5	Grappling Block	+1	+1	Grab One Limb, Block
3	Grappling Throw	+0	+2	8d6 Strike; Target Falls; Must Follow Grab
4	Reversal	-1	-2	45 STR to Escape; Grab Two Limbs
4	Root		+0	+0	45 STR to resist Shove; Block, Abort
5	Sacrifice Grab	+2	-2	Grab One Limb, 30 STR for holding on, FMove
3	Sacrifice Throw	+2	+1	6d6 Strike; You Fall, Target Falls
4	Shove		+0	+0	45 STR to Shove
5	Takeaway	+0	+0	Grab Weapon, 40 STR to take weapon away
1	Weapon Element:  Empty Hand, Objects Of Opportunity

56	

The Scroll Has Given Him Power!:

  Multipower, 112-point reserve, All Slots Must Be Usable With Or 
	Follow A Po Fu Manuever (-1)
4u	1)  

Gut Buster:

  HA +6d6, Does x1 1/2 Knockback (+1/2), Reduced Endurance (0 END; +1/2), Damage 
	Shield (Offensive; +3/4), Continuous (+1); Only When Using Root Or Shove Maneuvers (-1), HA (-1/2)
3u	2)  

Wuxia Finger Hold:

  HKA 5d6 (7d6 w/STR), Reduced Endurance (0 END; +1/2); Must Follow Grab (-1), 
	Extra Time (Extra Phase, -3/4), No Knockback (-1/4), Extra Visible (-1/4)
4u	3)  

"You've Never Seen BEAR Style Before!":

  Drain REC, END, STUN, EGO 1d6+1 (standard effect: 4 points),
	Damage Shield (+1/2), Reduced Endurance (0 END; +1/2), Continuous (+1), IPE (Fully Invisible; +1), 
	Delayed Return Rate (points return at the rate of 5 per Hour; +1), REC, END, STUN, EGO simultaneously (+1), 
	Penetrating (x2; +1); Only When Using Block Maneuvers (-1)
	 
	

Bouncy


9	1)  

Boing!:

  Teleportation 5", Reduced Endurance (0 END; +1/2), Trigger (Activating the Trigger 
	requires a Zero Phase Action, Trigger resets automatically, immediately after it activates, Character 
	does not control activation of personal Trigger; When Impacting A Vertical Surface After Taking 
	Knockback; +1/2); Can Only Teleport To  Reverse Direction Of Knockback (-1), Must Pass Through 
	Intervening Space (-1/4)
10	2)  

"He's Not Gonna Stop Bouncing, I'll Tell You That":

  Knockback Resistance -10"; Only To Resist 
	Dice Of Damage From Knockback (-1)
	 
	

Possibly The Answer To The Problem


8	1)  

Dragon-Bear:

  Leaping 20", No Gravity Penalty (+1/2) (30 Active Points); 1 Charge (-2), 
	Fireworks Of Opportunity (-3/4)
6	2)  

Get The Cookie:

  Clinging (normal STR) (10 Active Points); Requires An EGO Roll  (-3/4)
10	3)  

"There Is No Secret Ingredient":

  +2 Overall; Only When Doing Weird Unexpected Things (-1)
	 
	

The Big Fat Panda


7	1)  

Fur and Fat:

  Damage Resistance (2 PD/2 ED/10 Power Def.)
30	2)  

"He's Not Gonna Quit, Is He?":

  Physical Damage Reduction, Resistant, 50%
4	3)  

"I Was Gonna Say Fur...":

  LoW (-2) (Normal Defense, Power Defense)
5	4)  

Panda Good Fortune:

  Luck 1d6
10	5)  

Stop, I'm Gonna Pee!:

  PowD (10 points)

	

Perks


6	Fringe Benefit:  Introduction To Kung Fu Instructor, Jade Palace Master
2	Reputation:  Dragon Warrior (A small to medium sized group) 11-, +2/+2d6

	

Skills


9	+3 with Po Fu
	 
3	Conversation 11-
3	KS: Kung Fu History 12-
3	KS: Kung Fu World 12-
3	PS: Noodle Cook 12-



Total Powers & Skill Cost:  241
Total Cost:  350

250+	Disadvantages


10	DF:  Strong B.O. (Concealable; Noticed and Recognizable; Detectable By Commonly-Used Senses)
10	DNPC:  Dad 8- (Normal)
5	Money:  Poor
5	Physical Limitation:  Large; -2 DCV, +2 to PER Rolls to perceive) Infrequently, Slightly Impairing
15	Psych. Lim.:  Likes To Eat (Common, Strong)
15	Psych. Lim.:  Unfocused Mind (Common, Strong)
5	Soc. Lim.:  Big Fat Panda (Frequently, Minor, Not Limiting In Some Cultures)
10	Unluck: 2d6
25	

Experience Points

Total Disadvantage Points:  350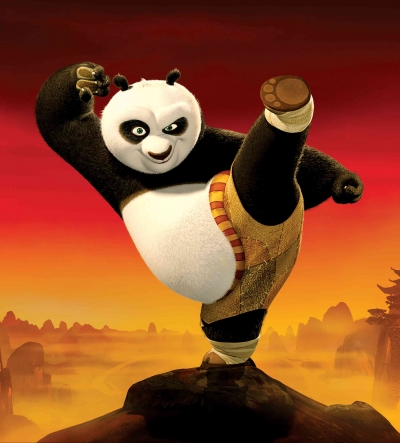 Appearance: Po is a large, rotund anthropomorphic Panda with disproportionately short legs, a big belly, and long arms. He has a large round face that is very expressive. He does not look dangerous or formidable in the slightest. He generally wears only a pair of patchwork shorts, but on occasion is seen in a noodle cook apron with or without headware as circumstances dictate.
Campaign Use: Po has a deceptively ungangly fighting style, that takes good advantage of his size, weight, long arms, and durability. A very defensive style, Po blocks and grabs, diffusing and absorbing the attacks of his opponent. The damage he normally inflicts is largely incidental, but when determined to do so Po can respond with powerful force to the assaults of his opponents. He does best against extremely aggressive striking styles. However his unusual anatomy and thick layer of fur and fat offer him protection from nerve strikes, and his prodigious strength and grappling ability ensure that few should be eager to come to grips with him.
(Po created by Cyrus Voris, Ethan Reiff, Glenn Berger, Jack Black, John Stevenson, Jonathan Aibel, and Mark Osborne; character sheet created by Killer Shrike)
---
Return to Western Animation-Derived HERO System Character Adaptations.