WESTERN ANIMATION-DERIVED CHARACTER ADAPTATIONS
FA MULAN



Val	CHA	Cost	Roll	Notes


10	STR	0	11-	100kg; 2d6
18	DEX	24	13-	OCV:  6/DCV:  6
13	CON	6	12-
10	BODY	0	11-
18	INT	8	13-	PER Roll 13-
14	EGO	8	12-	ECV:  5
15	PRE	5	12-	PRE Attack:  3d6
12	COM	1	11-
6	PD	4		Total:  6 PD
4	ED	1		Total:  4 ED
4	SPD	12		Phases:  3, 6, 9, 12
5	REC	0
30	END	2
25	STUN	3


Total Characteristics Cost:  74





Movement:

	Running:  6"/12"
		Swimming:  2"/4"



Cost	Powers & Skills


	

Combat Training:


3	Combat Skill Levels:  +1 with Kung Fu
2	

Martial Arts:

  

Kung Fu

; Use Art with staff, sword
	

Maneuver	OCV	DCV	Damage


4	Block		+2	+2	Block, Abort
4	Disarm		-1	+1	20 STR Disarm
4	Dodge		+0	+5	Dodge vs All, Abort
4	Punch		+0	+2	4d6 Strike
3	Throw		+0	+1	2d6 + v/5; Target Falls

	

Kung Fu Skills


3	Breakfall 13-
2	KS:  Kung Fu 11-
2	WF:  Common Melee Weapons

	

Soldier and Skills


10	Luck:  2d6
3	Talent:  Ambidexterity
3	Acting 12-
2	AK:  Geography of the Empire 11-
4	AK:  Szechuan Province 14-
3	Climbing 13-
3	Disguise 11-
3	Riding 13-
3	Shadowing 11-
3	Stealth 13-
3	Survival 11-
3	Tactics 13-
2	WF:  Bows and Rocket Launchers
72	Total Powers & Skills Cost


146	Total Character Cost

75+	Disadvantages


10	DNPC:  Father
10	Distinctive Features:  Woman In A Man's Army!
	Psychological Limitation:
15	Follows The Warrior's Code
10	Protect The Weak And Defenseless
15	Secret ID:  Female Soldier
5	Unluck:  1d6
10	Watched:  Imperial Army Superiors 8-
-4	

Experience
146	Total Disadvantage Points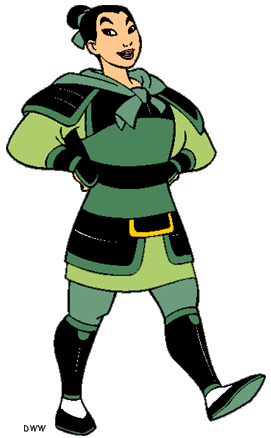 Designer's Notes: Fa Mulan ran away from her family to prevent her father from having to serve in the Imperial Army, fearing that if he did it would be the death of him. She made her way to the recruitment grounds and, disguising herself as a man, entered the ranks of the Army as "Ping", a young man. Of course, if anyone had discovered her deception, it would have meant her death and the dishonor of her... so she had to keep her gender a closely-guarded secret.
In time, though, she succeeded in her training, impressing even her superiors and fellow soldiers with her skill in unarmed combat and her proficiency with sword, staff, and rocket. She was highly intelligent, and became a brilliant unorthodox tactician and an experienced rider and scout. She was also, fortunately, quite lucky.
(This version of Fa Mulan created by Disney, character sheet created by Mark DeVries [capt_calamity@hotmail.com])
---
Return to Western Animation-Derived HERO System Character Adaptations.