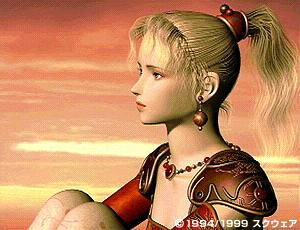 Background/History: Terra Bradford is the main character from Final Fantasy 6, and her very existence is central to the story.
Terra first appears riding into the small mining town of Narshe on the back of a titanic Magitek armor, accompanied by two soldiers, Biggs and Wedge. They demolish the town's defenders and make their way to an Esper, a creature of magic once thought mythical and found frozen in ice in the Narshe mines. The Esper reacts to her presence, wiping out the armors, along with Biggs and Wedge.
Terra recovers in the care of a Narshe elder, yet can't remember anything about her mission, her past, or even the empire who controlled her. From that moment, she's on the run from both Narshe's angry populace and the empire, who want her back. She eventually joins up with the Returners, a group opposing the empire, and makes her way back to Narshe.
Upon contacting the Esper, she discovers the truth. Terra is the child of a human and an Esper, kidnapped by the Empire at a young age, and forced to do their work. She sets out again to free more Espers the empire has in captivity.
Personality/Motivation: Terra's disadvantages mostly come from her unique presence; as a user of magic, she is either wanted or feared by half the world. Having no memory, she is also very naive to the ways of the world, often finding herself unsure of people's motives or what she should do.
Powers/Tactics: Terra is a natural born magic-user, and as such she is unique. Her spells are stronger than even the empire's genetically engineered Magitek knights. She begins some basic spells, but her spell knowledge increases as she gains experience. She also has the unique ability to communicate telepathically with Espers.
Upon discovering her heritage, Terra develops the power to shapeshift into an Esper from. This magnifies her strength and magic power, but she can only hold this form for a limited period of time.
Note: Terra can only maintain her Esper form for a limited period of time, after which she automatically reverts to human. The "charge" on her multiform can be recovered by spending as much time in human form as she did in Esper form.
Appearance: Terra is a beautiful young woman with long blond hair tied into a high ponytail and green eyes. She wears a short red dress with shoulderpads, long gloves and shoes. She also wears an elegant pendant, a memento of her long-lost parents.
In Esper form, she appears as a shimmering, glowing-green humanoid figure with a billowing mass of green hair.
(Terra Bradford created by Squaresoft. Character sheet by Max Fauth)
---
Return to Video Game-Derived Character Adaptations