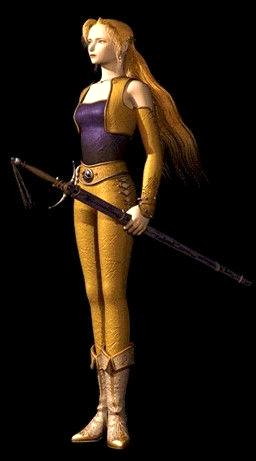 Background/History: Raised in a laboratory under constant supervision, Celes Chere is one of the Empire's three "Magitek Knights," genetically engineered soldiers. She was "adopted" by Cid, one of the researchers, becoming his "granddaughter."
Growing up, she was brought into the army, and promoted to the rank of general. A disagreement with the emperor had her branded as a traitor and locked away beneath the town of south Figaro. There she was rescued by a young bounty hunter, Locke Cole, and her life changed.
She joined the resistance group known as the Returners, fighting the empire. Despite her cool and calm exterior, she began to develop feelings for young Locke, and grew almost Jealous of Terra's innocent ways.
Personality/Motivation: Celes effectively burned her bridges leaving the empire; she is an outcast, hunted by her former nation and untrusted by her newfound allies. Only Locke is initially willing to give her a chance as such.
As a person, she is very stubborn. She prefers to be in command, and is annoyed that she isn't still treated as a general. Despite that, she is very good natured and caring. This lead to her refusing an order regarding a town's capture and occupation, resulting in her imprisonment.
Quote: "I'm a general, not some opera floozy!"
"I'm not some love-starved twit."
Powers/Tactics: Celes was infused with magicite, a mineral of pure magic derived from dead espers. As a result, she is a natural spell caster. She also wields a powerful runic blade that can dispel any spell cast near it, and transfer the energy to her. To use it, Celes must spend her action holding the sword aloft (gestures). As long as she holds up the sword, she can continue to dispel spells (continuous), but must cease if she wants to attack or cast spells of her own.
Appearance: Celes is a young woman of only eighteen. She is tall, and has long blond hair and grey eyes. She wears yellow pants and a yellow vest over a purple halter.
(Celes Chere created by Squaresoft. Character sheet by Max Fauth)
---
Return to Video Game-Derived Character Adaptations