REAL WORLD LAND VEHICLES
PANZERKAMPFWAGEN VI MODEL B
(Sonderkraftfahrzeug 182)



Val	CHA	Cost	Notes


5	Size	25	Length 3.17", Width 1.59", Area 5.04" Mass 3.2 ton, KB -5
57	STR	22	HTH Damage 11d6  END [6]
10	DEX	0	OCV 3 DCV 0
21	BODY	6
15	DEF	39
2	SPD	0	Phases:  6, 12


Total Characteristics Cost: 92

Movement:

	Ground:		16"/32"
		Swimming:	0"/0"



Cost	Abilities and Equipment
	Propulsion Systems


16	1)  

Motorized Tracked Military Vehicle:

  Ground Movement +10" (16" total), 1 Continuing Fuel Charge 
	lasting 2.5 Hours (+0); Only On Appropriate Terrain (-¼)
-2	2)  

Ground Vehicle:

  Swimming -2"

	

Tactical Systems


96	1)  

88 mm KwK 43/3 L/71 Cannon:

  RKA 5d6+1, +1 Increased STUN Multiplier (+¼), Indirect 
	(can be arced over some obstacles; +¼), Increased Maximum Range (4,500"; actual range—
	at least 1,600", or 2 miles; +¼), 92 Charges (+¾); OIF Bulky (-1), Real Weapon (-¼) 
	plus +2 with Ranged Combat; OIF Bulky (-1), Real Weapon (-¼) 

plus

 Penalty Skill Levels:  
	+2 vs. Range Modifier with All Attacks; OIF Bulky (-1), Real Weapon (-¼), [92]
40	2)  

7.92 mm MG 34 Machine Gun:

  RKA 2d6+1, +1 Increased STUN Multiplier (+¼), Autofire 
	(5 shots; +½), 2,925 Charges (+1); OIF Bulky (-1), Limited Arc Of Fire (Only on same 
	horizontal level; forward 60 degrees; -¾), Real Weapon (-¼) 

plus

 +2 with Ranged Combat; 
	OIF Bulky (-1), Real Weapon (-¼) 

plus

 Penalty Skill Levels:  +3 vs. Range Modifier with 
	All Attacks; OIF Bulky (-1), Real Weapon (-¼), [2,925]
51	3)  

7.92 mm MG 34 Machine Gun:

  RKA 2d6+1, +1 Increased STUN Multiplier (+¼), Autofire 
	(5 shots; +½), 2,925 Charges (+1); OIF Bulky (-1), Real Weapon (-¼) 

plus

 +2 with 
	Ranged Combat; OIF Bulky (-1), Real Weapon (-¼) 

plus

 Penalty Skill Levels:  +3 vs. Range 
	Modifier with All Attacks; OIF Bulky (-1), Real Weapon (-¼), [2,925]
55	4)  

7.92 mm MG 42 Machine Gun:

  RKA 2d6+1, +1 Increased STUN Multiplier (+¼), Autofire 
	(5 shots; +½), 400 Charges (+1); OIF Bulky (-1), Real Weapon (-¼) 

plus

 +2 with 
	Ranged Combat; OIF Bulky (-1), Real Weapon (-¼) 

plus

 Penalty Skill Levels:  +6 vs. Range 
	Modifier with All Attacks; OIF Bulky (-1), Real Weapon (-¼), [400]
16	5)  

Smoke Dischargers:

  Darkness to Sight Group 4" radius; OIF Bulky (-1), 6 Continuing Charges 
	lasting 1 Turn each (-¼), Real Weapon (-¼), [6 cc]
5	6)  

Smoke Dischargers:

  Another Smoke Discharger (total of 2)
13	7)  

Armored Front:

  +9 DEF; Limited Coverage (forward 60 degrees; -1)
11	8)  

60 Degree Sloped Rear And Side Armor:

  +8 DEF; Activation Roll 14- (-½), Only Works 
	Against Physical Projectiles (-½), Limited Coverage (rear and sides; -¼)
12	9)  

60 Degree Sloped Front Armor:

  +12 DEF; Limited Coverage (forward 60 degrees; -1), Activation 
	Roll 14- (-½), Only Works Against Physical Projectiles (-½)
10	10) 

Heavy:

  Knockback Resistance -5"

	

Operation Systems


4	1)  

Radio:

  Radio Perception/Transmission (Radio Group); OIF Bulky (-1), Affected As Hearing Group 
	As Well As Radio Group (-¼)



Total Abilities & Equipment Cost:  327
Total Vehicle Cost:  419

Value Disadvantages


25	Distinctive Features:  Nazi Germany Wehrmacht Tank (Not Concealable; Extreme Reaction; Detectable 
	By Commonly-Used Senses)



Total Disadvantage Points:  25
Total Cost:  394/5 = 79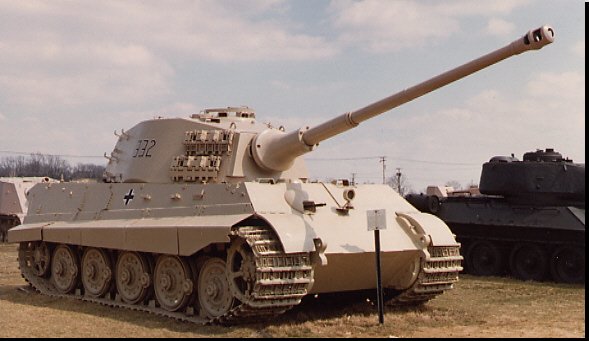 Description: Known as the Königstiger (King Tiger), Tiger II, or Royal Tiger, the Panzer VI B combined many elements of the Panzer V Panther with the Tiger I chassis. The result was a well-armed and armored vehicle that inspired more fear in the Allies than the Tiger I. A fairly impressive accomplishment considering a mere 489 of the tanks were ever made.
The King Tiger is a direct result of the need for Germany to counter the effectiveness of the Russian T-34 and KV tanks. The idea was to create a tank that outgunned anything the Russians had, and was better protected as well. Work began in August of 1942, with the Henschel and Porsche companies asked to produce prototypes. In January of 1943, Hitler requested the tanks to have 185mm (7.3 inch) front armor and 80mm (3.2 inch) side armor. The vehicle was also to mount the new long barrel 88mm Pak 43/3 L/71 cannon, which had a 19 foot barrel, itself longer than the Panzer III!
Production of the King Tiger started in January of 1944 and continued until March of 1945. They were sent to both fronts, and managed to wreck a great deal of havoc. The King Tiger's 185mm front armor was effectively invulnerable by anything the Allies had, and there are no records of a King Tiger's forward armor being penetrated by an Allied round. It's side armor could could be punched through at standard combat ranges, however, and the vehicle was often knocked out by shots to the side or rear, hits to the tracks, or strikes from artillery or aircraft. As with the Tiger I, most King Tiger losses were from mechanical problems or a lack of fuel. Offensively, the vehicle's contributions were modest. It's great weight inhibited its mobility, as did a lack of fuel, maintenance, and other factors. Like the Tiger I, the King Tiger worked best when used in a static situation, letting the enemy come to it, as opposed to going on the offensive.
A Panzer IV King Tiger is 23' 10" long, 12' 4" wide, and 10' 2" tall. It weighs 69.4 tons, has a top speed of around 24 mph on the road, 10.5 mph off, and carries a crew of five.
Panzerkampfwagen VIB Hero Designer File
---
Return to Military Ground Vehicles