REAL WORLD LAND VEHICLES
PANZERKAMPFWAGEN III MODEL A
(Sonderkraftfahrzeug 141)



Val	CHA	Cost	Notes


5	Size	25	Length 3.17", Width 1.59", Area 5.04", Mass 3.2 ton, KB -5
46	STR	11	HTH Damage 9d6  END [5]
10	DEX	0	OCV 3 DCV 0
17	BODY	2
10	DEF	24
2	SPD	0	Phases:  6, 12


Total Characteristics Cost:  62

Movement:

	Ground:		12"/24"
		Swimming:	0"/0""



Cost	Abilities and Equipment
	Propulsion Systems


10	1)  

Motorized Tracked Military Vehicle:

  Ground Movement +6" (12" total), 1 Continuing Fuel Charge 
	lasting 4 Hours (+0); Only On Appropriate Terrain (-¼)
-2	2)  

Ground Vehicle:

  Swimming -2"

	

Tactical Systems


67	1)  

37 mm KwK L/45 Cannon:

  RKA 4d6, +1 Increased STUN Multiplier (+¼), 150 Charges (+1); 
	OIF Bulky (-1), Real Weapon (-¼) 

plus

 +2 with Ranged Combat; OIF Bulky (-1), Real Weapon (-¼)
	plus Penalty Skill Levels:  +2 vs. Range Modifier with All Attacks; OIF Bulky (-1), Real 
	Weapon (-¼), [150]
51	2)  

7.92 mm MG 34 Machine Gun:

  RKA 2d6+1, +1 Increased STUN Multiplier (+¼), Autofire 
	(5 shots; +½), 1,500 Charges (+1); OIF Bulky (-1), Real Weapon (-¼) 

plus

 +2 with 
	Ranged Combat; OIF Bulky (-1), Real Weapon (-¼) 

plus

 Penalty Skill Levels:  +3 vs. Range 
	Modifier with All Attacks; OIF Bulky (-1), Real Weapon (-¼), [1,500]
5	3)  

7.92 mm MG 34 Machine Gun:

  A second 7.92 mm MG 34 Machine Gun (total of 2)
40	4)  

7.92 mm MG 34 Machine Gun:

  RKA 2d6+1, +1 Increased STUN Multiplier (+¼), Autofire 
	(5 shots; +½), 1,500 Charges (+1); OIF Bulky (-1), Limited Arc Of Fire (60 degrees; Only 
	on same horizontal level; -¾), Real Weapon (-¼) 

plus

 +2 with Ranged Combat; OIF 
	Bulky (-1), Real Weapon (-¼) 

plus

 Penalty Skill Levels:  +3 vs. Range Modifier with All 
	Attacks; OIF Bulky (-1), Real Weapon (-¼), [1,500]
4	5)  

Heavy:

  Knockback Resistance -2"

	

Operation Systems


4	1)  

Radio:

  Radio Perception/Transmission (Radio Group); OIF Bulky (-1), Affected As Hearing Group 
	As Well As Radio Group (-¼)



Total Abilities & Equipment Cost:  179
Total Vehicle Cost:  241

Value Disadvantages


25	Distinctive Features:  Nazi Germany Wehrmacht Tank (Not Concealable; Extreme Reaction; Detectable 
	By Commonly-Used Senses)
5	Physical Limitation:  All Weapons Must Point In The Same Direction (Infrequently, Slightly 
	Impairing)



Total Disadvantage Points:  30
Total Cost:  211/5 = 42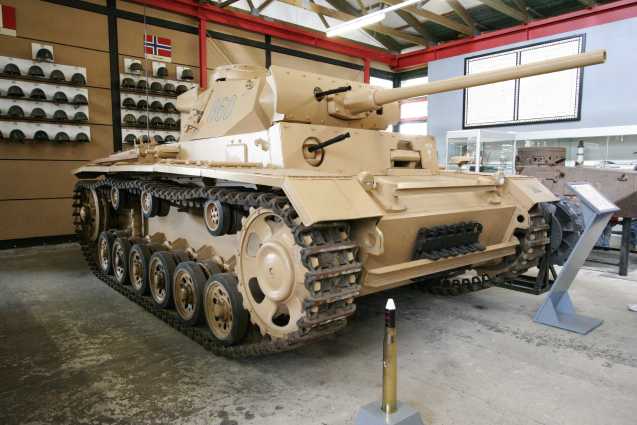 Description: The Panzer I and II series of tanks were mostly "stop-gap" designs intended to provide training for the new German panzer force. The Panzer III was intended to be a full-fledged medium combat tank—and along with the Panzer IV—form the core of the German war machine. Initially designed in 1935, the first Panzer III was completed in 1936. As requested it weighed in at 15 tons and had 15 mm armor on all sides. A 37 mm cannon was mounted in the turret, with two 7.92 mm machine guns set coaxially while a third 7.92 was set in the front of the tank.
When Germany invaded Poland in 1939, it had 98 Panzer III tanks in service (mostly of the Model E). Another 435 Model F tanks were completed between September of 1939 and July of 1940. Thousands more Panzer III tanks were added over the next few years, with the final incarnation of the Panzer III being the Models M, mounting a long 50 mm cannon, and N, or Sturmpanzer assault tank, equipped with a short-barreled 75 mm cannon and used for close-fire support. After 1943, however, no more Panzer IIIs were built, as it was quickly being outclassed by such Russian armor as the T34 and the KV1 heavy tank—which was utterly immune to frontal attacks at normal combat ranges. However, during the time it was in production, 6,123 Panzer IIIs were made, with another 9,500 chassises built as basic frames for numerous other armored vehicles.
With a mere 10 DEF in its initial incarnation, a Panzer III is easy prey for just about any 350-point superhero, and can even be taken down by some 250-275 point supers. Later versions will mount bigger guns and more armor, but if you want to toss a "real" tank at your players, but not totally overpower them, use the Panzer III.
A Panzer III is 18' 8" long, 9' 3" wide, and 7' 8" tall. It weighs 15 tons, has a top speed of around 20 mph on the road, 12 mph off, and carries a crew of five.
Panzerkampfwagen III Hero Designer File
---
Return to Military Ground Vehicles