REAL WORLD LAND VEHICLES
PANZERKAMPFWAGEN II MODEL F
(Sonderkraftfahrzeug 121)



Val	CHA	Cost	Notes


4	Size	20	Length 2.52", Width 1.26",   Area 3.17"   Mass 1.6 ton   KB -4
43	STR	13	HTH Damage 8 ½d6  END [4]
10	DEX	0	OCV 3 DCV 1
16	BODY	2	
10	DEF	24	
2	SPD	0	Phases:  6, 12


Total Characteristics Cost: 59

Movement:

	Ground:		18"/36"
		Swimming:	0"/0""



Cost	Abilities and Equipment
	Propulsion Systems


19	1)  

Motorized Tracked Military Vehicle:

  Ground Movement +12" (18" total), 1 Continuing Fuel Charge 
	lasting 5 Hours (+0); Only On Appropriate Terrain (-¼)
-2	2)  

Ground Vehicle:

  Swimming -2"

	

Tactical Systems


53	1)  

20 mm KwK 38 L/55 Cannon:

  RKA 3d6+1, +1 Increased STUN Multiplier (+¼), 180 Charges (+1); 
	OIF Bulky (-1), Real Weapon (-¼) 

plus

 Penalty Skill Levels:  +2 vs. Range Modifier with All 
	Attacks; OIF Bulky (-1), Real Weapon (-¼), [180]
51	2)  

7.92 mm MG 34 Machine Gun:

  RKA 2d6+1, +1 Increased STUN Multiplier (+¼), Autofire 
	(5 shots; +½), 1,275 Charges (+1); OIF Bulky (-1), Real Weapon (-¼) 

plus

 +2 with 
	Ranged Combat; OIF Bulky (-1), Real Weapon (-¼) 

plus

 Penalty Skill Levels:  +3 vs. Range 
	Modifier with All Attacks; OIF Bulky (-1), Real Weapon (-¼), [1,275]
40	3)  

7.92 mm MG 34 Machine Gun:

  RKA 2d6+1, +1 Increased STUN Multiplier (+¼), Autofire 
	(5 shots; +½), 1,275 Charges (+1); OIF Bulky (-1), Limited Arc Of Fire (60 degrees; Only 
	on same horizontal level; -¾), Real Weapon (-¼) 

plus

 +2 with Ranged Combat; OIF 
	Bulky (-1), Real Weapon (-¼) 

plus

 Penalty Skill Levels:  +3 vs. Range Modifier with All 
	Attacks; OIF Bulky (-1), Real Weapon (-¼), [1,275]
2	4)  

Armored Body:

  +1 DEF; Limited Coverage (front and sides; -¼)
1	5)  

Armored Nose:

  +1 DEF; Limited Coverage (forward 60 degrees; -1)
4	6)  

Heavy:

  Knockback Resistance -2"

	

Operation Systems


4	1)  

Radio:

  Radio Perception/Transmission (Radio Group); OIF Bulky (-1), Affected As Hearing Group 
	As Well As Radio Group (-¼)



Total Abilities & Equipment Cost:  172
Total Vehicle Cost:  231

Value Disadvantages


25	Distinctive Features:  Nazi Germany Wehrmacht Tank (Not Concealable; Extreme Reaction; Detectable 
	By Commonly-Used Senses)
5	Physical Limitation:  All Weapons Must Point In The Same Direction (Infrequently, Slightly Impairing)



Total Disadvantage Points:  30
Total Cost:  201/5 = 40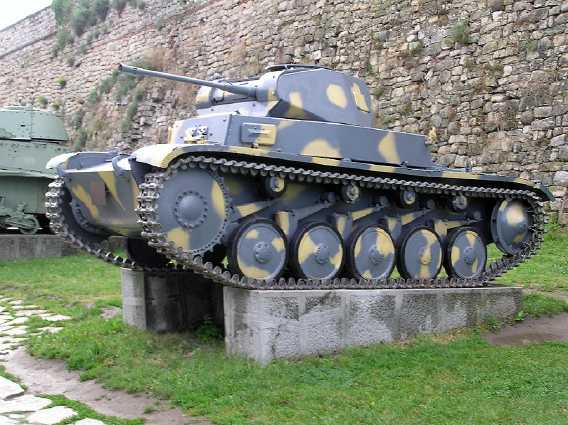 Description: Designed to be a heaver version of the Panzer I, the Panzer II was meant to fill the gaps in the German armored forces until the heavier Panzer III and IV tanks appeared in the late 1930s. Initially proposed in 1934, the first Panzer II prototypes were built between 1935-1937. The name Panzer II was finally bestowed in 1938.
With a weight of 9.5 tons and a crew of three, the Panzer II has 30 mm of armor along the front, with 14-20 mm on the sides and rear. It has a 20 mm cannon in a fully rotating turret, with a 7.92 mm machine gun coaxial in the turret, and a second 7.92 mounted in the front hull. 1,223 of these tanks (of several models) were in service at the time of the invasion of Poland in 1939. Despite such impressive numbers, the nature of war quickly rendered the Panzer II obsolete with 15 new tanks built in 1939, and a mere 9 built in 1940. However, the needs for an increased armor force resulted in another 539 Panzer II tanks built in '41 and '42, with many older models turned into flame-thrower tanks, munitions carriers, scouts, and Marder series tank destroyers.
The Panzer II is a great tank to toss against Golden Age heroes. Its 20 mm cannon is fearsome enough, but is bounce-able by some Golden Age supers (especially if you use a flat x4 STUN multiple), while its 10-12 DEF means even 40 STR bricks doing Haymakers can damage it, not to mention it only take 43 STR to lift, and far less to simply tip over.
A Panzer II is 15' 9" long, 7' 6" wide, and 6' 7" tall. It weighs 9.5 tons, has a top speed of around 25 mph on the road, 12 mph off, and carries a crew of three.
Panzerkampfwagen II Hero Designer File
---
Return to Military Ground Vehicles