REAL WORLD LAND VEHICLES
JAGDPANZER IV
(Panzerkampfwagen IV/70V)
(Sonderkraftfahrzeug 162/1)



Val	CHA	Cost	Notes


5	Size	25	Length 3.17", Width 1.59", Area 5.04" Mass 3.2 ton, KB -5
50	STR	15	HTH Damage 10d6  END [5]
10	DEX	0	OCV 3 DCV 0
18	BODY	3
11	DEF	27
2	SPD	0	Phases:  6, 12


Total Characteristics Cost: 70

Movement:

	Ground:		20"/40"
		Swimming:	0"/0"



Cost	Abilities and Equipment
	Propulsion Systems


22	1)  

Motorized Tracked Military Vehicle:

  Ground Movement +14" (20" total), 1 Continuing Fuel 
	Charge lasting 5 Hours (+0); Only On 
	Appropriate Terrain (-¼)
-2	2)  

Ground Vehicle:

  Swimming -2"

	

Tactical Systems


68	1)  

75 mm StuK 42 L/70 Cannon:

  RKA 5d6, +1 Increased STUN Multiplier (+¼), Indirect (can 
	be arced over some obstacles; +¼), 55 Charges (+¾); OIF Bulky (-1), Limited Arc Of 
	Fire (60 degrees; -½), Real Weapon (-¼) 

plus

 +2 with Ranged Combat; OIF Bulky (-1), 
	Real Weapon (-¼) 

plus

 Penalty Skill Levels:  +2 vs. Range Modifier with All Attacks; OIF 
	Bulky (-1), Real Weapon (-¼), [55]
40	2)  

7.92 mm MG 34 Machine Gun:

  RKA 2d6+1, +1 Increased STUN Multiplier (+¼), Autofire 
	(5 shots; +½), 3,150 Charges (+1); OIF Bulky (-1), Limited Arc Of Fire (60 degrees; Only 
	on same horizontal level; -¾), Real Weapon (-¼) 

plus

 +2 with Ranged Combat; OIF 
	Bulky (-1), Real Weapon (-¼) 

plus

 Penalty Skill Levels:  +3 vs. Range Modifier with All 
	Attacks; OIF Bulky (-1), Real Weapon (-¼), [3,150]
5	3)  

Sloped Rear Armor:

  +5 DEF; Limited Coverage (rear 60 degrees; -1), Activation Roll 14- (-½), 
	Only Works Against Physical Projectiles (-½)
8	4)  

Sloped Side And Rear Armor:

  +6 DEF; Activation Roll 14- (-½), Only Works Against 
	Physical Projectiles (-½), Limited Coverage (side and rear of vehicle; -¼)
11	5)  

Sloped Front Armor:

  +11 DEF; Limited Coverage (forward 60 degrees; -1), Activation Roll 14- (-½), 
	Only Works Against Physical Projectiles (-½)
4	6)  

Heavy:

  Knockback Resistance -2"

	

Operation Systems


4	1)  

Radio:

  Radio Perception/Transmission (Radio Group); OIF Bulky (-1), Affected As Hearing Group 
	As Well As Radio Group (-¼)



Total Abilities & Equipment Cost:  160
Total Vehicle Cost:  230

Value Disadvantages


25	Distinctive Features:  Nazi Germany Wehrmacht Tank (Not Concealable; Extreme Reaction; Detectable 
	By Commonly-Used Senses)



Total Disadvantage Points:  25
Total Cost:  205/5 = 41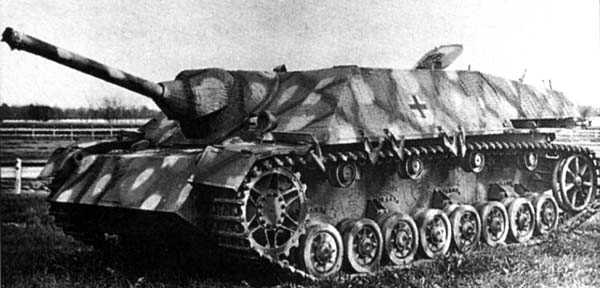 Description: Take a Panzer IV chassis, remove the turret, and replace it with a fully-enclosed superstructure and you have the Jagd- ("hunting") -panzer IV. Requested in 1942, the first mockup didn't appear until 1943, with production not starting until the end of the year and full production starting in January of 1944. Interestingly enough, the Inspector-General of the German Armored Forces didn't see the need for such a vehicle, preferring the StuG III assault gun. This meant the vehicle's development was delayed for some time.
The Jagdpanzer came in three different models, with a grand total of 1,977 built. The version here, the IV/70V, is the second version of the tank, with a 75 mm cannon mounted off-set 8 inches to the right in the nose. With 3.2" of armor set at a 45-50 degree slope in the front, the tank was well armored, although this frontal armor and the sheer size of the cannon made it nose-heavy and prone to problems when going cross country.
A rare vehicle, the Jagdpanzer seems to have been most common in Italy and the East, with only 60 present when the Normandy invasion occurred. A capable vehicle, it suffers from having only 55 rounds for its main gun and a lack of overall numbers.
A Jagdpanzer IV is 19' 10" long, 10' 5" wide, and 6' 5" tall. It weighs 25.8 tons, has a top speed of around 28 mph on the road, 15 mph off, and carries a crew of five.
Jagdpanzer IV Hero Designer File
---
Return to Military Ground Vehicles