REAL WORLD LAND VEHICLES
JAGDPANZER V JAGDPANTHER
(Sonderkraftfahrzeug 173)



Val	CHA	Cost	Notes


5	Size	25	Length 3.17", Width 1.59", Area 5.04" Mass 3.2 ton, KB -5
54	STR	19	HTH Damage 10 ½d6  END [5]
10	DEX	0	OCV 3 DCV 0
19	BODY	4
13	DEF	33
2	SPD	0	Phases:  6, 12


Total Characteristics Cost: 81

Movement:

	Ground:		19"/38""
		Swimming:	0"/0"



Cost	Abilities and Equipment
	Propulsion Systems


21	1)  

Motorized Tracked Military Vehicle:

  Ground Movement +13" (19" total), 1 Continuing Fuel Charge 
	lasting 4 Hours (+0); Only On Appropriate Terrain (-¼)
-2	2)  

Ground Vehicle:

  Swimming -2"

	

Tactical Systems


72	1)  

88 mm PaK 43/3 L/71 Cannon:

  RKA 5d6+1, +1 Increased STUN Multiplier (+¼), Indirect 
	(can be arced over some obstacles; +¼), 60 Charges (+¾); OIF Bulky (-1), Limited Arc 
	Of Fire (60 degrees; -½), Real Weapon (-¼) 

plus

 +2 with Ranged Combat; OIF Bulky (-1), 
	Real Weapon (-¼) 

plus

 Penalty Skill Levels:  +2 vs. Range Modifier with All Attacks; OIF 
	Bulky (-1), Real Weapon (-¼)	[60]
40	2)  

7.92 mm MG 34 Machine Gun:

  RKA 2d6+1, +1 Increased STUN Multiplier (+¼), Autofire 
	(5 shots; +½), 600 Charges (+1); OIF Bulky (-1), Limited Arc Of Fire (Only on same horizontal 
	level; forward 60 degrees; -¾), Real Weapon (-¼) 

plus

 +2 with Ranged Combat; OIF 
	Bulky (-1), Real Weapon (-¼) 

plus

 Penalty Skill Levels:  +3 vs. Range Modifier with All 
	Attacks; OIF Bulky (-1), Real Weapon (-¼), [600]
3	3)  

Armored Front:

  +2 DEF; Limited Coverage (forward 60 degrees; -1)
8	4)  

60 Degree Sloped Rear And Side Armor:

  +6 DEF; Activation Roll 14- (-½), Only Works 
	Against Physical Projectiles (-½), Limited Coverage (rear and sides; -¼)
15	5)  

35 Degree Sloped Front Armor:

  +8 DEF; Limited Coverage (forward 60 degrees; -1), Activation 
	Roll 14- (-½), Only Works Against Physical Projectiles (-½) 

plus

 +8 DEF, All DEF 
	shares the same Activation Roll (+0); Limited Coverage (forward 60 degrees; -1), Activation 
	Roll 11- (-1), Only Works Against Physical Projectiles (-½)
8	6)  

Heavy:

  Knockback Resistance -4"

	

Operation Systems


4	1)  

Radio:

  Radio Perception/Transmission (Radio Group); OIF Bulky (-1), Affected As Hearing Group 
	As Well As Radio Group (-¼)



Total Abilities & Equipment Cost:  169
Total Vehicle Cost:  250

Value Disadvantages


25	Distinctive Features:  Nazi Germany Wehrmacht Tank (Not Concealable; Extreme Reaction; Detectable 
	By Commonly-Used Senses)



Total Disadvantage Points:  25
Total Cost:  225/5 = 45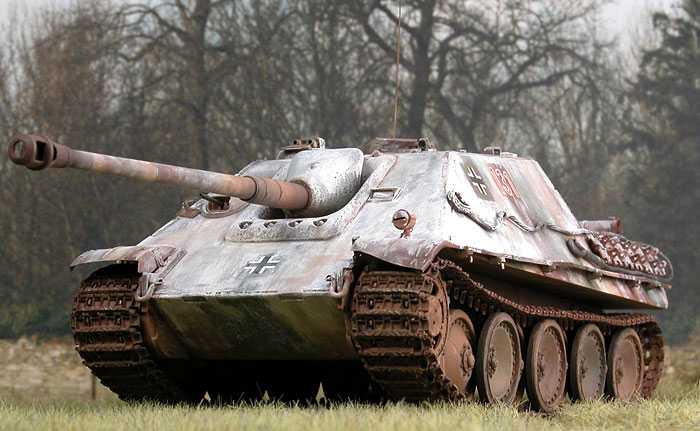 Description: Having developed the powerful 88mm Pak 43/3 L/71 cannon, the German high command needed a chassis strong enough to mount it. The Panzer V proved to be the only logical choice, as the Panzer III/IV chassis wasn't strong enough (unless the armor was too thick to make it of any use in combat) and the Panzer VI (Tiger) chassis was too immobile. The first prototype was completed October 20, 1943 and went into production soon after. A very rare vehicle, only 392 were made, which is fortunate, as it was highly effective at its job—one encounter saw three Jagdpanzers destroy 11 Churchill tanks in roughly two minutes.
Weighing in at 45 tons, the vehicle's powerful engine could propel it as speeds close to 30 mph. In addition, the wide tracks and interleaved read wheel suspension resulted lower ground pressure then the StuG III assault gun—which weighed in at half that of the Jagdpanzer!
Although the Jagdpanzer's armor is fairly thin—only 60-80 mm along the front, it is sloped at 35 degrees, and offers excellent protection. It is this same sloping profile that helps make the Jagdpanzer one of the most sleek and elegant-looking armored fighting vehicles of the war.
A Jagdpanzer V Jagdpanther is 22' 6" long, 10' 9" wide, and 8' 11" tall. It weighs 45.5 tons, has a top speed of 29 mph on the road, 15 mph off, and carries a crew of 5.
Jagdpanther Hero Designer File
---
Return to Military Ground Vehicles