X-FILES
RICHARD "RINGO" LANGLY



Val	Char	Cost	Roll	Notes


9	STR	-1	11-	Lift 87.1 kg; 1 ½d6 HTH Damage [2]
13	DEX	9	12-	OCV:  4/DCV:  4
10	CON	0	11-
11	BODY	2	11-
20	INT	10	13-	PER Roll 13-
12	EGO	4	11-	ECV:  4
10	PRE	0	11-	PRE Attack:  2d6
12	COM	1	11-

4	PD	2		Total:  4 PD (0 rPD)
4	ED	2		Total:  4 ED (0 rED)
3	SPD	7		Phases:  4, 8, 12
4	REC	0
20	END	0
21	STUN	0		

Total Characteristic Cost:  56

Movement:

	Running:	6"/12"
		Leaping:	1"/2"
		Swimming:	2"/4"



Cost	Powers & Skills


	

Laptop Computer

, all slots 1 Continuing Charge lasting 1 Day (-0); all slots OAF (equipment; -1), 
	Gestures (Complex; -½)
1	1)  

Clock/Timer:

  Absolute Time Sense; OAF (equipment; -1), Gestures (Complex; -½)
2	2)  

Computer Camera/Scanner:

  Eidetic Memory; OAF (equipment; -1), Gestures (Complex; -½)
1	3)  

Algorithm Program:

  Lightning Calculator; OAF (equipment; -1), Gestures (Complex; -½)
1	4)  

Satellite Feed:

  AK: Earth; OAF (equipment; -1), Gestures (Complex; -½) 9-
1	5)  

Security Camera Hack:

  CK: Washington DC; OAF (equipment; -1), Gestures (Complex; -½) 10-
5	6)  

Hacking Program:

  Computer Programming (Computer Networks, Hacking and Computer Security, 
	Personal Computers, Artificial Intelligence, Mainframes and Supercomputers, Military Computers) 9-; 
	OAF (equipment; -1), Gestures (Complex; -½)
1	7)  

Code Breaker Program:

  Cryptography 9-; OAF (equipment; -1), Gestures (Complex; -½)
1	8)  

Game Code Hack Program:

  KS: Computer Games; OAF (equipment; -1), Gestures (Complex; -½) 9-
	 
5	Luck 1d6
2	

Night Vision Goggles:

  Nightvision; OAF (equipment; -1)

	Perks
6	Contact:  Agent Fox Mulder (Contact has access to major institutions, Contact has useful Skills 
	or resources, Good relationship with Contact) 12-

	

Skills


3	Acting 11-
3	Bugging 13-
3	Bureaucratics 11-
10	Computer Programming (Hacking and Computer Security) 17-
3	Deduction 13-
3	Electronics 13-
10	KS: Computer Software 19-
2	Lone Gunmen:  PS: Journalist 11-
3	SS:  Computer Science 12-
7	Security Systems 15-
5	Systems Operation 14-



Total Powers & Skill Cost:  78
Total Cost:  114

75+	Disadvantages


20	Hunted:  FCC 8- (Mo Pow; NCI; Capture)
0	Normal Characteristic Maxima
20	Physical Limitation:  Needs Glasses to See Clearly (All the Time; Greatly Impairing)
10	Psychological Limitation:  Annoyed By Incompetent People (Uncommon; Strong)
15	Psychological Limitation:  Egotistical About Computer Skills (Common; Strong)



Total Disadvantage Points:  114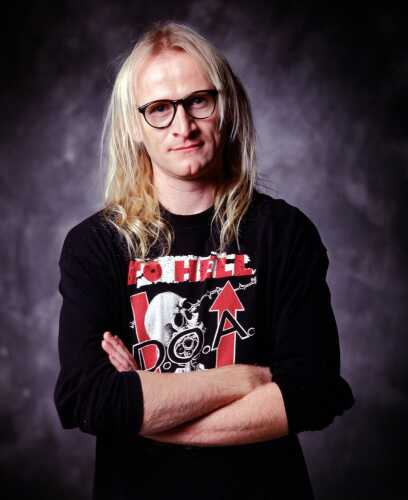 Background/History: Langly was born circa 1968/1969 and grew up on a farm in Saltville, Nebraska. He showed an aptitude for computers from an early age, which was frowned upon by his parents.
In 1989 he met Melvin Frohike and John Fitzgerald Byers at a consumer electronics show in Baltimore, and subsequently they formed a group publishing The Lone Gunman Newsletter.
Personality/Motivation: He is possibly the most paranoid of the Gunmen, taping all incoming phone calls, including those from Mulder, and on one occasion refusing to take part in a teleconference with Mulder, stating that he did not want his image bounced off a satellite. He is also the most sarcastic member of the team, always ready to offer a barbed comment.
Langly enjoyed playing Dungeons and Dragons before the formation of the group; his alias is "Lord Manhammer". He once hacked into MarylandÕs MVA mainframe in order to secure a handicapped parking permit.
Powers/Tactics: He is the Lone GunmenÕs expert in computers, hacking and programming.
Campaign Use: Lone Gunmen TV series. First appearance "E.B.E."
Appearance: Langly wears thick black-rimmed glasses, heavy metal and punk T-shirts (favouring The Ramones in particular) and jeans. He has long, blond hair (which sometimes leads to him being mistaken for a girl) and bears a striking resemblance to Garth Algar from Wayne's World.
Richard "Ringo" Langly's Hero Designer File
(Character sheet by Jon Burleson.)
---
Return to TV-Derived Character Adaptations.