STAR TREK
CYRANO JONES



Val	CHA	Cost	Roll	Notes


9	STR	-1	11-	Lift 87.1 kg; 1 ½d6 HTH Damage [2]
8	DEX	-6	11-	OCV:  3/DCV:  3
8	CON	-4	11-
8	BODY	-4	11-
11	INT	1	11-	PER Roll 11-
9	EGO	-2	11-	ECV:  3
16	PRE	6	12-	PRE Attack:  3d6
10	COM	0	11-

4	PD	2		Total:  4 PD (0 rPD)
4	ED	2		Total:  4 ED (0 rED)
3	SPD	12		Phases:  4, 8, 12
4	REC	0
16	END	0
17	STUN	0		

Total Characteristics Cost:  3





Movement:

	Running:	5"/10"
		Swimming:	2"/4"



Cost	Powers & Skills


	

Perks


1	Fringe Benefit:  Starship License

	

Skills


7	Combat Piloting 13-
6	PS: Trader 15-
11	Persuasion 16-
7	Streetwise 14-
0	TF:  Commercial Spacecraft & Space Yachts
13	Trading 17-



Total Powers & Skill Cost:  45
Total Cost:  48

25+	Disadvantages


15	Hunted:  Klingon Authorities 8- (Mo Pow; Harshly Punish)
0	Normal Characteristic Maxima
15	Psychological Limitation:  Compulsive Con Man (Common; Strong)



Total Disadvantage Points:  48



Background/History: Cyrano Jones was an intergalactic trader and, to Captain Kirk, a general nuisance who lived during the mid-23rd century. Among his wares, Jones pawned articles such as Spican flame gems, Antarean glow water, and tribbles.
In 2268, Jones was present on the Federation Deep Space Station K-7 during the Klingon plot to control Sherman's Planet, having arrived on the station aboard his merchant starship, the Spacematic. He was responsible for the station's infestation with tribbles, which he was sentenced to clean up or face a twenty-year prison sentence for transporting a dangerous lifeform off its native planet. His sentence was expected to take 17.9 years, which Kirk cuttingly suggested can best be considered "job security" for the massiveness of the task.
Personality/Motivation: Jones managed to escape his sentence and made off for a Klingon planet where he illegally sold a number of tribbles.
Quote: "Is that an offer or a joke?"
Designer's Notes: Cyrano Jones appears in the Star Trek episodes "The Trouble with Tribbles" (The Original Series) and "Trials and Tribble-ations" (Deep Space 9).
Appearance: Stanley Adams
Cyrano Jones' Hero Designer File
(Character sheet by Jon Burleson.)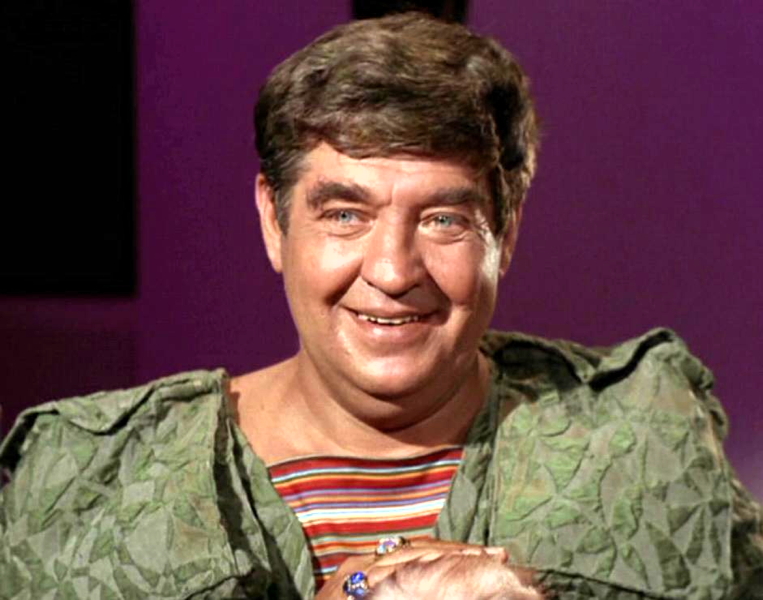 ---
Return to TV-Derived Character Adaptations.