TV-DERIVED CHARACTER ADAPTATIONS
SIGMUND THE SEA-MONSTER



Val	CHA	Cost	Roll	Notes


7	STR	-3	12-	Lift 200 kg; 3d6 HTH Damage [3]
8	DEX	-6	12-	OCV:  5/DCV:  5
23	CON	26	14-
13	BODY	6	12-
13	INT	3	12-	PER Roll 13-
11	EGO	2	11-	ECV:  4
13	PRE	3	12-	PRE Attack:  2 ½d6
8	COM	-1	11-

11	PD	8		Total:  11 PD (5 rPD)
9	ED	4		Total:  9 ED (7 rED)
4	SPD	15		Phases:  3, 6, 9, 12
8	REC	0
46	END	0
33	STUN	0		

Total Characteristics Cost:  52





Movement:

	Running:	4"/8"
		Leaping:	2"/4"
		Swimming:	4"/8"



Cost	Powers & Skills


3	+8 STR; Conditional Power Power Only Works In Sea Water (-1 ½), END 2
8	+7 DEX; Conditional Power Power Only Works In Sea Water (-1 ½)
6	Damage Resistance (5 PD/7 ED)
2	Swimming +2" (4" total), END 1
3	+1 PER with all Sense Groups
6	

Sea Monster:

  Life Support  (Expanded Breathing; Safe in High Pressure)
10	Luck 2d6

	

Talents


2	

Sea Monster:

  Environmental Movement:  no penalties in Sea Water

	

Skills


5	Concealment 13-
2	KS: Ocean 11-
7	Stealth 14-
2	Survival (Marine Underwater) 12-



Total Powers & Skill Cost:  56
Total Cost:  108

75+	Disadvantages


25	Distinctive Features:  Sea Monster (Not Concealable; Extreme Reaction; Detectable By Commonly-
	Used Senses)
20	Hunted:  Local Authorities 8- (Mo Pow; NCI; Capture)
25	Hunted:  Ooze Family 14- (Mo Pow; Harshly Punish)
10	Money:  Destitute
20	Physical Limitation:  No Arms (All the Time; Greatly Impairing)
10	Physical Limitation:  Small Size (Frequently; Slightly Impairing)
15	Psychological Limitation:  Curious (Common; Strong)
25	Psychological Limitation:  Kind-Hearted (Very Common; Total)
20	Psychological Limitation:  Naive (Very Common; Strong)
5	Vulnerability:  1 ½ x Effect Heat-Based Attacks (Uncommon)



Total Disadvantage Points:  108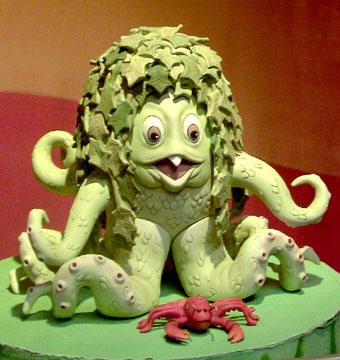 Background/History: Sigmund is a friendly, young sea monster. After being kicked out of his home for being "a rotten sea monster", Sigmund Ooze ran away to the beach. At the beach, he met Johnny and Scott who took him home and hid him in their club house.
Personality/Motivation: He's also a tremendous embarrassment to his comically dysfunctional undersea family because, unlike a normal sea monster, Sigmund has no desire to scare anybody. He runs away from home rather than scare people.
Quote: "Oh, I love you Fluffy!"
Powers/Tactics: Sigmund usually does something silly to arouse attention, and the boys work to prevent him from being found by Sigmund's brother monsters, Blurp and Slurp.
Appearance: A green sea monster with tentacles who looks like moving seaweed.
Designer's Notes: Played by Billy Barty in the kid's TV series Sigmund and the Sea Monsters.
Sigmund the Sea-Monster's Hero Designer File
(Character sheet by Jon Burleson.)
---
Return to TV-Derived Character Adaptations.