TV-DERIVED CHARACTER ADAPTATIONS
LAURA HOLT



Val	CHA	Cost	Roll	Notes


7	STR	-3	10-	Lift 66.0 kg; 1d6 HTH Damage [1]
12	DEX	6	11-	OCV:  4/DCV:  4
16	CON	12	12-
12	BODY	4	11-
17	INT	7	12-	PER Roll 14-
11	EGO	2	11-	ECV:  4
11	PRE	1	11-	PRE Attack:  2d6
12	COM	1	11-

2	PD	1		Total:  2 PD (0 rPD)
6	ED	3		Total:  6 ED (0 rED)
3	SPD	8		Phases:  4, 8, 12
4	REC	0
32	END	0
24	STUN	0		

Total Characteristics Cost:  42





Movement:

	Running:	6"/12"
		Leaping:	1"/2"
		Swimming:	2"/4"



Cost	Powers & Skills


2	

.380 Automatic Pistol:

  RKA 1d6; Independent (-2), OAF (gun; -1), STR Minimum 6 (-1), 6 Charges (-¾), 
	No Knockback (-¼), Real Weapon (-¼), [6]
6	+2 PER with all Sense Groups

	

Perks


2	Fringe Benefit:  Concealed Weapon Permit (where appropriate)
1	Fringe Benefit:  Passport
2	Fringe Benefit:  Private Investigator License

	

Skills


3	Acrobatics 11-
3	Acting 11-
3	Breakfall 11-
5	Bureaucratics 12-
3	Conversation 11-
3	Cryptography 12-
9	Deduction 15-
3	High Society 11-
3	Seduction 11-
1	TF:  Small Motorized Ground Vehicles
1	WF:  Clubs, Handguns
3	Scholar
1	1)  KS: Ballet 11-
3	2)  KS: Marketing 13-
2	3)  KS: Mathematics 12-
1	4)  KS: Piano Music 11-
5	5)  KS: Television Shows 15-



Total Powers & Skill Cost:  65
Total Cost:  107

75+	Disadvantages


0	Normal Characteristic Maxima
32	Experience Points



Total Disadvantage Points:  107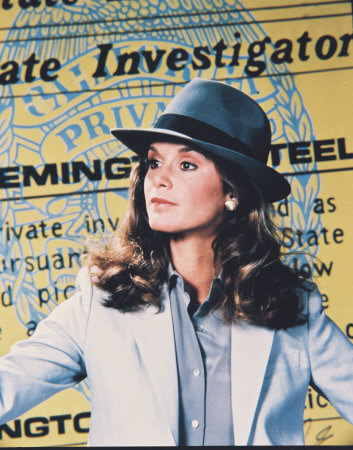 Background/History: Laura Elizabeth Holt was born January 28, 1956, to Abigail Holt and her husband, whose name is unknown. She attended Stanford University on a math scholarship and graduated summa cum laude. While there she was a member of the Glee Club and joined the Alumni Glee Club for a tour of Europe.
Personality/Motivation: She joined the Havenhurst Detective Agency and worked there for about 3 years before leaving to found Laura Holt Investigations, which folded after 6 months, partially due to the fact that no one would take a female private investigator seriously. Shortly after LHI closed, she invented a male boss, "Remington Steele", and founded Remington Steele Investigations.
Quote: "I can take care of myself. I have for a long time now."
Powers/Tactics: Laura has an encyclopedic knowledge of television shows and a soft spot for her childhood TV hero, Atomic Man. She plays the piano and uses ballet exercises and jogging to keep in shape. She's also participated in a triathlon. Athletic endeavors are a piece of cake for Laura but actually baking a cake - or anything else in the kitchen - is not her forte.
Designer's Notes: Played by Stephanie Zimblastin the TV series Remington Steele.
Laura Holt's Hero Designer File
(Character sheet by Jon Burleson.)
---
Return to TV-Derived Character Adaptations.